The Sunday Post
Hosted by:  Caffeinated Book Reviewer
Description:  The Sunday Post is a chance to share News. A post to recap the past week, showcase books and things we have received and share news about what is coming up for the week on our blog. This is your news post, so personalize it! Include as much as you want or as little. Be creative, it can be a vlog or just a showcase of your goodies.
And looky there–a whole nother WEEK is gone and over with!  Whooda thunk it?!  Certainly not me.
I bought myself a SOOPAH cute set of penguins clipart thingies on Etsy yesterday in an attempt to…er… "fix" my page a bit.  You can thank LookPrettyPaper for that madness.  I might try to integrate them more fully into my blog posts, though I'm not sure how?  I was thinking maybe I'd make my very own book review "buttons."  I don't even know if you guys understand what I'm trying to say there, but…my thought was, I could use the PENGUINS instead of typing out all my "Quick Reasons."  Of course, I'd still include in-depth stuff in the review… I don't know, I guess I still need to think about this.
I managed to squash the BIG NASTY ICKY MONSTER SPIDER FROM HELL all by myself the other day!  I've since learned that I am capable of annihilating said icks…if I have a very big shoe (thank you, hubby) and don't stand there thinking of all the many ways monster spider might jump on my face mid-swing.  Seriously, guys, when it comes to spiders, I'm a definite damsel in distress.  But this week, I was all:
There were a pair of pigeons hanging out on a sign in the parking lot of my work place this morning.  Watching them, all I could think about was:
It was cute, but also (somehow?) sort of annoying.  Silly birds, I wanted to go home and snuggle the husband, too!
So, all that wacky wild aside…
The Urban Boys: Discovery of the Five Senses, by K.N. Smith
Aimee and the Heartthrob (Backstage Pass #1), by Ophelia London
Mia and the Bad Boy (Backstage Pass #2), by Lisa Burstein
Daisy and the Front Man (Backstage Pass #3), by Rebekah L. Purdy
The Art of Being Normal, by Lisa Williamson
Cover Reveal/Giveaway (Tainted)
Release Day Blitz/Giveaway (The Rose and the Dagger)
Loved and Loathed (April 2016)
Jen @ The Bookavid wants to talk 6 Reasons Why You Got Declined to Review a Book on #Netgalley…and How to Fix This
Helia @ Astronomical Books wants to talk My Theories About The Raven King
Gone with the Words wants to talk A Raven Cycle Celebration
Shannon @ It Starts at Midnight wants to talk Why You Need The Rose and the Dagger in Your Life
Nereyda @ Nick and Nereyda's Infinite Book List wants to talk Falling Out of Love with Books…
Ezrah @ I Heart Romance & YA wants to discuss When People Think the Books You Read are Crap…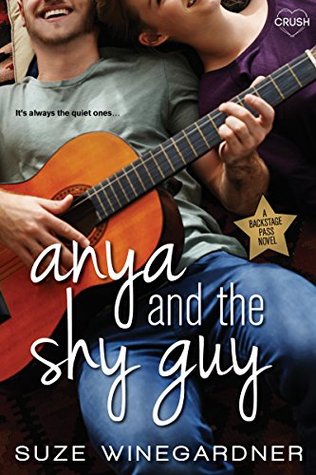 AND THAT'S A WRAP!
Have any fun stories you'd like to share?  How about book recs?  Music?  Funny Disney spoof videos?  Adorable animals doing adorable things?!  Feel free to share down below–or link me to your own weekly wrap up!
Until next time, happy book-ing!