HOSTED BY: THE BROKE AND THE BOOKISH
DESCRIPTION: TOP TEN TUESDAY IS AN ORIGINAL FEATURE/WEEKLY MEME CREATED HERE AT THE BROKE AND THE BOOKISH. THIS FEATURE WAS CREATED BECAUSE WE ARE PARTICULARLY FOND OF LISTS HERE AT THE BROKE AND THE BOOKISH. WE'D LOVE TO SHARE OUR LISTS WITH OTHER BOOKISH FOLKS AND WOULD LOVE TO SEE YOUR TOP TEN LISTS!

This week's theme: Top Ten Bookworm Delights
But I wanted to put my own SPIN on this topic, SO:
Top Ten Fictional Items I'd Kill You For
The problem is…murder is messy, and I wouldn't last even an hour in jail, so maybe the title for this post should read more like:
Top Ten Fictional Items I'd Seriously Maim You For
But…we all know I'm a pretty gentle penguin, unless you make me aaaaangry, so… how about
Top Ten Fictional Items I'd Fight You For
Yeah, that MIGHT work, if I knew how to fight without losing…or losing my balance.  Wibbly wobbly penguins are uncoordinated!
So…ONE MORE TRY:
Top Ten Fictional Items I'd Cry, Stamp My Feet, and Throw a Tantrum For
Please note–clicking the item name will take you to the book or book series the item is found in!

I mean, let's think about this logically for a minute.  Can you IMAGINE how much I could get done with one of these?!  No, forget that-can you imagine how much READING I could get done?!  I'd catch up on my "want to read" backlog in literally months.
Because who WOULDN'T want to hang with the Hatter and Cheshire?  Just look at their adorable faces!
Just a spoon full of magic will take me far away from here…
Okay, so I'm mixing my movies.  The sentiment is still the same.
Because,  I mean…why the hell not?!
For one, flying whales just sound AWESOME.  For two…Uhm… Well there really isn't a second reason.  FLYING.  WHALES.
Granted, you'd have to be VERY VERY careful to never fall in love lest you die, but…Eh, what's life without a little risk, right?!
I don't think I'd EVER  grow tired of opening jars and smelling whatever memories lurk inside.  Also, this would be an interesting thing to experience–I, personally, don't "remember" by scent very often.
Hey, I'd throw a HUGE tantrum at the chance to visit the holidays any time I wanted.  Why isn't this a thing?!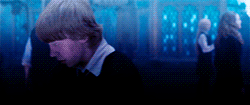 Can you honestly tell me you wouldn't want your very own protector of light and smoke?  Really?!
Don't get me wrong here–I know there are books that talk and have 'tude out there (audiobooks, anyone?  the kindle app for your phone?  even that one bear from was back when I was a kid knew how to read me a thing!)
BUT, none of those have their own personalities.  Their OWN 'tude, outside the words the author's given them.
Give me:
these guys ANY , and I'd be a happy camper!
And finally, just for fun..
The One Literary Item I'd Pay You to Never Create EVER
Because NO, thank you.  This would cause a tantrum of a completely different sort.  Do it, and I might actually hurt you.
So what bookish items would make it one your list–and why?!  Rant and rave at me in the comments, if you'd like!   Also, feel free to link me to your own TTT down there in the down below.
Until next time, happy book-ing!