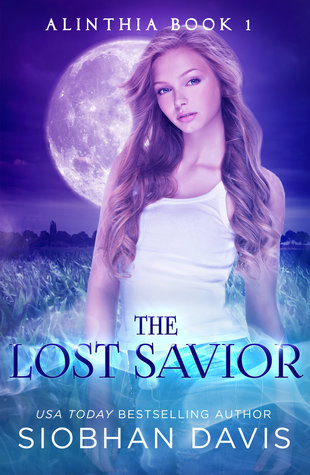 The Lost Savior
(Alinthia, #1)
by Siobhan Davis
New Adult / Romance / Science Fiction
344 Pages
Publication Date:  February 1st, 2018
Get a copy here!
BLURB:
They came from another world to protect her. Now it's her destiny to save them … 

Tori King is a normal senior in high school. Head over heels in love with her childhood sweetheart, she is busy making plans for college when a chance encounter with an alien bounty hunter turns her world upside down. Now, she's experiencing terrifying changes and developing supernatural abilities that leave her questioning her entire existence.

Then the arrival of four hot new guys at school has everyone talking—especially when they become fixated on Tori, following her wherever she goes. She can't shake them off, and as they grow closer, she finds herself drawn to all four of them in ways she cannot explain.

When they finally reveal their true identity, and why they're here for her, she discovers everything she thought she knew about herself is a lie.

Because there is nothing normal about Tori King.

And she's about to discover exactly how underrated normal is.

This mind-bending alien reverse harem series is only suitable for readers aged seventeen and older due to language and mature content.

Quick Reasons: weird, unexplained girl hate between one character and another; I've never really understood or liked the "it's your destiny/chosen one" thing; why can't a character start off a journey like this single, instead of "in love?"; that ending was climactic and interesting
I voluntarily reviewed a complimentary copy of this book. This in no way altered my read of or opinions on this book–huge thanks to Siobhan Davis for shooting a copy my way!
This was an interesting and inventive start to a new series. I haven't had opportunity to read Siobhan Davis' work in the past, so I was super excited to give it a try with this new release–and I wasn't overly disappointed! I was a bit concerned, however, by some of the plot points–particularly around Tori's "human" life. For instance…I'm not sure I understand why there was a need to include the drama with Jensen. Don't get me wrong, I totally understand what Siobhan Davis was attempting there; I get that she had to find a way to somehow "upset" the balance of life that Tori had gotten used to, to "alienate" her somehow from the life she'd been leading on Earth. However…I felt like that drama took up entirely too much of the plot for this book. Instead of focusing on things like world-building or character growth, we were instead sort of just stuck in the middle of this tug-o-war between the men characters. It didn't make a lot of sense to me, I guess–I'm all for teen angst and romantic tension, but it felt a bit overdone.
I absolutely fell in love with these characters, however–especially the guys. The dynamics between them and Tori–and the lack of, in one instance–really helped to shape and mold them in my mind. From the very start, I knew that there was something between the five, and couldn't wait to see things begin unfolding. I really like how Siobhan Davis played with their relationships–the one between Tori and Dane, for instance, was super slow to burn, but SO rewarding (I think?) in the end. The journey is interesting, full of twists and turns–and some quite creepy characters/situations. I'm not so sure how I feel about some of the "assault" scenes (trigger warning, here, Penguins), though I understand where Siobhan Davis was attempting to take things. I really, REALLY didn't like Jensen as a character, honestly–and while I understand the motivations behind his change in demeanor, I'm not sure that the person he became is fitting of the person he was at the start of this book. I guess it just goes to show that you never really know a person.
Overall, this was a super intriguing start to a series, and I'm interested in seeing where Siobhan Davis takes the story in the future. The romance budding between the 5 characters is steamy and slow-building, which I adore. The characters themselves are entertaining and (mostly) endearing, though I had a bit of trouble with a few of them and their motivations. I'd recommend this to lovers of sci fi/aliens, sexy group romances, and twists on the "chosen one" themes. There are aliens on these pages, Penguins; let the butterflies commence!