Because I needed a post in my life that kept me up to date on all things BOOKS!  and it seemed like Wishlist Wednesday was dead, I decided to make my own.
Welcome to Weekly Wishlist!
I'm all about breaking bending the rules to my will, so I'm switching it up!  I'm going to pair books that are already in the wild…with books soon to be released. Click the covers to be taken to the Amazon page.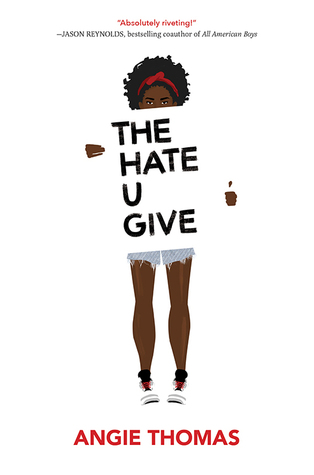 Inspired by the Black Lives Matter movement, Angie Thomas's searing debut about an ordinary girl in extraordinary circumstances addresses issues of racism and police violence with intelligence, heart, and unflinching honesty.

Sixteen-year-old Starr Carter moves between two worlds: the poor neighborhood where she lives and the fancy suburban prep school she attends. The uneasy balance between these worlds is shattered when Starr witnesses the fatal shooting of her childhood best friend Khalil at the hands of a police officer. Khalil was unarmed.

Soon afterward, his death is a national headline. Some are calling him a thug, maybe even a drug dealer and a gangbanger. Protesters are taking to the streets in Khalil's name. Some cops and the local drug lord try to intimidate Starr and her family. What everyone wants to know is: what really went down that night? And the only person alive who can answer that is Starr.

But what Starr does—or does not—say could upend her community. It could also endanger her life.
I feel like this book could be GROUNDBREAKING.  I feel like this is the type of book that makes a statement…and doesn't shy away from the hard things.  I feel like this is the kind of book everyone should probably read.
Lana Clarke just got asked out by one of the hottest guys in school. Toby Fitzgerald is undeniably gorgeous, but his charismatic personality makes Lana the envy of every girl at West Canyon High. Senior prom is right around the corner, and although Lana had planned on a stag outing with her friends, Ashlyn and Bennet, Toby asks her to be his date in the most romantic way ever. Her friends are bummed, but support her anyway. After all, Toby Fitzgerald is the boyfriend everyone wants.

Lana's life is now perfect—until Toby breaks up with her three days before prom.

But he's a nice guy, and he still wants to take her to prom as a friend. After all, they'd already rented a limo and picked out Lana's dress together. Her friends think she shouldn't ditch them for a guy who ditched her, but when she discovers Toby's secret, she'll have to choose between lying to her friends, or lying to the whole school.
I recently helped reveal the cover for this book.  It was baaaasically want at first sight.  And then I read the blurb, and KNEW I was a goner.  I'm sure it'll be full of the same cutesy romance cliches…..but sometimes, you need cutesy cliches in your life?  So no biggie.
Some tombs should never be opened…

Teen scientist Jane's latest experiment in living went really wrong. After a fatal accident, Jane becomes the first modern-day mummy—and wakes up in the Egyptian underworld without a heart. With nothing to help her get into paradise, Anubis, the snarky god of embalming, wants to devour her soul. Then again, Anubis is drop-dead gorgeous, so maybe things aren't so bad after all.

But a mad god offers Jane a way out of the underworld, and she only has to do the impossible—go back in time and steal King Tut's heart. Well, every experiment has variables which can end in disaster. Between posing as a priestess, trying to murder the young pharaoh, and being followed by Anubis, who can't seem to decide if he's going to kiss her or kill her, Jane has to make a choice: Do the logical thing and steal Tut's heart, or find a way to save them both…Even if it means rebelling against all the gods of Egypt in the process.

This Entangled Teen Crave book contains life in the name of science, the rage of a vengeful god, love against life and death, and swoon-worthy kisses. Warning: you may find yourself wishing that you,too, had died and gone to the Duat.
I mean….there's really only one reason I want this book?  MUMMIIIIIIIES!  And ANUBIS!  And King Tut! And just…the whole blurb sounds entertaining and awesome and MUMMIES!
Katherine Humphries wants to find the love of her life.

As a recovering perfectionist who hasn't been on a date in five years, finding love is harder than she thought. Faced with beginning her twenty-sixth year of life insecure and living in Los Angeles where men and women either ignore or insult her curvy existence, Katherine decides to make dating her bitch. She's not changing her curvy body. She won't put down the dessert. And she isn't going to apologize for any of it.

Her first night out ends nothing like she'd planned. When a flirty and rugged New Yorker asks for her phone number, Katherine freezes. She's ready to give up before heartbreak happens. That is, until she meets a polyamorous, fairy-godmother-wanna-be, Hunter. The self proclaimed Queen of Pleasure coaches Katherine on badass, dating etiquette. Hunter's first rule? Don't fall in love. The second rule? Perfection doesn't exist.

But when a bet with a sexy and sensitive music teacher changes her perspective on the dating game, Katherine learns that breaking badass rule #1 before loving every inch of herself might spell trouble. On the other hand, breaking rules might be exactly what Katherine needs to discover the true power of a woman's body, the sugary sweetness of indulgence, and whether saying yes to her dream life against the wishes of advice-slinging friends will lead to heartache or harmony.
I know this isn't usually the kind of book I go for, but…the cover, first off, is SO stunning.  I mean, it's so soft and delicious looking and…yes.  And the blurb?  I just… I SO NEED me some of this book, okay?!  Don't judge me.
Have a book YOU'D like to recommend to me?!  AWESOME!  Either shoot me a comment down below, or send me a recommendation on Goodreads RIGHT HERE!
What do you guys think–have you read any of these…or WANT to?  What did you think of them, if so?  Let me know your thoughts and as always…
Until next time, happy book-ing!