HOSTED BY: The Broke and The Bookish
DESCRIPTION:  Top Ten Tuesday is an original feature/weekly meme created here at The Broke and the Bookish in June 2010. This feature was created because we are particularly fond of lists here at The Broke and the Bookish. We'd love to share our lists with other bookish folks and would LOVE to see your top ten lists!

Last week's theme: Books I've Added to My TBR Lately
But as usual, IIIII want to go a different direction ENTIRELY.  Instead, I give you:
Top Ten 2017 Releases I'm Laying Penguin Eggs For!
because if you tell me you're not excited for new books, you're lying.
Click the cover to go to the goodreads page!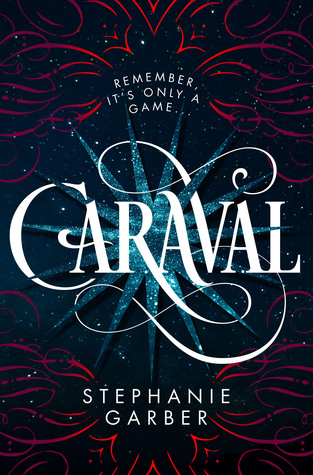 Before you enter the world of Caraval, you must remember that it's all a game . . .
Scarlett has never left the tiny island where she and her beloved sister, Tella, live with their ruthless father. Now Scarlett's father has arranged a marriage for her, and Scarlett thinks her dreams of seeing Caraval, the legendary, once-a-year performance where the audience participates in the show, are over.
Then, Scarlett's long-dreamt of invitation to Caraval finally arrives. So, Tella enlists a mysterious sailor's help to whisk Scarlett away to this year's show. But as soon as the trio arrives, Tella is kidnapped by Caraval's mastermind organizer, Legend.
Scarlett has been told that everything that happens during Caraval is only an elaborate performance. But she nonetheless soon becomes enmeshed in a game of love, heartbreak, and magic with her sister, with Legend, and with the other players in the game. And whether Caraval is real or not, she must find Tella before the five nights of the game are over, a dangerous domino effect of consequences is set off, and her sister disappears forever.
A teenage assassin kills with a single kiss until she is ordered to kill the one boy she loves. This commercial YA fantasy is romantic and addictive like– a poison kiss– and will thrill fans of Sarah J. Maas and Victoria Aveyard.

Marinda has kissed dozens of boys. They all die afterward. It s a miserable life, but being a visha kanya a poison maiden is what she was created to do. Marinda serves the Raja by dispatching his enemies with only her lips as a weapon.

Until now, the men she was ordered to kiss have been strangers, enemies of the kingdom. Then she receives orders to kiss Deven, a boy she knows too well to be convinced he needs to die. She begins to question who she s really working for. And that is a thread that, once pulled, will unravel more than she can afford to lose.

This rich, surprising, and accessible debut is based in Indian folklore and delivers a story that will keep readers on the edge of their seats.
 Mercedes Moreno is an artist. At least, she thinks she could be, even though she hasn't been able to paint anything worthwhile since her award-winning piece Food Poisoning #1 last year.
Her lack of inspiration might be because her abuela is lying comatose in faraway Puerto Rico after suffering a stroke. Or the fact that Mercedes is in love with her best friend, Victoria, but is too afraid to admit her true feelings.
Despite Mercedes's creative block, art starts to show up in unexpected ways. A piano appears on her front lawn one morning, and a mysterious new neighbor invites Mercedes to paint with her at the Red Mangrove Estate.
At the Estate, Mercedes can create in ways she never has before. She can share her deepest secrets and feel safe. But Mercedes can't take anything out of the Estate, including her new-found clarity. As her life continues to crumble around her, the Estate offers more solace than she could hope for. But Mercedes can't live both lives forever, and ultimately she must choose between this perfect world of art and truth and a much messier reality.
The next generation. A new adventure…

Over three decades have passed since the Ducelle Empire reclaimed the land, and Jordinia has never prospered more. When the Emperor negotiates a treaty among neighboring nations, Jordinia is awarded an archipelago of islands in the north. With intentions to colonize, His Majesty enlists his two underachieving nephews on an expedition to chart the wilderness.

Reclusive Ludwig has his violin and no desire to travel, while his charismatic brother Drew is seduced by the grandeur of making history…and money. Desperate to flee a secret scandal of her own, their sister Johanna insists upon accompanying them. With a team of soldiers – including longtime friend and royal guardsman, Bram Visigoth – the Cosmith siblings set off to conquer their uncle's newly-acquired territory.

From an icy shipwreck to precarious encounters with the native inhabitants, almost nothing goes as planned in this fast-paced comedy of errors teeming with humor, fantasy and plenty of romance. Prepare to fall in love with Jordinia all over again!
 A 17-year-old pirate captain intentionally allows herself to get captured by enemy pirates in this thrilling YA adventure.
If you want something done right . . .
When the ruthless pirate king learns of a legendary treasure map hidden on an enemy ship, his daughter, Alosa, knows there's only one pirate for the job—herself. Leaving behind her beloved ship and crew, Alosa deliberately facilitates her own kidnapping to ensure her passage on the ship, confident in her ability to overcome any obstacle. After all, who's going to suspect a seventeen-year-old girl locked in a cell? Then she meets the (surprisingly perceptive and unfairly attractive) first mate, Riden, who is charged with finding out all her secrets. Now it's down to a battle of wits and will . . . . Can Alosa find the map and escape before Riden figures out her plan?
Debut author Tricia Levenseller blends action, adventure, romance, and a little bit of magic into a thrilling YA pirate tale.
A young woman's family is threatened by forces both real and fantastical in this debut novel inspired by Russian fairy tales.

In a village at the edge of the wilderness of northern Russia, where the winds blow cold and the snow falls many months of the year, a stranger with piercing blue eyes presents a new father with a gift – a precious jewel on a delicate chain, intended for his young daughter. Uncertain of its meaning, Pytor hides the gift away and Vasya grows up a wild, willful girl, to the chagrin of her family. But when mysterious forces threaten the happiness of their village, Vasya discovers that, armed only with the necklace, she may be the only one who can keep the darkness at bay.
 After the traumatic events at the dreaded prison Red Bay, Ronja is hanging by a thread. Whispers trail her through the Belly, carrying rumors of her borderline supernatural voice. Plagued by nightmares and haunted by the memories of those she could not save, she clings to the promise that her gift will soon become the weapon of the Anthem.
When doubt and arrogance cloud the eyes of their once trusted commander, Ronja and her friends are forced to take matters into their own hands. Armed with little more than an idea, they strike out on their own to silence The Music and The Conductor once and for all. But time is running out, and a new threat is stirring within the walls of the city…
The highly anticipated sequel to the #1 Amazon Bestseller Vinyl, Radio delves deep into the twisted world of Revinia, weaving a tale of sacrifice, song, romance, and revolution.
Beware the goblin men and the wares they sell.

All her life, nineteen-year-old Liesl has heard tales of the beautiful, mysterious Goblin King. He is the Lord of Mischief, the Ruler Underground, and the muse around which her music is composed. Yet, as Liesl helps shoulder the burden of running her family's inn, her dreams of composition and childish fancies about the Goblin King must be set aside in favor of more practical concerns.

But when her sister Käthe is taken by the goblins, Liesl journeys to their realm to rescue her sister and return her to the world above. The Goblin King agrees to let Käthe go—for a price. The life of a maiden must be given to the land, in accordance with the old laws. A life for a life, he says. Without sacrifice, nothing good can grow. Without death, there can be no rebirth. In exchange for her sister's freedom, Liesl offers her hand in marriage to the Goblin King. He accepts.

Down in the Underground, Liesl discovers that the Goblin King still inspires her—musically, physically, emotionally. Yet even as her talent blossoms, Liesl's life is slowly fading away, the price she paid for becoming the Goblin King's bride. As the two of them grow closer, they must learn just what it is they are each willing to sacrifice: her life, her music, or the end of the world.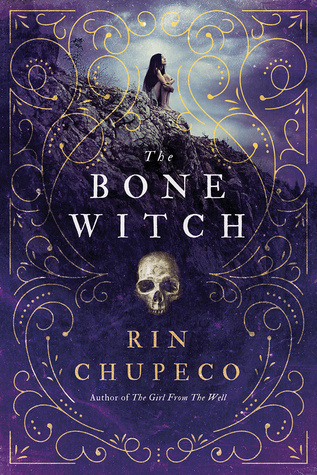 When Tea accidentally resurrects her brother from the dead, she learns she is different from the other witches in her family. Her gift for necromancy means that she's a bone witch, a title that makes her feared and ostracized by her community. But Tea finds solace and guidance with an older, wiser bone witch, who takes Tea and her brother to another land for training.
In her new home, Tea puts all her energy into becoming an asha — one who can wield elemental magic. But dark forces are approaching quickly, and in the face of danger, Tea will have to overcome her obstacles…and make a powerful choice.
Memoirs of a Geisha meets The Name of the Wind in this brilliant new fantasy series by Rin Chupeco!
I mean….no way is this even CLOSE to all of them, but it's a start, and I'm SO FREAKING STOKED!
What new releases are you most looking forward to?  Which ones are you worried will disappoint you with HYPE?
Feel free to share your thoughts with me in the comments, or link me to your own Top Ten Tuesday!
Until next time, happy book-ing!