HOSTED BY: The Broke and The Bookish
DESCRIPTION:  Top Ten Tuesday is an original feature/weekly meme created here at The Broke and the Bookish in June 2010. This feature was created because we are particularly fond of lists here at The Broke and the Bookish. We'd love to share our lists with other bookish folks and would LOVE to see your top ten lists!
WELCOME TO THE LIBRARY, WE'VE GOT BOOKS TO SPARE!
I mean, okay, it doesn't quite work but still–who can say no to a little MORE weirdness from your lovably strange Princess Penguin!?
We celebrated Keith's birthday this past weekend with a group of friends.  We hung out a bit, then went and saw Guardians of the Galaxy Vol. 2 — Baby Groot is the absolute greatest thing to happen to my life since the dawning of evarrrrrr, I swear!  I mean seriously, JUST LOOK AT HIM: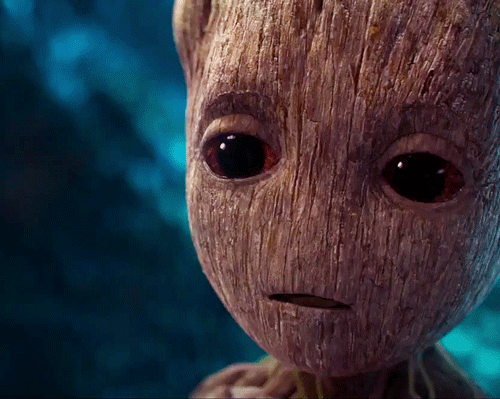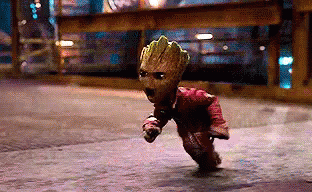 I just…. I really wanna squish him, okay?!
This week's theme is:
Sequels I Need RIGHT NOW RIGHT NOW
because let's be honest…there are WAY too many of these and I need some way to keep track of them all in my head, yah know?!  I mean, there's only so much room in my beak for these things!
Please note, some of these are the PREVIOUS books in the series because not all of them have future releases set or dreamed up yet.
*shakes fish at authors threateningly because I NEED THE SEQUELS*
Please?!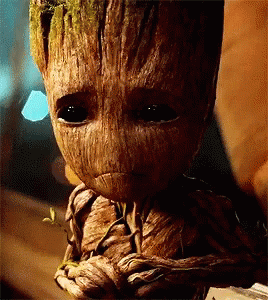 Nobody knows happiness better than nineteen-year-old Felicity Eastwood. For years now, she's been 'gifted' with the ability to collect and transfer happiness to anyone at will. Well, everyone except herself.
That is until Achilles – renowned criminal mastermind with a face painted like Death and enough charm to cause hormonal riots – crashes into Felicity's world and makes her feel … something.
Determined not to let such a coveted superpower slip beyond his reach, Achilles kidnaps Felicity, hoping to use her ability to brave his own skeletons. Felicity is only a half-unwilling prisoner though, forgoing escape to learn more of the man behind the mask and pursue the inexplicable spark between them.
As the lines between hero and villain begin to blur, Felicity finds herself wondering if Achilles might be the key to her own happiness at long last. Is it possible to be so happy with someone so dangerous?
But Achilles isn't the only villain in the town, and the pursuit of happiness can be a deadly hunt…
---
Lilith and her five rockstars are back.  

Paxton is the leader, covered in tattoos, and cocky as hell.
Michael is the bad boy determined to change his ways.
Ransom is the scarred one, dark and beautiful.
Muse is the practical one, the enigma with a silver mohawk.
Copeland is the boy next door with a penchant for reading romance novels.
Together, these six twisted souls make up one beautiful whole.
READ MY REVIEW FOR GROUPIE HERE!
---
 Jessa has spent her life dreaming of other worlds and writing down stories more interesting than her own, until the day her favorite character, Finn, suddenly shows up and invites her out for coffee. After the requisite nervous breakdown, Jessa learns that she and Finn are Travelers, born with the ability to slide through reflections and dreams into alternate realities. But it's not all steampunk pirates and fantasy lifestyles—Jessa is dying over and over again, in every reality, and Finn is determined that this time, he's going to stop it…This Jessa is going to live.
---
The dark sequel to the best-selling Chameleon Assassin. 
Libby has a chance to build a legitimate reputation when she's hired by one of the world's most prestigious museums to bolster their security. The gig is in Chicago, where her heartthrob lives, so she hopes for a little romance.
She's on a first-name basis with larceny, mayhem, and death, but Libby's not used to being on the receiving end. Chicago is far darker and more dangerous than her native Toronto. Amidst terrorist bombings, stolen treasure, and murder, a mutant prophet calls for revolution. Away from her family and friends, Libby has nowhere to turn as enemies assault her from all sides.
Their mistake. Libby is a dangerous enemy.
READ MY REVIEW OF CHAMELEON ASSASSIN RIGHT HERE!
---
 Cvareh returns home to his sky world of Nova with the genius crafter Arianna as his temperamental guest. The mercurial inventor possesses all the Xin family needs to turn the tides of a centuries-old power struggle, but the secrets she harbors must be earned with trust — hard to come by for Ari, especially when it comes to Dragons. On Nova, Ari finds herself closer to exacting vengeance against the traitor who killed everything — and everyone – she once loved. But before Ari can complete her campaign of revenge, the Crimson Court exposes her shadowed past and reveals something even more dangerous sparking between her and Cvareh.
While Nova is embroiled in blood sport and political games, the rebels on Loom prepare for an all-out assault on their Dragon oppressors. Florence unexpectedly finds herself at the forefront of change, as her unique blend of skills — and quick-shooting accuracy — makes her a force to be reckoned with. For the future of her world, she vows vengeance against the Dragons.
Before the rebellion can rise, though, the Guilds must fall.
READ MY REVIEW FOR THE ALCHEMISTS OF LOOM RIGHT HERE!
---
The stakes have risen. For fifty years, Prince Vladimir has tolerated the Resistance, but
 now they threaten what he holds dear. The vicious vampire will no longer hold back. A plan he has been working on for decades will finally reveal itself and entangle everyone standing on the way.
For the first time after the Nightfall, the Resistance holds a true bargaining chip. For the first time, they have a chance to tip the scales of the war and ensure humanity's survival. But Myra has made a promise, and breaking it will destroy all that is human in her. She is loyal to the Resistance, but nothing is black and white. Long-buried secrets emerge, showing her that vampires can be more honorable than humans, and humans can be more monstrous than beasts.
A desperate nobleman, fighting to save a doomed culture. A reclusive poet, choosing art over immortality. A vampire, rejecting her raw nature. Past and present weave together in an action-packed tale of power games, a hopeless fight for survival, and the indestructible human need to create art.
READ MY REVIEWOF KINGDOM OF ASHES RIGHT HERE!
---
 Remy Novem went from one nightmare to another…only this time she's awake.
After clawing her way out of Somniare, Remy finds a world she doesn't recognize. Her family and friends have been slaughtered, and a war is brewing between light and dark forces.
Sacrifices will be made, and unlikely alliances formed, but ultimately the fate of the world will rest on one magical being's shoulders…
And it isn't Remy.
READ MY REVIEW OF SOMNIARE RIGHT HERE!
---
Alone and exhausted after her month-long sojourn as a shooting star, Solina Mundy flees
to southern California to lie low, recuperate, and plot a survival strategy. The one person she trusts to watch her back is her best friend, Skyla Ramirez. But Skyla has been missing for weeks.
The arrival of a dangerous stranger and the discovery of a legendary weapon of mass destruction forces Solina out of hiding and back into the fight for her life. Solina knows she won't last long on her own. She must find out what happened to Skyla and unite her contentious allies if she hopes to track down this devastating weapon before her enemies use it to burn the world to ash.
READ MY REVIEWS FOR:
MIDNIGHT BURNING –and–
ARCTIC DAWN
---
 Twin sisters Jack and Jill were seventeen when they found their way home and were packed off to Eleanor West's Home for Wayward Children.
This is the story of what happened first…
Jacqueline was her mother's perfect daughter—polite and quiet, always dressed as a princess. If her mother was sometimes a little strict, it's because crafting the perfect daughter takes discipline.
Jillian was her father's perfect daughter—adventurous, thrill-seeking, and a bit of a tom-boy. He really would have preferred a son, but you work with what you've got.
They were five when they learned that grown-ups can't be trusted.
They were twelve when they walked down the impossible staircase and discovered that the pretense of love can never be enough to prepare you a life filled with magic in a land filled with mad scientists and death and choices.
FIND MY REVIEW FOR EVERY HEART A DOORWAY RIGHT HERE!
---
She struggles to feel human. 
In 2256, the only remnants of civilization on Earth's first colonized planet, Kepler, are the plant-covered buildings and the nocturnal, genetically spliced bug-people nesting within them: the Cull. During the day, Syl leaves her home in the sewers beneath Elite City to scavenge for food, but at night the Cull come looking for a meal of their own. Syl thought gene splicing died with the Android War a century ago. She thought the bugs could be exterminated, Elite city rebuilt, and the population replenished. She's wrong.
Whoever engineered the Cull isn't done playing God. Syl is abducted and tortured in horrific experiments which result in her own DNA being spliced, slowly turning her into one of the bugs. Now she must find a cure and stop the person responsible before every remaining man, woman, and child on Kepler is transformed into the abomination they fear.
He struggles not to.
For Bastion, being an android in the sex industry isn't so bad. Clubbing beneath the streets of New Elite by day and seducing the rich by night isn't an altogether undesirable occupation. But every day a new android cadaver appears in the slum gutters, and each caved in metal skull and heap of mangled wires whittles away at him.
Glitches—androids with empathy—are being murdered, their models discontinued and strung up as a warning. Show emotion, you die. Good thing Bastion can keep a secret, or he would be the next body lining the street.
He can almost live with hiding his emotions. That is, until a girl shows up in the slums—a human girl, who claims she was an experiment. And in New Elite, being a human is even worse than being a Glitch. Now Bastion must help the girl escape before he becomes victim to his too-human emotions, one way or another.
JOURNEY TO MY REVIEW OF ARTIFICIAL RIGHT HERE!
---
 The final volume in this incredible YA trilogy which will see Sebastian and Josephine's fates finally sealed…
Sebastian Grey's sole purpose is to be a guardian for secretive gypsy clans and to protect the girl he loves, Josephine Romany. But what happens when your guardian is the one in trouble?
When Kari Corsi is found dead in his trailer, all evidence points to him being killed by a shadow creature. This is a threat to the entire clan: frightened, rumours begin to spread among them, and Sebastian becomes the main suspect.
Josephine must risk everything to find the inner strength to save Sebastian and uncover the true killer. Then, and only then, can they be together. Can they prove that love is stronger than stone?
SEE MY REVIEWS FOR
What sequels are YOU most looking forward to, penguins?!  Have I convinced you to pick any of these awesome reads up?! (C'mon, admit it–you love indie authors just as much as I do!)
Feel free to share your thoughts with me in the comments, or link me to your own Top Ten Tuesday!
Until next time, happy book-ing!