WISHLIST WEDNESDAY
Hosted By:  PEN TO PAPER
Description: Wishlist Wednesday is a book blog hop where we will post about one book per week that has been on our wishlist for some time, or just added (it's entirely up to you), that we can't wait to get off the wishlist and onto our wonderful shelves..
I'm all about breaking bending the rules to my will, so I'm switching it up!  I'm going to do four books–two that are out in the wild, and two soon-t0-be released! Click the covers to be taken to the Goodreads page!
Books Soon-to-Be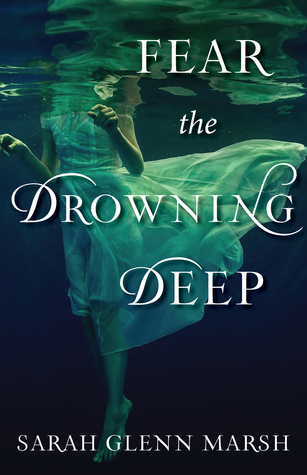 Witch's apprentice Bridey Corkill has hated the ocean ever since she watched her granddad dive in and drown with a smile on his face. So when a dead girl rolls in with the tide in the summer of 1913, sixteen-year-old Bridey suspects that whatever compelled her granddad to leap into the sea has made its return to the Isle of Man.

Soon, villagers are vanishing in the night, but no one shares Bridey's suspicions about the sea. No one but the island's witch, who isn't as frightening as she first appears, and the handsome dark-haired lad Bridey rescues from a grim and watery fate. The cause of the deep gashes in Fynn's stomach and his lost memories are, like the recent disappearances, a mystery well-guarded by the sea. In exchange for saving his life, Fynn teaches Bridey to master her fear of the water — stealing her heart in the process.

Now, Bridey must work with the Isle's eccentric witch and the boy she isn't sure she can trust — because if she can't uncover the truth about the ancient evil in the water, everyone she loves will walk into the sea, never to return.
Why I want it:  I have been seeking a mermaid story to match (or top!) that of Monstrous Beauty, by Elizabeth Fama, for literally a YEAR now…and have so far been rather disappointed.  THIS one, though.  THIS one sounds awesome!
"I don't entirely understand how anyone gets a boyfriend. Or a girlfriend. It just seems like the most impossible odds. You have to have a crush on the exact right person at the exact right moment. And they have to like you back."

What does a sixteen-year-old girl have to do to kiss a boy? Molly Peskin-Suso wishes she knew. She's crushed on twenty-six guys…but has kissed exactly none. Her twin sister Cassie's advice to "just go for it" and "take a risk" isn't that helpful. It's easy for her to say: she's had flings with lots of girls. She's fearless and effortlessly svelte, while Molly is introverted and what their grandma calls zaftig.

Then Cassie meets Mina, and for the first time ever, Cassie is falling in love. While Molly is happy for her twin, she can't help but feel lonelier than ever. But Cassie and Mina are determined to end Molly's string of unrequited crushes once and for all. They decide to set her up with Mina's friend Will, who is ridiculously good-looking, flirty, and seems to be into Molly. Perfect, right? But as Molly spends more time with Reid, her cute, nerdy co-worker, her feelings get all kinds of complicated. Now she has to decide whether to follow everyone's advice…or follow her own heart.
Why I want it:  Well, for one, it's Becky Albertalli, which means it's BOUND to be adorable.  For two, it SOUNDS freaking adorable, which means it's probably BOUND to be adorable.  For three… ADORABLE!  I mean, what else do you need?!
Books in the Wild
FIRSTLY: don't touch the hands of your cuckoo-clock heart. SECONDLY: master your anger. THIRDLY: never, ever fall in love. For if you do, the hour hand will poke through your skin, your bones will shatter, and your heart will break once more.

Edinburgh, 1874. Born with a frozen heart, Jack is near death when his mother abandons him to the care of Dr. Madeleine—witch doctor, midwife, protector of orphans—who saves Jack by placing a cuckoo clock in his chest. And it is in her orphanage that Jack grows up among tear-filled flasks, eggs containing memories, and a man with a musical spine.

As Jack gets older, Dr. Madeleine warns him that his heart is too fragile for strong emotions: he must never, ever fall in love. And, of course, this is exactly what he does: on his tenth birthday and with head-over-heels abandon. The object of his ardor is Miss Acacia—a bespectacled young street performer with a soul-stirring voice. But now Jack's life is doubly at risk—his heart is in danger and so is his safety after he injures the school bully in a fight for the affections of the beautiful singer.

Now begins a journey of escape and pursuit, from Edinburgh to Paris to Miss Acacia's home in Andalusia. Mathias Malzieu's The Boy with the Cuckoo-Clock Heart is a fantastical, wildly inventive tale of love and heartbreak—by turns poignant and funny—in which Jack finally learns the great joys, and ultimately the greater costs, of owning a fully formed heart.
Why I want it:  I've seen the movie, guys, and it's ADORABLE.  A little disturbing, quite a bit edgy, and really dark for an animated film….but ADORABLE.  It's one of my favorites, honestly.  So this book?!  Is now a MUST buy.  I need it.  I need it hardcore.
"Darcy's as hot as he is talented…"

Fast music, powerful beats, and wild reputations-on and off stage-have made virtuoso guitarist Fitzwilliam Darcy's band into rock's newest bad boys. But they've lost their latest opening act, and their red-hot summer tour is on the fast track to disaster. Now Darcy and bandmates Charles Bingley and Richard Fitzwilliam are about to meet their match…

"But she's about to rock his world…"

Enter Elizabeth Bennet, fiercely independent star of girl-band Long Borne Suffering. Elizabeth, her sister Jane, and friend Charlotte Lucas have talent to spare and jump at the opening band slot. Elizabeth is sure she's seen the worst the music industry has to offer. But as the days and nights heat up, it becomes clear that everyone is in for a summer to remember.
Why I want it:  And speaking of hardcore… You all know how deep my obsession with P&P runs.  So obviously, I NEED to add this to my collection.  Also, I have this weird fascination (or…love affair?) with contemporary romances that have musician characters, so…that's strike TWO against this book.  It's going down.  It's going down SOON.
What do you guys think–have you read any of these…or WANT to?  What did you think of them, if so?  Let me know your thoughts below or link me to your Wishlist Wednesday post, and as always…
Until next time, happy book-ing!