Because I needed a post in my life that kept me up to date on all things BOOKS!  and it seemed like Wishlist Wednesday was dead, I decided to make my own.
Welcome to Weekly Wishlist!
I'm all about breaking bending the rules to my will, so I'm switching it up!  I'm going to pair books that are already in the wild…with books soon to be released. Click the covers to be taken to the Amazon page.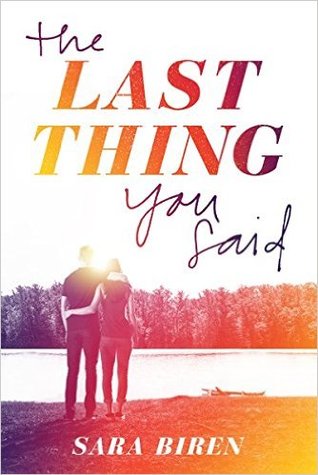 Last summer, Lucy's and Ben's lives changed in an instant. One moment, they were shyly flirting on a lake raft, finally about to admit their feelings to each other after years of yearning. In the next, Trixie—Lucy's best friend and Ben's sister—was gone, her heart giving out during a routine swim. And just like that, the idyllic world they knew turned upside down, and the would-be couple drifted apart, swallowed up by their grief. Now it's a year later in their small lake town, and as the anniversary of Trixie's death looms, Lucy and Ben's undeniable connection pulls them back together. They can't change what happened the day they lost Trixie, but the summer might finally bring them closer to healing—and to each other.
Why I want it:
LOOK!  AT THAT COVER?!?!?!  It's undeniably gorgeous.  And while the blurb is short and sweet, I feel like this is going to be one of those books that really makes me stop and think…and we all know how much I adore those sorts of reads!  So, definitely keeping an eye out for this one in the future!
Sixteen-year-old Tatum Elsea is bracing for the worst summer of her life. After being falsely accused of a crime, she's stuck under stepmother-imposed house arrest and her BFF's gone ghost. Tatum fills her newfound free time with community service by day and working at her covert graphic design business at night (which includes trading emails with a cute cello-playing client). When Tatum discovers she's not the only one in the house keeping secrets, she finds she has the chance to make amends with her family and friends. Equipped with a new perspective, and assisted by her feisty step-abuela-slash-fairy-godmother, Tatum is ready to start fresh and maybe even get her happy ending along the way.

A modern play on the Cinderella story arc, Christina June's IT STARTED WITH GOODBYE shows us that sometimes going after what you want means breaking the rules.
Why I want it:
So, first off, this is a play on Cinderella, which…well, if you know anything about me, you'll know immediately my reasons.  Also, again, this sounds like the type of read that will challenge my way of thinking and push me a bit out of my comfort zone, which we all know I need more of in my life.  And just…that title?  The title alone is enough intrigue for me to want to pick this up.
Few things come as naturally to Harper as epic mistakes. In the past year she was kicked off the swim team, earned a reputation as Carson High's easiest hook-up, and officially became the black sheep of her family. But her worst mistake was destroying her relationship with her best friend, Declan.

Now, after two semesters of silence, Declan is home from boarding school for the summer. Everything about him is different—he's taller, stronger…more handsome. Harper has changed, too, especially in the wake of her mom's cancer diagnosis.

While Declan wants nothing to do with Harper, he's still Declan, her Declan, and the only person she wants to talk to about what's really going on. But he's also the one person she's lost the right to seek comfort from.

As their mutual friends and shared histories draw them together again, Harper and Declan must decide which parts of their past are still salvageable, and which parts they'll have to let go of once and for all.
Why I want it:
I've heard super awesome things about this book, which basically means I'm DOOMED because I pick up all the books that I hear great things about (or at least, all the ones I'm actually interested in.  I don't just pick up random books, usually).  See, this?  This is why my "want to read" list is humongous.
A wizard, a werewolf, and a watchmaker walk into a bar…and don't come out alive.

Two months after the infamous Etruscan incident, it's back to normal for DSI—as normal as life can be when you hunt monsters on a salary. The rest of Nick Riker's elite team has finally returned from France. Cooper Lee has healed from his nightmare trip to the Eververse. The remnants of the battles with Charun and Tuchulcha have been swept under the rug. And the exploding boathouse in Holden Park has (almost) been rebuilt.

All is calm in Aurora, Michigan.

Until a grisly triple murder in one of the city's most popular bars destroys the delicate balance between three powerful forces. A high-ranking werewolf, a seasoned wizard, and a former mayor turned watchmaker wind up in body bags, and their deaths pit the ICM, DSI, and Aurora's largest wolf pack against each other in a blame game of epic proportions. And as the accusations spiral out of control, threatening a supernatural war on Aurora's streets, it's up to Riker's team to keep the peace before blood stains the sidewalks.

Meanwhile, Cal is struggling to overcome the consequences of his trip to the Etruscan Underworld. Haunted by visions of the future in the form of disorienting déjà vu, he's terrified he'll fail his team at crucial moments. But with the threat of violent riots hanging in the air, Cal has no choice but to power through and pray for the best.

Because one misstep on this case could mean the downfall of the city he loves.
Why I want it:
I read–and enjoyed!–the first novel in this series from an author I'm rather fond of, and cannot WAIT to pick up book two!  I mean seriously, when you find a reader who doesn't particularly LIKE books with cop main characters…actively seeking out a series that has just that?  You know it's good.
Have a book YOU'D like to recommend to me?!  AWESOME!  Either shoot me a comment down below, or send me a recommendation on Goodreads RIGHT HERE!
What do you guys think–have you read any of these…or WANT to?  What did you think of them, if so?  Let me know your thoughts and as always…
Until next time, happy book-ing!