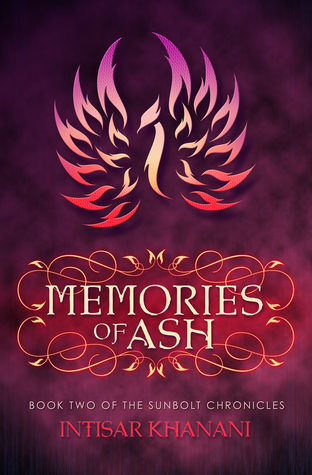 Title: Memories of Ash
Series: The Sunbolt Chronicles, Book Two
Author: Intisar Khanani
Cover Designer: Jenny Zemanek
Genre: Young Adult Fantasy
Release Date: May 30, 2016
Publisher: Purple Monkey Press
Price: US $3.99 (eBook), US $TBD (paperback)
Goodreads Rating: 4.69 Stars
In the year since she cast her sunbolt, Hitomi has recovered only a handful of memories. But the truths of the past have a tendency to come calling, and an isolated mountain fastness can offer only so much shelter. When the High Council of Mages summons Brigit Stormwind to stand trial for treason, Hitomi knows her mentor won't return—not with Arch Mage Blackflame behind the charges.

Armed only with her magic and her wits, Hitomi vows to free her mentor from unjust imprisonment. She must traverse spell-cursed lands and barren deserts, facing powerful ancient enchantments and navigating bitter enmities, as she races to reach the High Council. There, she reunites with old friends, planning a rescue equal parts magic and trickery.

If she succeeds, Hitomi will be hunted the rest of her life. If she fails, she'll face the ultimate punishment: enslavement to the High Council, her magic slowly drained until she dies.

Purchase your copy of Sunbolt at:

Amazon  |  Barnes & Noble  |  Kobo  |  Apple
---

Quick Reasons: great fantasy; intriguing twists to vampires; tons of action and drama; complex, well-written characters; unlikely friendships; realistic relationships and emotional reactions; nail-biting scenes; lots of wit, snark, and entertainment
Huge thanks to Intisar Khanani, Purple Monkey Press, and Xpresso Book Tours for granting me early access to this title in exchange for an honest review! This in no way altered my read of or opinions on this book.
Going into this read, I wasn't sure what to expect. I really enjoyed Sunbolt, but was also left with a ton of questions and missing plot points that I wasn't sure would be easily wrapped up or explained.
I should not have doubted the brilliance that is Intisar Khanani's mind. This is only the second book I've read by her, but let me tell you—she knows what she's doing. The characters in this sequel are complex, wholly realistic, and beyond entertaining. The snark and sass that comes out of just ONE of these characters is enough to knock you over; the fact that she isn't the only character with such a huge amount of personality could probably light an entire town, if such a power source existed.
The prose is gorgeous, melodic, and SO descriptive. You will literally sink into the story…and come out on the other side blinking, wide-eyed, wondering what happened to the time. The action is fast-paced and entertaining. The nail-biting, cringe-worthy moments will keep you in suspense throughout. There aren't very many "plot twists," which I both enjoyed and didn't—much as I loathe bad plot twists, sometimes books NEED them, you know? However, the plot was so well-thought out, things were revealed in their own time—and that worked.
I think my favorite thing about these books, though, are the relationships. While there were some confusing or vague plot points, the relationships remained realistic and believable. I particularly enjoy the bond between Val and Hitomi—they accept one another as they are, no questions asked, and it's obvious from their interactions that there's a grudging sort of friendship growing between them. The respect Hitomi shows throughout—toward everyone, not just certain groups—shows a side of her personality we might not have been privy to otherwise. And I LOVE that, even in the worst sort of danger, she sticks to her morals like glue—they aren't even a question for her.
This was an entertaining, awesome read—the fantasy is detailed, the prose gorgeous, and the characters wholly believable. I recommend this to lovers of complex stories, multi-dimensional relationships, and new/adventurous settings. This was a great installment to a pretty awesome series; I can't wait to see what book 3 has planned for these characters!