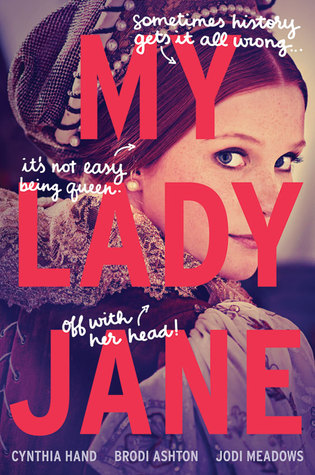 My Lady Jane
(The Lady Janies #1)
by Cynthia Hand, Brodi Ashton, and Jodi Meadows
491 Pages
Historical / Fantasy / Young Adult / Romance
HarperTeen
Publication Date: June 7th, 2016
Get a copy here!
BLURB:
The comical, fantastical, romantical, (not) entirely true story of Lady Jane Grey. In My Lady Jane, coauthors Cynthia Hand, Brodi Ashton, and Jodi Meadows have created a one-of-a-kind fantasy in the tradition of The Princess Bride, featuring a reluctant king, an even more reluctant queen, a noble steed, and only a passing resemblance to actual history—because sometimes history needs a little help.

At sixteen, Lady Jane Grey is about to be married off to a stranger and caught up in a conspiracy to rob her cousin, King Edward, of his throne. But those trifling problems aren't for Jane to worry about. Jane is about to become the Queen of England.

Quick Reasons: super entertaining; these characters are vibrantly different and yet still familiar; the humor in this is SPOT ON; LOVED the narrators, they helped to both bridge the gap and break the wall down; intriguing, unique premise to the "magical" aspects
If I could brew snark and put a stopper in satire, this book would be at the tippity top of my favorites list. Seriously, the level of personality JUST in the narrators alone was consistently sending me into fits of giggles. They (the narrators, not the giggle fits) helped to both bridge the gap between reader and characters…and also, somehow, build up the wall at the same time? I'm not sure if that even makes sense as an explanation. While they were fairly transparent with their chronicling of the events, they also made it very apparent how unreliable they could be. By this, I mean they often led us, the readers, onto hidden and treacherous paths toward what we thought, at the time, was disappointment…only to totally change directions halfway through and surprise us entirely. Basically, this whole journey was a mess of chaos, scattered thoughts, and pitter-pattery heartbeats–and I adored every single moment!
The characters are also just as vibrantly written, with their own distinct flairs and personalities. I found myself falling in love with and then loathing them each in turn, though for varying reasons (some of which are due to those pesky flighty romance butterflies. Seriously, this is a roMESS from start to finish!) While each character is uniquely written, they also (at least, in certain instances) maintain a semblance of the real-life historical figures they're based upon. This both entertained me throughout, and made placing the characters/their relationships to each other slightly easier in the middle of the messiest bits. (Don't worry, Penguins–mess is a good thing in this instance!)
This plot is fast-paced and filled with the type of satirical snark I've been DYING to read for ages now, but have been unable to find of late. There were so many moments I found myself piecing things together only to laugh out loud at the brilliance behind the implications (the play on horse and steed, especially, was almost too much for my poor ribs!) While it is obvious this isn't true to actual historical events (or, at least, such events have been altered to better fit the magic of this world) I really enjoyed the creativity and fun that the authors brought to this tale.

I am just SO glad I made time for this book this month–I should have read it eons ago, honestly! The characters are witty and vibrant, the satirical snark is top-notch, and the plot is super entertaining. I recommend this to lovers of historical satires, delicious word-play, and journeys that quite literally RETELL history! Breathe deeply, Penguins; what beastly form will you take when the light flares?