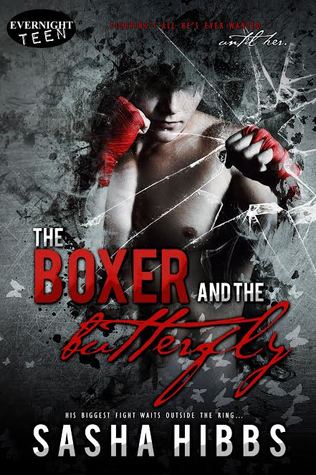 Autumn Chamberlain has everything: a rich family, connections and a perfect GPA. Autumn's satisfied being the perfect daughter until she engages in a game of dare and loses.

Her punishment for destroying school property? Tell her parents and face the consequences or tutor bad boy, Mickey Costello. The problem? He's the principal's nephew and has more demons than Autumn could've ever imagined.

Living life on the edge, Mickey's everything she isn't. Once tutoring begins, he shows her a world where everything that glitters isn't gold. As their attraction grows, long buried secrets resurface. Inside the ring Mickey's never lost a fight, but when tragedies come back to haunt him, he'll have to conquer past sins, guilt and a hate crime that pushes them both to the edge. Can Mickey fight his way through his troubled past to have a future with Autumn or will the truth shatter them both forever?
YA/Contemporary/Romance/Diverse Reads
353 Pages
Evernight Teen Publishing
Publication Date: October 21st, 2016
Get a copy here!

Quick Reasons: some mature themes and situations; these characters are endearing and easy to love; tons of character growth; intense scenes; some unexpected plot twists; just a small case of, "woah, slow down, you're moving too fast!"; whirlwind romance; diverse loves/characters
Huge thanks to Sasha Hibbs and Evernight Teen Publishing for sending me a free copy of this title in exchange for an honest review! This in no way altered my read of or opinions on this book.
Firstly, penguins–there are some mature themes and situations in this book. There is one scene, in particular, in which a hate crime takes place. There is also a mention of parental, physical abuse. The main male character, Mickey, is ALSO a fighter in an underground boxing ring–and several fights are detailed from the POV of our narrator. If you are a sensitive reader or are easily triggered by acts of violence or abuse, please make sure you keep yourself safe. This might not be the read for you.
That being said–there is SO MUCH character growth happening in these pages! I will be honest: at the start of this read, I really loathed Autumn. She was snooty; she was spoiled, even if she didn't realize it. She came off as the kind of character I generally don't like. BUT. I promise you, penguins, she changes–and quickly. Autumn shows so much growth throughout this journey, I was left with a cricked neck, so hard was I craning to keep up with her as she ran. Autumn's parents also make quite a shift in their ways at the end of this book, and Mickey has a growth journey all his own. In all, this book most closely focused on growth…and the ways it can both drive us apart and bring us together. The many, MANY ways it can change us, touch us, push us.
This plot is FAST. In fact, I found myself doubting, at times, the romance aspect itself–I felt as if Autumn and Mickey weren't so much falling in love, as throwing themselves off a cliff in hopes of flying. Of course, this doesn't mean it was badly written–there was, it turns out, a reason for the set up. The rest of the events were well-paced and believable–and there were several moments I was sure my heart had stopped. This is a heart-wrenching, beautiful read with so many important subjects and morals; Sasha Hibbs did a great job crafting this to make exactly the points she wanted to.
Overall, this was a fluffy romance with just the right touches of danger and drama. I really enjoyed following Autumn and Mickey on their journeys–both together and apart. It seems every character featured had some small amount of growth, some tiny lesson to both learn themselves and share with readers. I will be seeking out more of Sasha Hibbs in the future. For now, I recommend THIS book to readers of contemporary romance, star-crossed loves, and journeys that pack an emotional punch. This read is a knock-out; why don't you step into the ring and take it on?