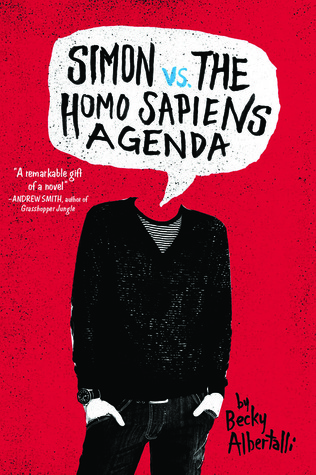 Sixteen-year-old and not-so-openly gay Simon Spier prefers to save his drama for the school musical. But when an email falls into the wrong hands, his secret is at risk of being thrust into the spotlight. Now Simon is actually being blackmailed: if he doesn't play wingman for class clown Martin, his sexual identity will become everyone's business. Worse, the privacy of Blue, the pen name of the boy he's been emailing, will be compromised.
With some messy dynamics emerging in his once tight-knit group of friends, and his email correspondence with Blue growing more flirtatious every day, Simon's junior year has suddenly gotten all kinds of complicated. Now, change-averse Simon has to find a way to step out of his comfort zone before he's pushed out—without alienating his friends, compromising himself, or fumbling a shot at happiness with the most confusing, adorable guy he's never met.
– – – – –

Quick Reasons: adorable characters; mature subject matter written with sensitivity and poise; realistic, hard-hitting, and fluffy all at once; striking, poignant prose; a small bit of "unravel it" mystery; many squee-worthy, giggle-inducing moments
This book is everything other reviewers have promised and more. I went in knowing there was a ton of hype surrounding this read, and unsure whether I'd agree. Lately, certain hyped books have not quite matched up to my standards, and I was worried I'd dive in only to find myself putting it down.
Instead…I dove in, and read the entire thing in one sitting. I feel this read can be summed up, for me, with just a few small words: exactly the type of realistic, hard-hitting, fluffy read I've been seeking! Okay, so maybe that's more like a sentence worth of words…but you get the point! I adored this read, and am so glad I picked it up!
Why is straight the default? Everyone should have to declare one way or another, and it shouldn't be this big awkward thing whether you're straight, gay, bi, or whatever. I'm just saying.
First things first: the POV. I was leary, headed in, that this would be just another first person narrative written to read more like a diary entry than a novel. And to be honest, it WAS written that way—Simon's voice is so strong, so clear, so unique you can't help but imagine him sitting at his desk, clacking away at the keyboard, summing everything up on a blog somewhere. The difference? Simon's voice. He's so quirky and entertaining, no one part of this read came off as redundant or boring. Instead of being, "so I did this, and then I ate, and then I showered, and then school happened…" it was more journey than I'd been expecting. We see, we breathe, we live the world through Simon's eyes; every detail, every word, every nuance is branded with his own personal flair, and that brought a ton of personality to the book overall.
The characters, also, are entertaining and complex. Because of the nature of some of the subject matter, certain characters are given more focus than others—but they all sort of meld together in this clashing calamity of high school life and high school relationships. It's so artfully realistic, it isn't hard to slip into the story. Characters like Abby, Nick, Leah, Martin—they all weave themselves into a patchwork quilt of love and loathe, of friendships and frenemies. I tip my hat to Becky Albertalli for being able to strip this down to the most human aspects, and work the story up from there.
The way I feel about him is like a heartbeat — soft and persistent, underlying everything.
The romance, also, is pretty realistic and almost "natural" for our time. The anonymity that the internet provided for our love birds enabled us to see them (particularly Simon) through different eyes—because in those moments, Simon as his alter ego is more the Simon he WANTS to be. It's interesting, and awesome, to be able to learn about and see them as their walls come down and things begin slipping through the cracks—and watch as they stumble more fully into the people they'd rather be than the masks they wear around the rest of the world.
I feel the need to point out that there IS some bullying happening here, especially near the middle of the book. There are certain things said that might offend or insult, so if things like that get to you, only read this if you're certain you can handle it.
People really are like houses with vast rooms and tiny windows. And maybe it's a good thing, the way we never stop surprising each other.
I really enjoyed this read and am so so glad I decided to kick off the new year with it! I can't wait to see what Becky Albertalli has in store for readers in the future. I'd definitely recommend this to lovers of contemporary reads, fluffy romance with a flair for drama/hard-hitting subjects, and diverse characters. 2016, keep it up—you started off fantastically already!