The Sunday Post
Hosted by:  Caffeinated Book Reviewer
Description:  The Sunday Post is a chance to share News. A post to recap the past week, showcase books and things we have received and share news about what is coming up for the week on our blog. This is your news post, so personalize it! Include as much as you want or as little. Be creative, it can be a vlog or just a showcase of your goodies.
General Update:
Happy New Year, everybody!  How are you all?  The year treating you well so far?  Have you set any goals or milestones you'd like to reach, reading or otherwise?  Tell me about them! (I mean, if you want to.  Please?)
I set myself a few goals I'm pretty excited about for my reading life this year.  I'm also participating in some pretty awesome challenges!  You can see more about all of THOSE things right over here.
I also want to talk with all of you more!  I'm sure some of you have noticed me lurking and commenting on your various posts more lately than I used to… I want to keep that up!  So if there's ever anything you want to ask me, or say in response to one of my posts, orrrrr just sort of say randomly–please feel free!  I promise I don't bite (and if I do, I promise I'm not a carrier of the zombie plague.)
Reading Update:
Current Reads:
This is entertaining…and at times hilarious!  Basically, it's a "WHAT IF classic lit characters had access to Facebook?"  I'm really enjoying it, though I'm not reading it quickly–it gets a smidge redundant if read too long in one sitting.
The husband and I are still working on reading this aloud.  Hopefully we'll get through it within the next few weeks?  But if not, no big deal.  So far, it has YET to be revealed why Death is playing the role of Father Hogsmas… I just loooove Pratchett, though, so I forgive him.
Teaser Reviews:
The Steep and Thorny Way, by Cat Winters — 5/5 Stars
Recent Reviews:
The Girl who Fell from the Sky, by Heidi W. Durrow — 5/5 Stars
Simon vs. the Homo Sapiens Agenda, by Becky Albertalli — 4.75/5 Stars
The Medium (Liminality #1), by MR Graham — 3.5/5 Stars
Up Next:
followed by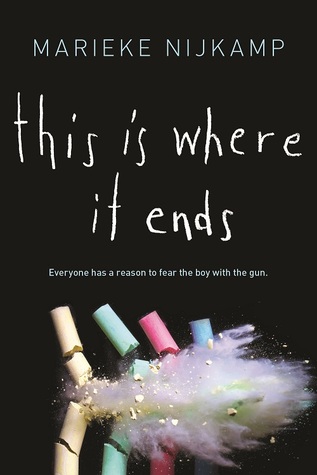 So, what are you guys reading?  Any awesome or funny New Years anecdotes you want to share?  What's up for your bookish world this week?!  Let me know below, or link me to your own Sunday Post!
Until next time, happy book-ing!