WISHLIST WEDNESDAY
HOSTED BY:  PEN TO PAPER
DESCRIPTION: WISHLIST WEDNESDAY IS A BOOK BLOG HOP WHERE WE WILL POST ABOUT ONE BOOK PER WEEK THAT HAS BEEN ON OUR WISHLIST FOR SOME TIME, OR JUST ADDED (IT'S ENTIRELY UP TO YOU), THAT WE CAN'T WAIT TO GET OFF THE WISHLIST AND ONTO OUR WONDERFUL SHELVES.
I'm all about breaking bending the rules to my will, so once again, I'm going to include an older wishlist-ed book and a more recent one.  Click the covers to be taken to the goodreads page!
"The Breakfast Club" gets a modern, high-stakes reboot in this story of four very different teens and a night that changes them forever.

The Rebel: Once popular, Andi is now a dreadlocked, tattooed wild child.
The Bully: York torments everyone who crosses his path, especially his younger brother.
The Geek: Tired of being bullied, Boston is obsessed with getting into an Ivy League college.
The Pariah: Choosing to be invisible has always worked for Sam . . . until tonight.

When Andi, York, Boston, and Sam find themselves hiding in the woods after a party gets busted by the cops, they hop into the nearest car they see and take off—the first decision of many in a night that will change their lives forever. By the light of day, these four would never be caught dead together, but when their getaway takes a dangerously unpredictable turn, sticking together could be the only way to survive.

With cinematic storytelling and compelling emotional depth, critically acclaimed author Erin Jade Lange takes readers on literary thrill ride.
Reasons I want it:  A modern day retelling of The Breakfast Club?! Do I really need another reason?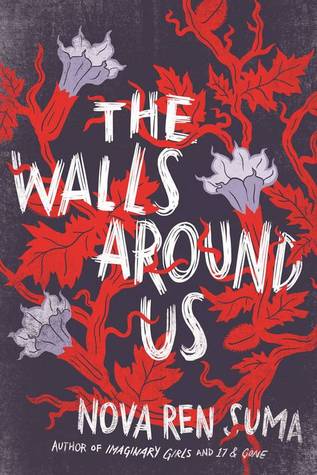 On the outside, there's Violet, an eighteen-year-old dancer days away from the life of her dreams when something threatens to expose the shocking truth of her achievement.

On the inside, within the walls of the Aurora Hills juvenile detention center, there's Amber, locked up for so long she can't imagine freedom.

Tying their two worlds together is Orianna, who holds the key to unlocking all the girls' darkest mysteries…

What really happened on the night Orianna stepped between Violet and her tormentors? What really happened on two strange nights at Aurora Hills? Will Amber and Violet and Orianna ever get the justice they deserve—in this life or in another one?

In prose that sings from line to line, Nova Ren Suma tells a supernatural tale of guilt and of innocence, and of what happens when one is mistaken for the other.
Reasons I want it:  I've heard such great things about this read.  Also, the blurb just sounds so GOOD!
What do you guys think–have you read any of these?  What did you think of them, if so?  Let me know your thoughts below or link me to your Wishlist Wednesday post, and as always…
Until next time, happy book-ing!