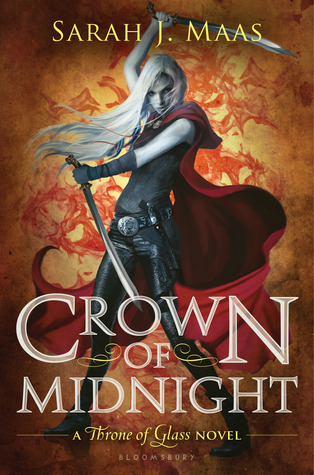 "A line that should never be crossed is about to be breached.

It puts this entire castle in jeopardy—and the life of your friend."
From the throne of glass rules a king with a fist of iron and a soul as black as pitch. Assassin Celaena Sardothien won a brutal contest to become his Champion. Yet Celaena is far from loyal to the crown. She hides her secret vigilantly; she knows that the man she serves is bent on evil.
Keeping up the deadly charade becomes increasingly difficult when Celaena realizes she is not the only one seeking justice. As she tries to untangle the mysteries buried deep within the glass castle, her closest relationships suffer. It seems no one is above questioning her allegiances—not the Crown Prince Dorian; not Chaol, the Captain of the Guard; not even her best friend, Nehemia, a foreign princess with a rebel heart.
Then one terrible night, the secrets they have all been keeping lead to an unspeakable tragedy. As Celaena's world shatters, she will be forced to give up the very thing most precious to her and decide once and for all where her true loyalties lie… and whom she is ultimately willing to fight for.
– – – – –
Rating: 4/5 Stars
Quick Reasons: yet more twists to this rollercoaster plot; characters that mend your heart and tear it out again in the same breath; awesome world-building; unique twists and unforseeable surprises; realistic, complicated web of relationships
I started reading this at least a week ago. One. Week. I don't know, thinking about it now, why it took me so long to get through it—once I actually sat down and made myself read, it was a quick, heart-wrenching, and emotionally overwhelming book. Exactly my type, if I'm being honest.
"What does that mean?" he demanded.

She smiled sadly. "You'll figure it out. And when you do…" She shook her head, knowing she shouldn't say it, but doing it anyway. "When you do, I want you to remember that it wouldn't have made any difference to me. It's never made any difference to me when it came to you. I'd still pick you. I'll always pick you."
So I guess I need to start with the obvious, huh? Sarah J. Maas…you. terrible. woman! You slipped that small sliver of hope into my reading world and then ripped it all away not even fifty pages later. How dare you break me like that?! I don't think I can forgive you. You have a lot of sucking up to do in the future books. A LOT.
Seriously though, heartaches aside, this was a wild and entertaining read from the get go. I fell in love with Celaena in Throne of Glass—and while THIS version of Celaena is darker, more weighted down by her responsibilities and the realities of the world she's facing, she's still snarky (mostly) and kickass (always). Once again, she forced her way into my heart. When she was happy, I was happy. When she broke, I broke too. There aren't many characters I can say that about so honestly.
But death was her curse and her gift, and death had been her good friend these long, long years.
This story literally seeps around you as you read. Once you dive into these books, prepare to finish them off in as few sittings as possible—they just won't let you go. The scenes are action-packed, the foreshadows never quite match up (until they're meant to), and the characters are so realistic and believable you'll feel as if you're sitting on the sidelines of some huge, dramatic production.
The plot is well-constructed and paced perfectly, as well, each "reveal" coming at just the right time, dragging readers deeper in to the mystery. If you go into these books with an open mind, you're bound to be taken on an unexpected rollercoaster journey—and hopefully, love every moment of it. Because while the characters are realistic, they also break the mold. Celaena especially never quite does what you expect, always keeping you on your toes: much like the plot itself. From one moment to the next, you'll never be sure exactly what's going on, because you aren't given all the puzzle pieces. Sarah J. Maas is an expert at crafting and lining up her puzzles in just the right ways to always leave you guessing and keep you wanting more.
Roland gave her a courtier's smile. "And what sort of work do you do for my uncle?"
Dorian shifted on his feet and Chaol went very still, but Celaena returned Roland's smile and said, "I bury the king's opponents where nobody will ever find them."
I really enjoyed this read, and can't wait to lay my hands on the third book in the series! I'd definitely recommend these books to lovers of assassins, magical realism, and beautiful world-building. If that's what you're drawn to, you should give this series a shot for sure!