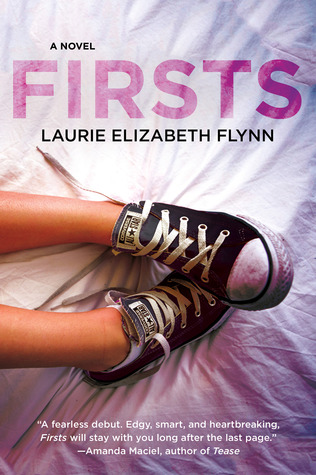 Seventeen-year-old Mercedes Ayres has an open-door policy when it comes to her bedroom, but only if the guy fulfills a specific criteria: he has to be a virgin. Mercedes lets the boys get their awkward, fumbling first times over with, and all she asks in return is that they give their girlfriends the perfect first time- the kind Mercedes never had herself.
Keeping what goes on in her bedroom a secret has been easy- so far. Her absentee mother isn't home nearly enough to know about Mercedes' extracurricular activities, and her uber-religious best friend, Angela, won't even say the word "sex" until she gets married. But Mercedes doesn't bank on Angela's boyfriend finding out about her services and wanting a turn- or on Zach, who likes her for who she is instead of what she can do in bed.
When Mercedes' perfect system falls apart, she has to find a way to salvage her reputation and figure out where her heart really belongs in the process. Funny, smart, and true-to-life, FIRSTS is a one-of-a-kind young adult novel about growing up.
—–
Rating: 5/5 Stars
Quick Reasons: a sensitive, well-done examination of "slut-shaming" and the harm that comes with it; a deeper insight into the double-standard placed upon females compared to males of the same age; a realistic, caustic look into high school, sex, friendships, love, and personal growth; witty, snarky, intelligent prose; a main protagonist with a unique and individual voice and the power to both disarm and charm readers
I used to like my name. Mercedes. That is, until I figured out I was named after a car. The shiny red car that my dad loved more than anything—the one he waved from as he drove away. I remember liking that car, too. My dad used to let me sit in the front seat and pretend to steer. "You're going to have a lead foot," he would say over my childish vroom, vrooms. "Somebody'll need to teach you how to slow down." But he didn't stick around long enough for that person to be him.
I read 99 Days, by Katie Cotugno, recently. If you're interested, you can find my review here: https://www.goodreads.com/review/show…
Now, if you pay attention to books, you might realize these two reads share a common, heavy-handed, mature subject matter: what is otherwise known as "slut shaming," though to be honest I really despise this phrase myself and refuse to use it if I don't absolutely have to. I gave 99 Days four out of five stars.
When I discovered Firsts, by Laurie Elizabeth Flynn, on netgalley… I LITERALLY could not stop myself from requesting it. The blurb was intriguing, the character seemed almost mythical in that "I know who I am and I don't care if YOU know it, too" way… I HAD to read it. I HAD to read it, right then. So when I was approved, I knew I couldn't wait to crack it open (on my kindle, obviously). Having devoured this read… I'm now wishing I'd read it before Katie Cotugno's novel. Because while I enjoyed her writing and story… THIS book blew me away.
To start with—I had an almost instantaneous connection with Mercedes, our main character. Her voice is so unique, so different and confident at the start of this book. She knows who she is, she takes no shit from anybody, and she has—despite perhaps some moral ambiguity—at least a small sense of what she's attempting to achieve (wrong as it seems when all is said and done). The prose is snarky, intelligent, and had me giggling to myself throughout. Basically, Mercedes took names and kicked ass in this book—and that really, really drew me to her. It made me WANT to know more about her, to know more about her life, to see the world more through her eyes. I haven't had such an intimate connection with a book in… Well, it's been a while now.
On top of this, Laurie Elizabeth Flynn approaches this subject from a DIFFERENT direction than I've seen recently—because Mercedes isn't the prodigal daughter, the eternal goody-two-shoes, the girl who gets manipulated and used and tossed away to be trampled on. Mercedes is NOT the narrator I was expecting—and the story, when the climax builds and things start falling apart, became so much more heartbreaking for it. Somehow, seeing this new spin on the tried-and-true double standard made it MORE real to me as a reader.
There are so many things done RIGHT with this book, I don't know that I should start listing them all out—we'd be here a while, and none of us have time for that these days. I loved—let me reiterate this, LOVED—almost all the characters (well…except a few slimey, snivelling bastards I wish I could kick like footballs). The fact that not everybody abandons Mercedes when shit gets real—that there are, just like in life, people who stick by her instead of shaming her with the rest of the world—was realistic and wrenching.
The relationships in this book—and this time, I do mean all of them, because despite the icky characters they did what they were meant to—were human, easy to relate to, and at times all too close for comfort. Laurie Elizabeth Flynn went out of her way to include as many different human interactions as she could; this is a melting pot of contemporary, the prose easy to read and get sucked into, the story both harsh where it needs to be and light-hearted enough to still HURT the way it should. Because this doesn't ONLY explore the taboo; this is also a sort of quasi-coming of age. Mercedes' character growth is brilliant and inspiring, the morals not just for girls in her situation but for girls everywhere: Acceptance of self. Confidence. The fact that this book breaks so many stereotypes, pushes the boundaries, strives to put acceptance ABOVE everything else… I just can't explain the many ways this impacted me with a clear head.
I can control what happens in the chemistry lab. There's a formula and an equation, and I know exactly what the reaction will be when I mix one thing with another. Life, not so much. Love, not at all. No matter what elements you combine, you really have no idea what happens next.
I should throw in some of this might be considered triggering to certain people. Please really consider reading this if you are uncomfortable with sex, rape, or sexually abusive relationships. I'd say this is more for "mature" readers.
This is probably my FAVORITE contemporary book ever. It's caustic, it's heavy-handed and so so difficult to read at times…and it's absolutely gorgeous. It is SO, SO worth the read. If you're seeking your next contemporary, and you're not sure what you're looking for, keep this one in mind! I'd recommend to lovers of Rainbow Rowell, Jay Asher, and Katie Cotugno.