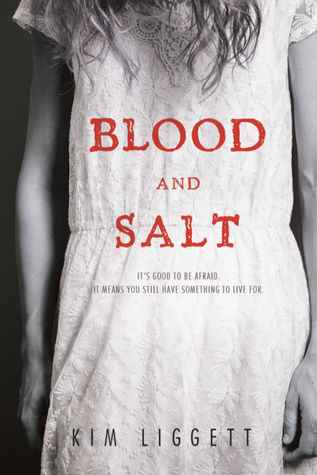 Romeo and Juliet meets Children of the Corn in this one-of-a-kind romantic horror.
"When you fall in love, you will carve out your heart and throw it into the deepest ocean. You will be all in—blood and salt."
These are the last words Ash Larkin hears before her mother returns to the spiritual commune she escaped long ago. But when Ash follows her to Quivira, Kansas, something sinister and ancient waits among the rustling cornstalks of this village lost to time.
Ash is plagued by memories of her ancestor, Katia, which harken back to the town's history of unrequited love and murder, alchemy and immortality. Charming traditions soon give way to a string of gruesome deaths, and Ash feels drawn to Dane, a forbidden boy with secrets of his own.
As the community prepares for a ceremony five hundred years in the making, Ash must fight not only to save her mother, but herself—and discover the truth about Quivira before it's too late. Before she's all in—blood and salt.
– – – – –
Rating: 4.5/5 Stars
Quick Reasons: intriguing, unique horror story; a romance that sweeps you off your feet and leaves you crushed at the end; lots of twists, turns, and general roller-coaster emotions; intense drama, mystery, teenage angst, and the occult; an outside perspective into the "cult" lifestyle
This was one of my most anticipated reads for the month of October, so when I "treated" myself to a few newly released kindle books, I made SURE this was one I snatched up. Having finished it not long ago… I'm so glad that I did.
From the very first page, Kim Liggett wraps readers in a world of mysterious occult happenings and intense, breath-stealing drama. The prose is absolutely GORGEOUS, with hints of the poetic and lyric combining to make certain moments—and descriptions—almost sing-songy and picturesque. This story literally drags readers in head-first, and keeps them enthralled until the very end.
Then I thought of my mother's words. Maybe this was what she meant by blood and salt.

Salt in the wound.
The characters are realistic and complex, leaping off the page to tug at your heartstrings and make you long to know what happens next. Even the minor characters are redeemable, lovable, and surprising, helping to bring this story more fully to life. You will root for them, you will loathe them, and you will understand them all at once. Their motivations, their reactions, and their interactions all come together in beautiful, painful ways, keeping readers always guessing. Keeping readers effectively in the dark until the right moments.
Fireworks didn't go off in my chest when he touched me, but maybe that was better—who wants to spend their whole life getting burned?
The world-building is done well, a staggering look into the "magic" of the occult… and the ways beliefs can, sometimes, become obsession. Can go wrong. Kim Liggett gives readers an interesting, dramatic glimpse into a world most of us aren't privvy to, and weaves the story together like the frayed edges of a favorite shirt. The plot is strong and serves a purpose; no stone is left unturned, no hole left to fester and seep at the end—everything comes together in a resounding, breath-stealing conclusion you won't expect. The twisty-turny structure, the "big reveal," all lead to a heart-stopping ending that both ties up the loose ends and leaves room for the next book in the series (to be published sometime in 2016)!
But I still felt Dane like a phantom limb.

Every step I took away from him only seemed to deepen the ache. I loved him and I hated him. Even whispering his name felt like fire and ice scraping against my lungs. And now I was bound to him for all eternity, a prisoner of my blood.
I absolutely LOVED this read, and can't wait for the second book to be released! This is devour-worthy, filled with chills, thrills, and the obsession of first-love…and wanting things we can never have. This is one read you don't want to miss—I'd definitely recommend, particularly to lovers of authors like Stephen King, William Shakespeare, and Rin Chupeco. This is a must read!