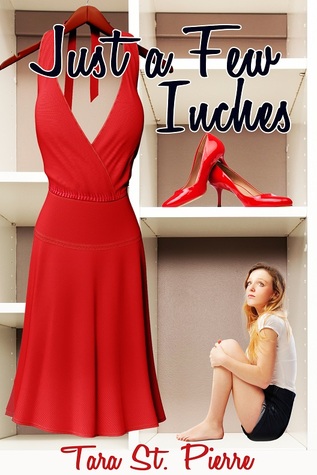 Goodreads Rating: 3.98 Stars
306 Pages
Createspace Independent Publishing Platform
Publication Date: May 31st, 2015
Get a copy here!
All Carrie Roberts wants is to be a little bit smaller.

To fit into the perfect dress for the Valentine's Day Dance. To look beautiful for her boyfriend, the school's star basketball player. To keep his jealous ex-girlfriend, a rival cheerleader, away from him. And to be noticed by her classmates.

Exercising and dieting don't work, but an advertisement for weight loss pills promises a quicker solution to her problem. As time runs out, she takes more than the recommended dose until she's just a few inches slimmer. Heads turn when she arrives at the dance, and the wonderful night with her boyfriend is beyond what she dreamed it would be.

Days later, Carrie discovers that her body is changing in ways that should be impossible. While her doctor searches for a cure, she desperately turns to her friends and family for support. Everyone is noticing her now whether she likes it or not, and even the media is intrigued by her incredible story. Getting everything she once wanted has created new problems—problems that are growing more terrifying every day.

Because Carrie Roberts is shrinking.

– – – – –

"Just a Few Inches" is a Young Adult novel that deals with issues of body image, self-esteem, and teenage relationships. It is intended for readers age 13 and up.

Quick Reasons: penguins, this book is SO important!; the morals in this read, the character growth (in the midst of shrinking), all of it comes together into a stunning blend of horrifying and mind-altering; there were some odd grammar things at the beginning, but TRUST ME—keep reading!; this book will change your perspective if you let it
Huge thanks go out to Tara St. Pierre and Createspace Independent Publishing Platform for sending me a copy of this title in exchange for an honest review! This in no way altered my read of or opinions on this book.
When I first started reading, I was worried—there were some weird grammar issues at the beginning that I had trouble overlooking at first. The tense of sentences sometimes shifted and changed without warning—often in the same sentence. Long story short, for the first 10% or so, I wasn't sure how I'd feel about this book. But I pushed through…and I am SO SO glad that I did.
This book is so important, guys. You have NO idea. This is the second book in as many months I've read with a "tiny" character… Except in this book, she doesn't START already tiny. She becomes so, over the course of seven months and a huge amount of character growth/perspective shifting. It was this journey, and Carrie's reactions to the changes and the world around her, that MADE this book.
Trust me when I say: Carrie Roberts was NOT my ideal character at the beginning of this read. In fact, I got super annoyed with her pretty early on—she was always comparing herself to another girl (the ex of her boyfriend, in fact); she was consistently catty and bordering on immature. She was, without a DOUBT, not the sort of character I could easily identify with—or want to know. BUT. BUT. There is such an immense, satisfying amount of growth in this book. Carrie Roberts may shrink physically, but she grows in so many other important ways. She very quickly became a character I could look up to.
The other characters, as well, bring some important messages to readers. The reactions, interactions, and interpretations of the events in this book were both wildly entertaining at times…and heartbreakingly realistic in others. Even the youngest characters are portrayed in ways that teach, that bring perspective, that terrify… This entire read is SO well-crafted, it's bound to stick with me a long time into the future.
I am SO glad that I picked this read up, and that Tara St. Pierre reached out to me to begin with for this review. This book is super important—and so perspective-changing. Carrie shrinks…but she grows so much in all the ways that really matter. I definitely recommend to lovers of mind-altering reads, contemporary books with a hint of science fiction thrown in, and characters with immense amounts of growth. Pick this book up, guys—trust me when I say it's bound to change your world!