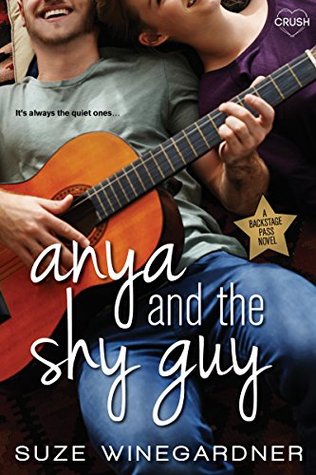 Goodreads Rating: 3.90 Stars
230 Pages
Entangled: Crush Publishing
Get a copy here!
It's always the quiet ones…

Anya Anderson doesn't just need a big break, she needs anybreak. Living on the streets doesn't leave a girl many options, so when she scores a gig reporting on the Seconds to Juliet tour, she jumps at the chance to earn enough money to sleep somewhere safe. And the paycheck will get bigger – and keep her off the streets for good – if she can dig up dirt on Will Fray, the irritatingly hot "shy guy" of the band.

Problem is, Will Fray isn't who everyone thinks he is. In fact, he's not Will at all. Matt, Will's identical twin, is actually the guy onstage, reluctantly covering for his brother while he's in rehab. To make matters worse, Matt's being shadowed by a cute reporter with troubled eyes determined to get the scoop. On him. And he's having trouble finding the willpower to keep his distance…

But if the secret gets out, it won't just be his head on a platter – it'll be the whole band's.

This Entangled Teen Crush book contains steamy make out scenes, graphic language, and a love story so hot your copy may spontaneously burst into flames. You've been warned.

Quick Reasons: adorable characters who feel genuine and true; realistic glimpse into the paranoia and trust-issues brought about by living on the streets alone; beautiful look into different types of family—i.e. not blood relations; the cutesy butterflies have returned!; a nod toward the final book in the series; the romance felt more "real" than the last one; loved the huge secret included in this book!
I mean, okay, I'm sure you're ALL sitting there saying, "But Beth! If you actually stopped long enough to read the book synopsis, you'd have KNOWN what the secret was before going in!" And sure, you have a point. I'm not arguing with you. But… I don't often read book blurbs before jumping in? No, seriously—if I read the book blurb at all, I read it once…….when I first add it to my "want to read" list. And then I promptly forget everything it said. Because who wants to go into a book already knowing what to expect?! Pffffft, not me!
Okay. So first things first—these characters are MUCH more sincere and genuine than I found those in Daisy to be, so yay for getting back on track with this series! I mean, I guess I can't expect all the books to be great, but still. Regardless—I had a ton of fun getting to know "Will" better in this read, although I find it interesting that the author decided to focus on someone aside from the band member for a change. The whole "twins" secret was fun and very reminiscent of The Parent Trap (which is one of my favorite movies, so hey, it worked for me!) I also really loved that it sort of gave this read a completely different tone and mood—Matt, as an outsider, is obviously out of his element, and it was entertaining to see him struggle to keep up with the band the way his brother would have.
I also LOVELOVELOVE (and even went so far as to mention this to the hubby last night, in a random fit of oh mah penguins what even is going on?!) that this "secret" seemed led-up to in the last book or so. Because honestly, I had noticed a weird shift in "Will"–I noticed he was more vocal, more…snarky, almost, though I put it down to different authors and maybe a sort of "growth" on his part. I just adoooore that even if this wasn't the plan to begin with, Suze Winegardner thought outside the box and came up with a pretty awesome explanation for the weird behavioral shift. So so many kudos to her for that…and for still managing to make it fit with the series.
There's an awesome look into different types of family going on in this book—because Anya is, for all intents and purposes, on her own. But we still get to see her "family"–in Father Howard, in Natasha, and in Jude, specifically. I really like that the message being portrayed here came through so well—you don't have to share blood to be family. You don't have to share a last name to make an unbreakable bond with someone. You don't have to live with people to be able to count on them, or lean on them, when you need help. There are so many other awesome, poignant morals in this book, it just made me love the read even more.
This book put this series back on track for me, and I am SO excited to embark on my journey through the final installment—I can't wait to see what Nathan and Abby's story has in store for me and my very butterfly-filled, fluttery heart. If the last four books are any indication, it's going to be a wild, swoony-ride. I recommend this book (and, who am I kidding, this entire series) to lovers of contemporary romances with a moral punch, adorable and sincere characters, and stories that make a statement or make you think. It's been quite the ride so far; let's finish this journey up on a good note!