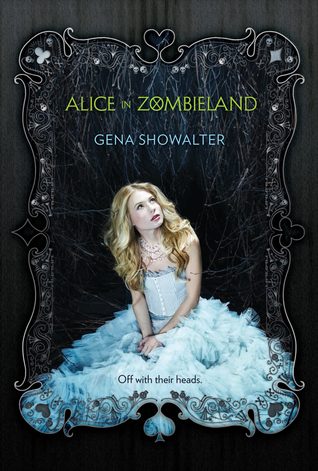 She won't rest until she's sent every walking corpse back to its grave. Forever.
Had anyone told Alice Bell that her entire life would change course between one heartbeat and the next, she would have laughed. But that's all it takes. One heartbeat. A blink, a breath, a second, and everything she knew and loved was gone.
Her father was right. The monsters are real.
To avenge her family, Ali must learn to fight the undead. To survive, she must learn to trust the baddest of the bad boys, Cole Holland. But Cole has secrets of his own, and if Ali isn't careful, those secrets might just prove to be more dangerous than the zombies.
– – – – –
Rating: 5/5 Stars
Quick Reasons: Alice in Wonderland…and ZOMBIES!; I love me some good zombie action, and this is the most unique I've read; the world-building is awesome; the characters are kick ass; Gena Showalter did things with this book I've never seen done before
"Yeah, okay. You're right. I was having dinner with Zombie Carl the other night. You know, steak, rare, and a bottle of vintage type A. He told me all his secrets, but too bad for you I promised him I wouldn't tell. In exchange I asked him to gather his best undead buddies and stalk me through my friend's yard. And oh, yeah, it was totally fine if they wanted to use me as an all-night-dinner buffet, because having organs is SO last year."
Okay, guys. This read. THIS READ! It was a whirlwind of awesome paranormal/fantasy, epic world-building, and things I've NEVER seen done anywhere else. I cannot possibly hope to put this into just one box; it encompasses pretty much everything. I went in with pretty low expectations. I haven't heard much rumble about these books in the book world, and I wasn't sure if that was good or bad. But no worries, because this book rocked!
So. First things first. The characters? KICK. ASS. Seriously, our main protagonist, Ali (also Alice) has a snarky, devil-may-care attitude about pretty much everything in her life. Especially when pinned against a wall, or when protecting those she cares about. She makes some very difficult decisions through the course of this book… and I admired her GREATLY for each one of them. The fact that she's sort of a "special snowflake" in the world she finds herself breaching after a car crash takes the lives of her family… Well, she's not the ONLY special snowflake, and it's all explained so adequately, you won't even think twice about it.
He was gorgeous, and I absolutely, no question, had to be drooling. After a quick and hopefully stealthy check – big show, I wasn't!- I found myself wonder what color his eyes were. Brown maybe. Or even hazel. Either way…wow, just wow. Deer? Headlights? Hi, I'm Ali.
The prose is pretty simple, and easy to read, but I was so sucked into the story, so enthralled with the world Gena Showalter thrust me into from page one, I didn't notice. I literally FLEW through this read—which, even for my reading speed, is saying something. Despite this, Gena Showalter has a way with words that is utterly unique to her and her writing style. Her voice is so prominent throughout, the dialogue and character reactions so realistic, I laughed out loud several times over.
There are also some very interesting and unique ideas brought to the world of the "zombie plague." The creativity was matched exceptionally by coherent, clearly thought-out explanations. Gena Showalter obviously put a lot of work into making this world BREATHE around her readers. From page one, the journey is a wild, harrowing whirlwind of suspense, teenage drama, and zombies.
"Why wouldn't I dance?' Uh, maybe because at first glance he looked like he ate puppies for breakfast and kittens for lunch?
I absolutely ADORED this read. I love that the chapter titles all emulate the original Alice in Wonderland in some way—a subtle nod to the story Gena Showalter "based" this off. The world is entirely unique, the characters have sass and ass-kicking awesomeness, and I can't WAIT to dive into the next book in the series. I definitely recommend to lovers of zombies, secret sects of paranormal fighters, and snark thrown in for good measure.