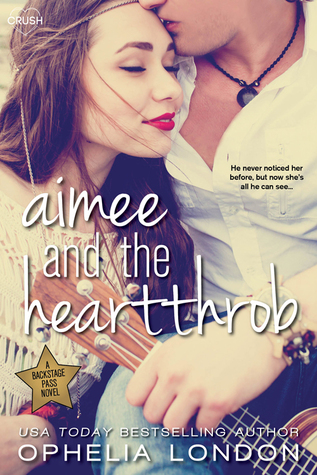 Goodreads Rating: 3.69 Stars
223 Pages
Entangled: Crush Publishing
Get a copy here!
He never noticed her before, but now she's all he can see…

Miles Carlisle is every teen girl's fantasy. His rugged good looks and exotic British accent have helped catapult his boy band, Seconds to Juliet, to super-stardom. But after two disastrous and very public breakups, Miles isn't interested in dating just any girl; he wants The One. And the only girl he's interested in is not only his best friend's little sister – and off-limits – but won't even give him the time of day…

As a kid, Aimee Bingham had a huge thing for Miles…until he made fun of her for always tagging along. Now that she's outgrown both him and her pigtails, the prospect of spending two weeks on tour with the childhood crush who broke her heart isn't exactly enticing. Except now Miles seems interested. Very interested. And no matter how hard Aimee tries to resist him, her crush is definitely making a comeback. But everyone knows that falling for a heartthrob is a backstage pass to heartbreak…
– – – – –

Quick Reasons: adorable, heart-fluttery romance; ALL THE FEELS EVER; complex, well-written characters; lots of wit and snark and yummy feel-goods; star-crossed lovers, of a sort; great brother/sister relationship; the piano song (both versions!) is literally everything; cute, quirky, quick read; my heart melted
I know, I know…I totally broke my "ARCs only" theme for this month, but give me a break! I made it most of the way through, and caught up pretty quickly. C'mon, guys—I was desperate for something cutesy and butterflies-in-the-stomach inducing. Can you forgive me?!
And, ohmah penguins, this book was absolutely adorable! I wasn't sure, when I picked up this entire series just this morning on Kindle (yeah, yeah, book buying ban?! what even is that?!), that I'd actually like the series. It seems, looking at the goodreads ratings, that people didn't really LOVE these books. But guuuuuuys…. I! LOVED! THIS! BOOK!
Like, okay. The characters? Super adorable. I love how snarky, cool, and collected Aimee is. I love how down-to-earth and romantic Miles is. I love?! how much I absolutely loved these characters—particularly their interactions. Their relationship is complicated, and messy, and frustrating from the very beginning. I had a ton of fun watching them go through the stages of "getting to know you again" and finally, blissfully, admitting that perhaps there's something more there than just a surface-level attraction. Of course, this book is NOT without it's fair share of drama or angst—hello? They're teenagers, in love for the first time. There's going to be drama. Mistakes are going to be made.
While the plot doesn't range high on the "fast-paced" or "action-packed" meter (I mean duh, it's a romance book, what do you expect?) the read was quick and easy to fall into. My heart literally melted a good half-dozen times, if not more. I absolutely adored certain scenes—particularly those of the forbidden kisses snuck in secluded corners variety. This book took me back to that high school romance feeling—the one you'd give literally anything for. The one that surpassed everything, that took your world over, that made you do things you never thought you could. The nostalgia for me was high during this read, and I loved every minute.
Overall, this was a cute, snarky read, and I am SO glad I decided to pick it up. I can't wait to dive into the next book in this series—and probably will be doing so immediately. I recommend to lovers of contemporary romance, "falling for the boy in the band" novels, and forbidden loves. I mean, not to mention, if you're anything like me, you'll have butterflies through most of the read. This romance? Swoon-inducing.