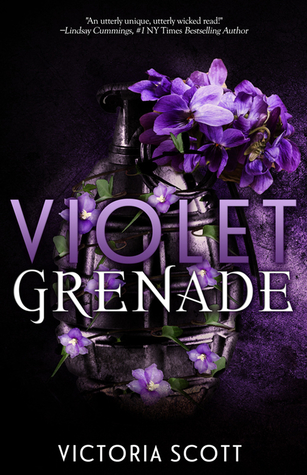 Violet Grenade
by Victoria Scott
366 Pages
YA / Contemporary
Entangled Teen
Publication Date: May 16th, 2017
BLURB:
Domino: A runaway with blood on her hands.


Cain: A silent boy about to explode.

Madam Karina: A woman who demands obedience.

Wilson: The one who will destroy them all.

Her name is Domino Ray.

But the voice inside her head has a different name.

When Madam Karina discovers Domino in an alleyway, she offers her a position at her girls' home in secluded West Texas. With no alternatives and an agenda of her own, Domino accepts. It isn't long before she is fighting her way up the ranks to gain the madam's approval…and falling for Cain, the mysterious boy living in the basement.

But the madam has horrible secrets. So do the girls in the house. So does Cain.

Escaping is harder than Domino expects, though, because the madam doesn't like to lose inventory. But then, Madam Karina doesn't know about the danger living inside Domino's mind.

Madam Karina doesn't know about Wilson.
About the Author:
Victoria Scott is the acclaimed author of eight novels for young adults including FIRE & FLOOD, THE COLLECTOR, and VIOLET GRENADE. She is published by Scholastic and Entangled Teen, and is represented by Sara Crowe. Victoria's novels are sold in fourteen countries, and she loves receiving reader emails from at home, and across the world.
GIVEAWAY DETAILS:
* Signed paperback of The Collector, a signed paperback of Titans, and a signed galley of Hear the Wolves.*
CLICK HERE to go to the giveaway!
---

Quick Reasons: darkly atmospheric; life-ruiner; heavy handed, mature topics; this read was a ticking time bomb just waiting to explode; intricate, complex characters; Domino and Cain are SO adorable, I can't even; the snark is on point
HUGE thanks to Victoria Scott, Entangled Teen, Chapter by Chapter Book Tours, and Netgalley for sending me a free digital galley of this title in exchange for an honest review! This in no way altered my read of or opinions on this book.
Okay, penguins. I have FULLY INTENDED to pick up a Victoria Scott book for, like…several years now. There are several I've had my eye on. I have one on my kindle just waiting for me to look its way. So WHY, OH WHY, did it take me so long?! I just… I honestly don't have an answer. But I'll start with this: I am so, so glad that I decided to start with THIS book. Because this book?! is a gem, and I'm not sure Victoria Scott's other books would have touched me quite so deeply as this one. I will warn you, though: there are some very heavy, mature subjects broached in this read. This is a very darkly atmospheric, bone-chilling read, so if you're all about the butterflies and unicorns and rainbows…this book might not be the best fit for you.
That being said, this penguin? absolutely ADORED the journey. It's been a while since I last picked up a book that promised darkness and angst and hushed secrets in forbidden rooms…and that's exactly what I found waiting here. Victoria Scott twisted and tore every page with emotion, and I am so blown away with how much her words wrung me out and left me bleeding. There is a loud, vibrant talent seeping through every sentence: the power to ensnare and enthrall readers. The ability to mute the real world and push the imagination to the forefront. Victoria Scott took me on a roller coaster, whirlwind journey…and I fell in love from page one.
These characters are complex and intricate. The balance of snark with sensitively handled, heavily mature subject matter was beautiful and well-done. While there are a few characters that fall to the very bottom of the "redeemable" pile in my mind, I feel as if Victoria Scott did a gorgeous job in rounding each personality fully and showing them in several altering lights–to allow readers a more completed picture of them, as individuals and as a whole. And penguins, did they leap to life for me; not only was I ensnared by the gorgeous writing, the dark atmosphere, the fast-paced and thought-provoking plot… I was also swept up by the characters. And not just one or two of them– ALL of them.
I am just so, SO happy the first Victoria Scott novel I picked up was THIS one. Victoria Scott wrote a darkly mysterious, intriguingly painful read–and she wove the heavy subject matter so beautifully and sensitively into the journey. I definitely recommend to lovers of shady characters, questionable motivations, and atmospheric reads. I officially cannot WAIT to pick up my next Victoria Scott novel; if the writing is as gorgeous as in this book, I'm in for a real treat. This read's a ticking time bomb waiting to explode; why don't you open the cover and start the countdown, penguins? You know you want to.