Because I needed a post in my life that kept me up to date on all things BOOKS!  and it seemed like Wishlist Wednesday was dead, I decided to make my own.
Welcome to Weekly Wishlist!
I'm all about breaking bending the rules to my will, so I'm switching it up!  I'm going to pair books that are already in the wild (except not this one because I ran out of books to include that have already been published–what is this madness?!)…with books soon to be released. Click the covers to be taken to the Amazon page.
Can friendship, Star Trek, drama club, and a whole lot of coffee get two nerdy best friends through the beginning of their senior year of high school?

Meg and Linus are best friends bound by a shared love of school, a coffee obsession, and being queer. It's not always easy to be the nerdy lesbian or gay kid in a suburban town. But they have each other. And a few Star Trek boxed sets. They're pretty happy.

But then Sophia, Meg's longtime girlfriend, breaks up with Meg. Linus starts tutoring the totally dreamy new kid, Danny—and Meg thinks setting them up is the perfect project to distract herself from her own heartbreak. But Linus isn't so sure Danny even likes guys, and maybe Sophia isn't quite as out of the picture as Meg thought she was. . . .

From crowdsourced young adult imprint Swoon Reads comes Meg & Linus by Hanna Nowinski, a fun friendship story about two quirky teens who must learn to get out of their comfort zones and take risks—even if that means joining the drama club, making new friends, and learning how to stand on your own.
Why I want it:
Diverse characters.  HUGE focus on friendship instead of the romance.  #NerdCulture.  What MORE could I possibly ever need out of a book?!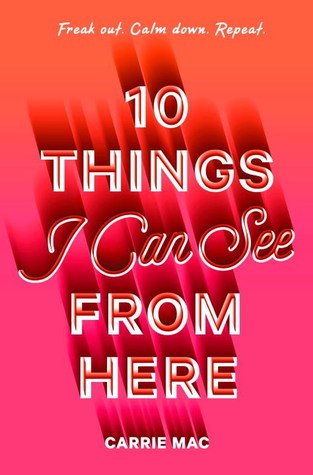 Perfect for fans of Finding Audrey and Everything, Everything, this is the poignant and uplifting story of Maeve, who is dealing with anxiety while falling in love with a girl who is not afraid of anything.

Think positive.
Don't worry; be happy.
Keep calm and carry on.

Maeve has heard it all before. She's been struggling with severe anxiety for a long time, and as much as she wishes it was something she could just talk herself out of, it's not. She constantly imagines the worst, composes obituaries in her head, and is always ready for things to fall apart. To add to her troubles, her mom—the only one who really gets what Maeve goes through—is leaving for six months, so Maeve will be sent to live with her dad in Vancouver.

Vancouver brings a slew of new worries, but Maeve finds brief moments of calm (as well as even more worries) with Salix, a local girl who doesn't seem to worry about anything. Between her dad's wavering sobriety, her very pregnant stepmom insisting on a home birth, and her bumbling courtship with Salix, this summer brings more catastrophes than even Maeve could have foreseen. Will she be able to navigate through all the chaos to be there for the people she loves?
Why I want it:
I mean, must I REALLY explain?  Really?!  Okay, fine.  1.) My family has a long history of addiction/substance abuse, so I can relate to that.  2.) I have my own anxiety demons to contend with, so point two. 3.) This just sounds heart-wrenching and adorable and I need it, okay?  NEED.
Meg Haston's romantic and thrilling new YA novel explores a star-crossed high school relationship in a tale rife with deeply buried secrets and shocking revelations.

Bridge and Wil have been entangled in each other's lives for years. Under the white-hot Florida sun, they went from kids daring each other to swim past the breakers to teenagers stealing kisses between classes. But when Bridge betrayed Wil during their junior year, she shattered his heart and their relationship along with it.

Then Wil's family suffers a violent loss, and Bridge rushes back to Wil's side. As they struggle to heal old wounds and start falling for each other all over again, Bridge and Wil discover just how much has changed in the past year. As the fierce current of tragedy threatens to pull them under, they must learn how to swim on their own—or risk drowning together.
Why I want it:
I am a huge believer in soulmates…of pretty much EVERY kind.  Friends can be soulmates; family can be soulmates; pets can be soulmates.  Sometimes in life, we find that ONE person or that ONE thing that keeps cropping up and keeps us going–even if they don't stick around for long, or wind up hurting you.  I just…this book sounds so so cute and endearing!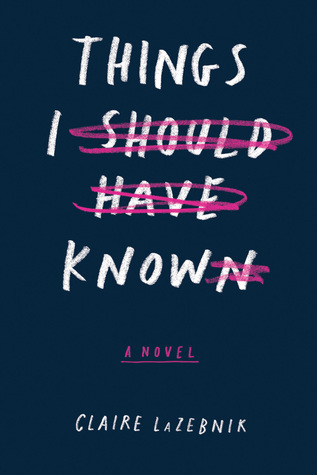 From the author of Epic Fail comes the story of Chloe Mitchell, a Los Angeles girl on a quest to find love for her autistic sister, Ivy. Ethan, from Ivy's class, seems like the perfect match. It's unfortunate that his older brother, David, is one of Chloe's least favorite people, but Chloe can deal, especially when she realizes that David is just as devoted to Ethan as she is to Ivy.

Uncommonly honest and refreshingly funny, this is a story about sisterhood, autism, and first love. Chloe, Ivy, David, and Ethan, who form a quirky and lovable circle, will steal readers' hearts and remind us all that it's okay to be a different kind of normal.
Why I want it:
This book blurb promises some unique characters and some heavy topics, and I love books that pair those two things together!
Have a book YOU'D like to recommend to me?!  AWESOME!  Either shoot me a comment down below, or send me a recommendation on Goodreads RIGHT HERE!
What do you guys think–have you read any of these…or WANT to?  What did you think of them, if so?  Let me know your thoughts and as always…
Until next time, happy book-ing!