Because I needed a post in my life that kept me up to date on all things BOOKS!  and it seemed like Wishlist Wednesday was dead, I decided to make my own.
Welcome to Weekly Wishlist!
I'm all about breaking bending the rules to my will, so I'm switching it up!  I'm going to pair books that are already in the wild…with books soon to be released. Click the covers to be taken to the Amazon page.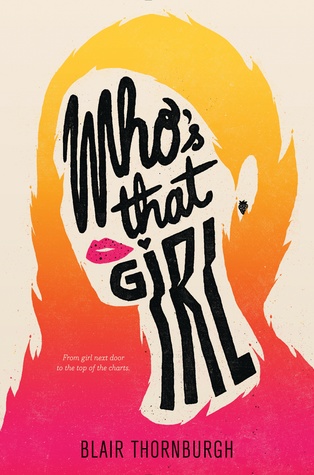 Junior Nattie McCullough is totally OK with her place in life: Latin whiz. Member of the school's gay-straight alliance. Joni Mitchell superfan. Seventeen-year-old who has never been kissed. So when last summer's crush and her former classmate—Young Lungs lead singer Sebastian Delacroix—comes back to town with his new hit single "Natalie," she can't bring herself to believe it could possibly be about her…could it?

As Nattie sorts through the evidence (the lyrics, Sebastian's elusive text messages, and their brief romantic encounter last year), the song's popularity skyrockets, and everyone starts speculating about "Natalie's" identity. If that wasn't mortifying enough, Nattie runs into another problem: her confusing, flirtation-packed feelings for her good friend Zach. With her once-average life upended, Nattie is determined to figure out once and for all if her short-lived past with Sebastian was something love songs are made of—or just a one-hit wonder.
Why I want it:
A quasi love-story slash love mystery?!  I mean c'mon, how many of us obsessed over secret crushes or anonymous loves?  I don't know about you all, but I received a good amount of anonymous love notes in my middle school days…and I adored them more BECAUSE they were secrets.  So yeah, this book?  I think it might bring up a fair amount of nostalgia for me.
Sixteen-year-old Sana Kiyohara has too many secrets. Some are small, like how it bothers her when her friends don't invite her to parties. Some are big, like that fact that her father may be having an affair. And then there's the one that she can barely even admit to herself—the one about how she might have a crush on her best friend.

When Sana and her family move to California she begins to wonder if it's finally time for some honesty, especially after she meets Jamie Ramirez. Jamie is beautiful and smart and unlike anyone Sana's ever known. There are just a few problems: Sana's new friends don't trust Jamie's crowd; Jamie's friends clearly don't want her around anyway; and a sweet guy named Caleb seems to have more-than-friendly feelings for her. Meanwhile, her dad's affair is becoming too obvious to ignore anymore.

Sana always figured that the hardest thing would be to tell people that she wants to date a girl, but as she quickly learns, telling the truth is easy… what comes after it, though, is a whole lot more complicated.
Why I want it:
I mean….diversity, intrigue, and all sorts of delicious drama seem to abound in this read, and that's SUPER exciting (for me, at least, I dunno about all of you penguins).  It just sounds so good, I want to dive into it right now!  So…gimme?!
Two women, two worlds, one epic destiny.

On the world of Loam, disturbing visions plague Winter's mind. Made a Seer by the gods, she must either cower away from the terrifying visions of the future, or face them head on and risk her life to fulfill her dangerous calling.

On the world of Hearth, Meluscia is determined to save her kingdom from the monstrous creatures crawling out of the wastelands, but first she must convince her dying father she is fit for the throne. But her schemes to gain power must survive her desperate longing for intimacy, for if she is to rule the Blue Mountain Realm, she must abide by the scriptures and forsake the love of a man.

A genre BLENDING series set in a vast fantasy universe where elements of science fiction are dominated by gods and monsters, visions and gifts.
Why I want it:
I've always loved books that blend genres and make certain tropes into entirely different beings.  This book blurb promises to do just these things…and to be entertaining at the same time.  Needless to say, I'm pretty stoked about this series, and hope to pick it up in the future.
Shadows have fallen across the beautiful and lush Kingdom. The queen was attacked by an unnatural beast, and the healing skills of her daughter, Alexandra, cannot save her. Too soon the widowed king is spellbound by a frightening stranger – a woman whose eyes reflect no light. In a terrifying moment, all Alexandra knows disappears, including her beloved brothers, leaving her banished to a barren land unlike her own.

Alexandra has more gifts than even she realizes as she is confronted with magic, murder, and the strongest of evil forces. She is unflinchly brave and clever as she struggles to reclaim what she knows is rightfully hers.

This new voice in fantasy weaves a tale rich in visual detail, peppered with a formidable destructive force, and sweetened with familial and romantic love.
Why I want it:
The lovely PANDAPANTS! recommended this to me, as it's a retelling of The Wild Swans.  I've read a few retellings of this particular fairy tale in the past, and have to admit that it's one of my faaaaaavorites–which means, obviously, that I need to read MORE retellings of it, because why not?!
Have a book YOU'D like to recommend to me?!  AWESOME!  Either shoot me a comment down below, or send me a recommendation on Goodreads RIGHT HERE!
What do you guys think–have you read any of these…or WANT to?  What did you think of them, if so?  Let me know your thoughts and as always…
Until next time, happy book-ing!