Because I needed a post in my life that kept me up to date on all things BOOKS!  and it seemed like Wishlist Wednesday was dead, I decided to make my own.
Welcome to Weekly Wishlist!
I'm all about breaking bending the rules to my will, so I'm switching it up!  I'm going to pair books that are already in the wild…with books soon to be released. Click the covers to be taken to the Amazon page.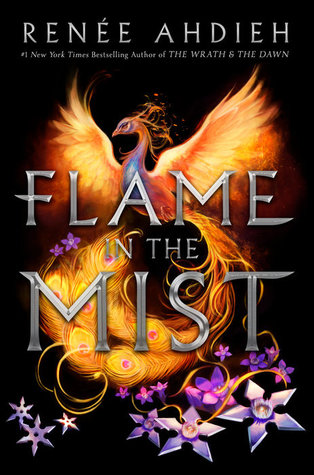 The daughter of a prominent samurai, Mariko has long known her place—she may be an accomplished alchemist, whose cunning rivals that of her brother Kenshin, but because she is not a boy, her future has always been out of her hands. At just seventeen years old, Mariko is promised to Minamoto Raiden, the son of the emperor's favorite consort—a political marriage that will elevate her family's standing. But en route to the imperial city of Inako, Mariko narrowly escapes a bloody ambush by a dangerous gang of bandits known as the Black Clan, who she learns has been hired to kill her before she reaches the palace.

Dressed as a peasant boy, Mariko sets out to infiltrate the ranks of the Black Clan, determined to track down the person responsible for the target on her back. But she's quickly captured and taken to the Black Clan's secret hideout, where she meets their leader, the rebel ronin Takeda Ranmaru, and his second-in-command, his best friend Okami. Still believing her to be a boy, Ranmaru and Okami eventually warm to Mariko, impressed by her intellect and ingenuity. As Mariko gets closer to the Black Clan, she uncovers a dark history of secrets, of betrayal and murder, which will force her to question everything she's ever known.
Do….do you know me?  Because it wouldn't even be a question WHY I want this book.  I fell IN LOVE with The Wrath and The Dawn and while I haven't yet been able to read the second book in that duology…I need this one.  SO.  BADLY.
A space adventure set on a lone ship where the murdered crew are resurrected through cloning to discover who their killer was — and the secret to their mission.

It was not common to awaken in a cloning vat streaked with drying blood.

At least, Marie Shea iv had never experienced it. She had no memory of how she died. That was also new; before, when she had awakened as a new clone, her first memory was of how she died, from illness once and from injury once…

Maria's vat was in the front of six vats, each one holding the clone of a crew member of the starship Pituitary, each clone waiting for its previous incarnation to die so it could awaken. Apparently Maria wasn't the only one to die recently.
Can we JUST with that blurb for a second, penguins?!  I MEAN READ IT!!!! Read.  It.  Cloning?!  Murder?!  Mystery?! SET IN SPACE?!?!?!?!  I feel a desperation looming, and it's all to do with this book.  GIIIIIIVE IIIIIIIT!
London papers scream of dirigible attacks, kraken swarms, and lung-clogging, sulfurous fogs. But a rash of gypsy murders barely rates mention.

Lady Amanda is tired of having both her intelligence and her work dismissed.

After blackmailing her way into medical school, she catches the eye of her anatomy professor from the moment she walks into his lecture hall. Is he interested in her? Or only her invention–a clockwork spider that can spin artificial nerves?

Lord Thornton, a prominent neurobiologist, has been betrayed.

Secret government technology has been stolen from his laboratory, and a foreign spy is attempting to perfect it via a grisly procedure… using gypsies as test subjects. The last thing he needs is the distraction of a beautiful–and brilliant–new student, even if her spider could heal a deteriorating personal injury.

Until her device is stolen and used in the latest murder.

Lord Thornton has no option but to bring her into his laboratory as well as the investigation where they must fight their growing, yet forbidden, attraction. Bodies accumulate and fragile bonds are tested as they race across London, trying to catch the spy before it's too late.
I guess I'm feeling like a bit of murder/mystery in my reading life this week?  This one, though… This one is STEAMPUNK and it sounds amazeballs and I want it.  Also, that cover is super gorgeous!
Charlotte survived four long years as a prisoner in the attic of her kidnapper, sustained only by dreams of her loving family. The chance to escape suddenly arrives, and Charlotte fights her way to freedom. But an answered prayer turns into heartbreak. Losing her has torn her family apart. Her parents have divorced: Dad's a glutton for fame, Mom drinks too much, and Charlotte's twin is a zoned-out druggie. Her father wants Charlotte write a book and go on a lecture tour, and her mom wants to keep her safe, a virtual prisoner in her own home. But Charlotte is obsessed with the other girl who was kidnapped, who never got a second chance at life–the girl who nobody but Charlotte believes really existed. Until she can get justice for that girl, even if she has to do it on her own, whatever the danger, Charlotte will never be free.
I don't remember where I first stumbled across this book, but…I KNEW, just from reading that tiny blurb, that this is the sort of book that will make me very uncomfortable…and will, ultimately, change me for the better.  I need more of that in my life, penguins.  Personal growth from reading is just the BEEEEST.
Have a book YOU'D like to recommend to me?!  AWESOME!  Either shoot me a comment down below, or send me a recommendation on Goodreads RIGHT HERE!
What do you guys think–have you read any of these…or WANT to?  What did you think of them, if so?  Let me know your thoughts and as always…
Until next time, happy book-ing!