Because c'mon–you think those characters with the hearts of ice, the unbreakable wills, the huge tendency to bully DON'T jam out to the mushy-gushy on their iPods sometimes?
I am of the firm opinion that villains, just like everybody else, have a love song they just can't help but…well…LOVE!
This will be a consistent new feature on my blog–probably posted every Monday.  Because there are a LOT of villains, and a LOT of love songs, out there to match… and I'm bound and determined to do it!
If you like this meme, feel free to post up your own–just be sure to link back to mine!
VILLAINOUS LOVE SONGS
Deatheaters
(Harry Potter, by J.K. Rowling)
I couldn't find an official video for this song, but it doesn't matter–Voldemort IS the Devil, and the Deatheaters are basically caught in his dance throughout the entire series.  So.  Yus.  SO much win with this pairing.
Akiva
(Daughter of Smoke and Bone, by Laini Taylor)
Because I mean…. Basically?!  The ENDING of Daughter of Smoke and Bone just… I mean, if you haven't read it yet, you wouldn't understand why this pair works.  But trust me–IT WORKS.  It works so much.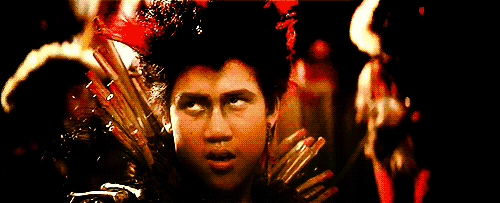 Rufio
(Hook)
One of the most hard-hitting, heart-breaking scenes EVER…is the one where we learn just a little bit about what actually drives Rufio.  And how much he grows to respect Peter.  And just… GAH, my heart!  I need to watch this movie again soon.
AND THERE YOU HAVE IT!
Villains…and the love songs they don't want anyone to know they rock out to.
If villains in your world had a favorite love song, which would it be?  Let me know what you think of this post below–or feel free to jump in and post your own pairs!
Until next time, happy book-ing!