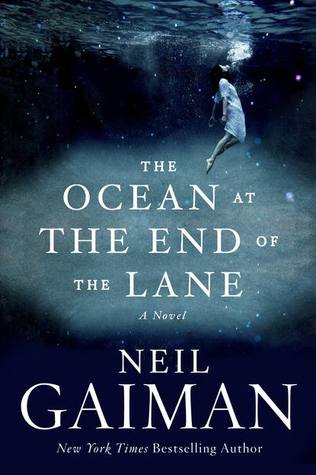 Sussex, England. A middle-aged man returns to his childhood home to attend a funeral. Although the house he lived in is long gone, he is drawn to the farm at the end of the road, where, when he was seven, he encountered a most remarkable girl, Lettie Hempstock, and her mother and grandmother. He hasn't thought of Lettie in decades, and yet as he sits by the pond (a pond that she'd claimed was an ocean) behind the ramshackle old farmhouse, the unremembered past comes flooding back. And it is a past too strange, too frightening, too dangerous to have happened to anyone, let alone a small boy.

Forty years earlier, a man committed suicide in a stolen car at this farm at the end of the road. Like a fuse on a firework, his death lit a touchpaper and resonated in unimaginable ways. The darkness was unleashed, something scary and thoroughly incomprehensible to a little boy. And Lettie—magical, comforting, wise beyond her years—promised to protect him, no matter what.

A groundbreaking work from a master, The Ocean at the End of the Lane is told with a rare understanding of all that makes us human, and shows the power of stories to reveal and shelter us from the darkness inside and out. It is a stirring, terrifying, and elegiac fable as delicate as a butterfly's wing and as menacing as a knife in the dark.
Fantasy/Horror/Magical Realism
178 Pages
William Morrow Books
Publication Date: June 18th, 2013
Get a copy here!

Quick Reasons: Doctor Who meets Stephen King; this book is SO abstract and poetic and gorgeous; disturbing and beautifully haunting in a way only Neil Gaiman can manage; a complex, well-rounded examination of childhood, stories, and the truth about truths
I honestly don't know why it took me SO LONG to crack this book open, penguins. I really have no excuse, and will therefore not attempt to make or fabricate any. This book has, at the end of it all, created something akin to what might happen if Doctor Who met Stephen King in a dark alleyway after midnight. Neil Gaiman is a masterful storyteller, and this is a poignant, heart-wrenching examination of the ways childhood shapes us all.
The characters are, as one should ALWAYS expect from the imagination of Neil Gaiman, both enchantingly vibrant and disturbingly horrific in turn. The poetic, lyrical prose is also haunting and creeptastic–both enthralling readers, and still pushing them away. I particularly loved the relationships born between Lettie, her grandparents, and our main character–they were so intricate, and hinged on something deeper than affection–something I couldn't put a name to even if I tried.
Also, the main character? It wasn't until just now, as I was attempting to write my review, that I realized we never ONCE are given a name for him. The book is written in first person POV (his POV, in point of fact)…and the rest of the world only ever refers to him as "him" or "he" or "the boy"…or some such other vague descriptor. AND OH MY PENGUINS, guys, I'm pretty sure I now understand exactly why this is, but Neil Gaiman is such a sly genius, I read the entire book before I even realized, before I even put it together. GAH! Neil Gaiman, you are just… you astound me. Sorry, I know that's so super vague, but MAJOR spoilers afoot there–I can't tell you, don't even think to ask!
Okay, okay. So moving right along. The prose is gorgeous–haunting, lyrical, with just a hint of something dark and otherworldly creeping through. (What is it with me and dark books lately, guys? I sense a growing trend here…) The plot itself is pretty abstract, though–sometimes the descriptions are vague and slip through your fingers like silk, other times they creep up on you only to tackle you HARD.
But it's the subject matter that hits hardest, for me at least. There's a poignant, startling examination of childhood going on throughout this book–a deeper look at the ways our experiences shape us, mold us, haunt us throughout our years. The question of, "who am I, and whose fault is it?" pervades the entirety of this journey. There's also an experimentation with memories–how they change in time, how they shift and fade and rearrange–that had me pondering my own memories, looking back on them in reflection. This book makes you think, abstract as it is at times. This book makes you reexamine everything you think you know about yourself.
This is a haunting, abstract read, and I am SO glad I finally found the time to pick it up. Neil Gaiman is a sly literary genius; this book took me places I wasn't expecting, and had me questioning myself throughout the entire journey. I definitely recommend to lovers of lyrical prose, darkly abstract journeys, and close examinations of human nature/the human psyche. This may be my favorite Neil Gaiman book so far!