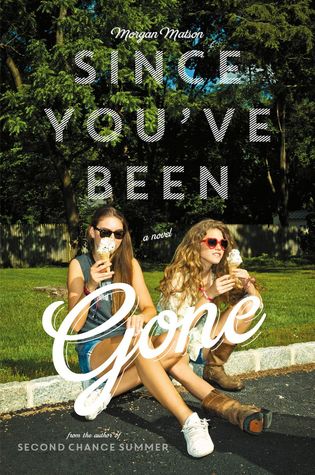 It was Sloane who yanked Emily out of her shell and made life 100% interesting. But right before what should have been the most epic summer, Sloane just…disappears. All she leaves behind is a to-do list.

On it, thirteen Sloane-inspired tasks that Emily would normally never try. But what if they could bring her best friend back?

Apple picking at night? Okay, easy enough.

Dance until dawn? Sure. Why not?

Kiss a stranger? Um…

Emily now has this unexpected summer, and the help of Frank Porter (totally unexpected), to check things off Sloane's list. Who knows what she'll find?

Go skinny-dipping? Wait…what?

449 Pages
YA/Contemporary/Romance
Simon & Schuster Publishing
Publication Date: May 6th, 2014
Get a copy here!

Quick Reasons: cutesy contemporary/romance; this book was light-hearted, entertaining, and SO much fun; my first Morgan Matson read (shocker, I know); I fell in love with the characters immediately…and then found myself wishing I could be friends with them, too; great use of a quasi-mystery theme throughout; just slightly predictable, though endearing, plot/characters
I can hear you all now. "What do you mean, you read a book that wasn't for review?! Is the world ending?! Should I be running for cover to protect my dear penguin head?!"
No, readers, no–though the next sentence may ALSO come as a bit of a shock. This was my very first Morgan Matson read…and I LOVED. EVERY. MINUTE.
So. I'm on vacation, as I'm sure you're all very much aware by now. I totally meant to continue reading two of the review request books I've received in recent weeks. Boarded the plane, opened up one, then the other…..and decided I'd really, REALLY much rather read something entirely different. Because I'm on VACATION. Why should I spend the entire week working when I could, you know, spend it only sort of quasi-working? And so I picked this book…and I have to admit, now, I sort of see what all the hype is about.
The characters in this book have got to be my absolute favorite part. I loved how quirky, realistic, and human they come across as–it's obvious, just reading the first couple of pages, that Morgan Matson knows what she's doing when she's writing characters. The voice, while first person and therefore limited in a certain number of ways, was super entertaining–at turns endearing, heart-wrenching, and exceptionally snarky. I have to admit, I giggled like a lunatic pretty much throughout the entire read (or, at least, those moments when I didn't think I'd freak anyone near me out).
I also really enjoyed the "strangers to friends to lovers" relationship that Emily and Frank develop over the course of this adventure. While Emily essentially, in a sense, loses both a friend AND herself at the beginning of this book, I feel as if the list from Sloane–and, subsequently, meeting the rest of this lively, energetic crew–really helped to draw her out of herself and develop her personality, which I appreciated. Too often in books like these, I feel as if the main character doesn't always get so well-rounded out in the course of the read; Morgan Matson RAN with Emily, and crafted her into a version of human I could totally see myself trying to befriend, if faced with such a personality in real life.
There are, of course, some of the same old tropes played throughout–including the fact that Frank, at the beginning of and throughout most of this book, has a girlfriend/is in a serious relationship. But this didn't bother me nearly as much as I know it bothers some other readers–people grow apart. Things like this happen all the time in real life. And Frank? Well, he's a pretty adorable little floofball–I can't help but love him. (Do you think anyone would notice if I tore him out of these pages and stuck him in my closet for safe-keeping? Cause… I don't think anyone would…)
I had a TON of fun reading this, and will definitely be picking up other Morgan Matson books in the future. The characters are well-rounded and beautifully realistic; the romance was endearing and well-written; and I really enjoyed the familial relationships portrayed–especially those juxtaposed by Emily and Frank's parents. I recommend this to lovers of cutesy contemporaries, seekers of their next book boyfriend, and those who like just a little bit of a mystery to their every day. I can't wait to dive into this author's work again–if you have recommendations for me on which to read next, feel free to let me know!