HOSTED BY: The Broke and The Bookish
DESCRIPTION:  Top Ten Tuesday is an original feature/weekly meme created here at The Broke and the Bookish in June 2010. This feature was created because we are particularly fond of lists here at The Broke and the Bookish. We'd love to share our lists with other bookish folks and would LOVE to see your top ten lists!

This week's theme: Ten Books We'd Buy RIGHT THIS SECOND If Someone Handed Us a Loaded Gift Card
For once, I'm actually doing THE PROMPT for this post!  SHOCKING!
Okay, okay, let's do this thing.
The Plucker is a dark and twisted tale about a Jack-in-the-Box, aptly named Jack, who must fight for the life of his human boy owner against an evil force, called the Plucker (because he plucks your eyeballs out and sucks out your life force).
I just…there's something super creepy about Brom's characters and plot…and I LOVE the twists he gives these retellings!  So, yeah, I must own everything he does.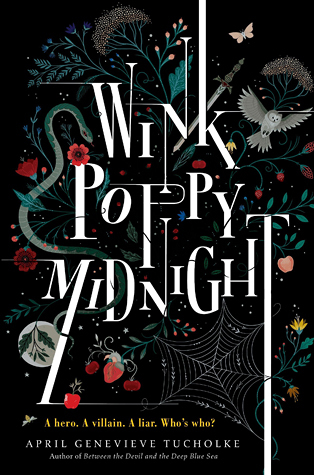 Every story needs a hero.
Every story needs a villain.
Every story needs a secret.

Wink is the odd, mysterious neighbor girl, wild red hair and freckles. Poppy is the blond bully and the beautiful, manipulative high school queen bee. Midnight is the sweet, uncertain boy caught between them. Wink. Poppy. Midnight. Two girls. One boy. Three voices that burst onto the page in short, sharp, bewitching chapters, and spiral swiftly and inexorably toward something terrible or tricky or tremendous.

What really happened?
Someone knows.
Someone is lying.
I've been DYING to read this since stumbling across it forever ago.  I know it's not the favorite, but….I read an excerpt from it, and just…INSTANT need!
Veronica Mars meets William Shakespeare in E.K. Johnston's latest brave and unforgettable heroine.

Hermione Winters is captain of her cheerleading team, and in tiny Palermo Heights, this doesn't mean what you think it means. At PHHS, the cheerleaders don't cheer for the sports teams; they are the sports team—the pride and joy of a tiny town. The team's summer training camp is Hermione's last and marks the beginning of the end of…she's not sure what. She does know this season could make her a legend. But during a camp party, someone slips something in her drink. And it all goes black.

In every class, there's a star cheerleader and a pariah pregnant girl. They're never supposed to be the same person. Hermione struggles to regain the control she's always had and faces a wrenching decision about how to move on. The assault wasn't the beginning of Hermione Winter's story and she's not going to let it be the end. She won't be anyone's cautionary tale.
Again, I've NEEEEEEEEDED this book since first finding out about it!  I mean, I just… retellings for the WIN, am I right?!
Meet Scarlett Epstein, BNF (Big Name Fan) in her online community of fanfiction writers, world-class nobody at Melville High. Her best (read: only) IRL friends are Avery, a painfully shy and annoyingly attractive bookworm, and Ruth, her weed-smoking, possibly insane seventy-three-year-old neighbor.

When Scarlett's beloved TV show is canceled and her longtime crush, Gideon, is sucked out of her orbit and into the dark and distant world of Populars, Scarlett turns to the fanfic message boards for comfort. This time, though, her subjects aren't the swoon-worthy stars of her fave series—they're the real-life kids from her high school. And if they ever find out what Scarlett truly thinks about them, she'll be thrust into a situation far more dramatic than anything she's ever seen on TV…
Are you seeing the pattern here?  I hope you're seeing the pattern here…
Where is home when you were born in the stars?

Aza Ray is back on earth. Her boyfriend Jason is overjoyed. Her family is healed. She's living a normal life, or as normal as it can be if you've spent the past year dying, waking up on a sky ship, and discovering that your song can change the world.

As in, not normal. Part of Aza still yearns for the clouds, no matter how much she loves the people on the ground.

When Jason's paranoia over Aza's safety causes him to make a terrible mistake, Aza finds herself a fugitive in Magonia, tasked with opposing her radical, bloodthirsty, recently-escaped mother, Zal Quel, and her singing partner Dai. She must travel to the edge of the world in search of a legendary weapon, The Flock, in a journey through fire and identity that will transform her forever.

In this stunning sequel to the critically acclaimed Magonia, one girl must make an impossible choice between two families, two homes—and two versions of herself.
I need this.  I need this SO hardcore, and it's not even OOOOOOUT yet!  I'm dying a little bit inside.
In the war-ravaged England of 1940, Charlotte Bromley is sure of only one thing: Kitty McLaughlin is her best friend in the whole world. But when Charlotte's scientist father makes an astonishing discovery that the Germans will covet for themselves, Charlotte is faced with an impossible choice between danger and safety. Should she remain with her friend or journey to another time and place? Her split-second decision has huge consequences, and when she finds herself alone in the world, unsure of Kitty's fate, she knows that somehow, some way, she must find her way back to her friend. Written in the spirit of classic time-travel tales, this book is an imaginative and heartfelt tribute to the unbreakable ties of friendship.
Uhm.  So this?  Yeah, this just sounds SUPER intriguing and I absolutely loooooove love LOVE the title to boot!
After Elizabeth Bennet refuses Mr. Darcy's offer of marriage, it takes a heavy toll on him. He withdraws to London and disappears near the docks, away from family, friends, and acquaintances. When he is mistaken for an escaped pirate, he is thrust into an adventure he would never have imagined. Will this be what he needs to forget the one woman he had come to love?

When her aunt and uncle have to cancel their plans to tour the Lake District, Elizabeth Bennet has the opportunity to sail to the Isles of Scilly with her father. After a pleasant visit, the voyage home brings storms, a shipwreck, and pirates! When she is rescued by gallant Captain Smith, she finds herself inexplicably drawn to him. What will she do when she discovers he is the very man whose offer of marriage she refused just a few months earlier?
So….SHHHHHH, don't tell anyone, but I TOTES just bought this book for my Kindle because HELLA CHEAP, HELLO!  Still…a copy on my shelves?!  I wouldn't argue.
FIRSTLY: don't touch the hands of your cuckoo-clock heart. SECONDLY: master your anger. THIRDLY: never, ever fall in love. For if you do, the hour hand will poke through your skin, your bones will shatter, and your heart will break once more.

Edinburgh, 1874. Born with a frozen heart, Jack is near death when his mother abandons him to the care of Dr. Madeleine—witch doctor, midwife, protector of orphans—who saves Jack by placing a cuckoo clock in his chest. And it is in her orphanage that Jack grows up among tear-filled flasks, eggs containing memories, and a man with a musical spine.

As Jack gets older, Dr. Madeleine warns him that his heart is too fragile for strong emotions: he must never, ever fall in love. And, of course, this is exactly what he does: on his tenth birthday and with head-over-heels abandon. The object of his ardor is Miss Acacia—a bespectacled young street performer with a soul-stirring voice. But now Jack's life is doubly at risk—his heart is in danger and so is his safety after he injures the school bully in a fight for the affections of the beautiful singer.

Now begins a journey of escape and pursuit, from Edinburgh to Paris to Miss Acacia's home in Andalusia. Mathias Malzieu's The Boy with the Cuckoo-Clock Heart is a fantastical, wildly inventive tale of love and heartbreak—by turns poignant and funny—in which Jack finally learns the great joys, and ultimately the greater costs, of owning a fully formed heart.
I'm seriously tempted to just BUY this book myself and call it a day, because…this movie?! THIS MOVIE IS AAAAAAAAAAHMAZING, and I now officially need to read the book because adorbs and quirky and sort of creepy and HELLA DISTURBING ENDING!  Like, seriously, why wouldn't I want this in my life?!
A New York Times Bestseller!

The Sandman is the universally lauded masterwork following Morpheus, Lord of the Dreaming–a vast hallucinatory landscape housing all the dreams of any and everyone who's ever existed. Regardless of cultures or historical eras, all dreamers visit Morpheus' realm–be they gods, demons, muses, mythical creatures, or simply humans who teach Morpheus some surprising lessons.

Upon his escape from an embarrassing captivity at the hands of a mere mortal, Morpheus finds himself at a crossroads, forced to deal with the enormous changes within both himself and his realm. His journey to find his place in a world that's drastically changed takes him through mythical worlds to retrieve his old heirlooms, the back roads of America for a twisted reunion, and even Hell itself–to receive the dubious honor of picking the next Devil. But he'll learn his greatest lessons at the hands of his own family, the Endless, who–like him–are walking embodiments of the most influential aspects of existence.
And now for the ENTIRE REASON I CRY AT NIGHT!  These…these… THESE GORGEOUS MONSTROSITIES!  I mean seriously, I neeeeeeeeeeed them…but they're so soopah expensive because gooooorgeous, I can't even!
What books would you #instabuy #gocheapfor #breakthebankfor if you could?!   Have you read any of the books listed here–and what did you think of them, if so?   Feel free to share your thoughts with me in the comments, or link me to your own Top Ten Tuesday!
Until next time, happy book-ing!