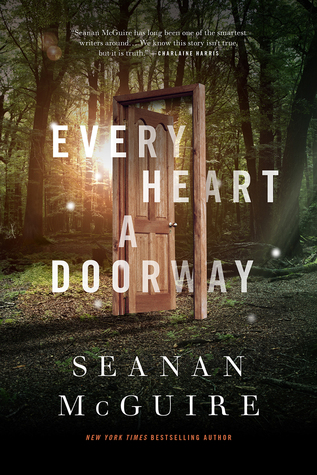 Goodreads Rating: 3.93 Stars
173 Pages
Tor.com Publishing
Publication Date: April 5th, 2016
Get a copy here!
Eleanor West's Home for Wayward Children
No Solicitations
No Visitors
No Quests

Children have always disappeared under the right conditions; slipping through the shadows under a bed or at the back of a wardrobe, tumbling down rabbit holes and into old wells, and emerging somewhere… else.

But magical lands have little need for used-up miracle children.

Nancy tumbled once, but now she's back. The things she's experienced… they change a person. The children under Miss West's care understand all too well. And each of them is seeking a way back to their own fantasy world.

But Nancy's arrival marks a change at the Home. There's a darkness just around each corner, and when tragedy strikes, it's up to Nancy and her new-found schoolmates to get to the heart of the matter.

No matter the cost.

Quick Reasons: I am SCREECHING right now!; this is sort of like The Nightmare Before Christmas meets Miss Peregrine's Home for Peculiar Children…and I ADORED it!; creeptastic, gorgeous, addictively detailed prose; entertaining, quirky, exciting characters; this story is SO unique; an awesome spin on the idea of "make believe," "the imagination," or "Neverland"
Mini upfront note: I listened to this on audiobook, and HIGHLY recommend it! My hats off to Cynthia Hopkins for an awesome and entertaining narration! Seriously, this audiobook is well-worth the listen!
Guys, I have to be honest here: I am SUPER glad I read Miss Peregrine's Home for Peculiar Children before diving into this one. Why? Because if I'd read THIS awesome adventure first, I'd have been even more disappointed by Miss Peregrine's. (though let's be honest, it is sort of funny that I went from one book about orphans to a completely different, yet slightly similar, one)
Let me just try to find some semblance of order in my thoughts and get them down.
First things first: This book was DARK. And I don't mean dark in the sense that it sometimes talks about mature or sensitive topics (though it does this, too). I mean dark in the sense that from beginning to end, the atmosphere, the mood, the PLOT is thick like sludge and almost too heavy to trudge through. This is not a lollipops and raindrops story, kids–this book takes the challenge of "imaginary" and molds it, twists it, turns it into something real. Something we, as readers, can reach out and touch. Something solid.
Also–THE DIVERSITY! I went into this book expecting something quirky at best, something like Miss Peregrine's at worst. I went into this read not sure how to feel, or what to think……. And found something epic waiting for me. The MC? Is asexual. There's a transgender character. And these are not the only two. Diversity BREATHES throughout this read, and does it so naturally, you'll wonder why more books can't do the same. It's not forced; it's not awkward. It's sensitively and maturely done, and I just… Gah. GAAAAAH!
The characters are quirky and well-written. I was immediately drawn into the story…and held absolutely enthralled until the very end. I haven't read a book so enchanting in several weeks, guys–this book literally took me out of the real world while still, somehow, bringing real world issues into its pages. Even the characters with the smallest roles, play HUGE parts in this book, each voice individualized and totally unique from the others.
And, of course, the prose. The prose is absolutely stunning. There were so, SO many moments I caught myself practically drooling over Seanan McGuire's writing. It's atmospheric, deliciously detailed, and breath-taking. Abstract and poetic…but realistic enough to WORK in the grand scheme. Each of my five senses were at turns engaged and shut off depending on the chapter, the situation, the characters… There is so much more than just words being imparted in this story, and I adored every moment.
I just… I can't EVEN with my words right now. I am blown away. I am shattered. I am totally adding Seanan McGuire to my "insta-buy" list from this one book alone, because PENGUINS, I adore her writing. This book is dark, morbidly humorous, and SO unique–and officially at the tippy top of my "favorite reads" list from this year. I highly recommend picking this up if you love The Night Circus, The Nightmare Before Christmas, and creatively atmospheric reads. Pick this book up, guys–it is a MUST read!