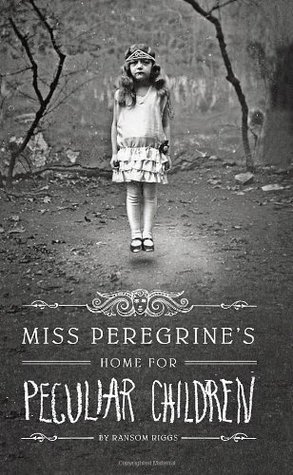 Miss Peregrine's Peculiar Children #1
352 Pages
Quirk Publishing
Publication Date: June 7th, 2011
Get a copy here!
A mysterious island. An abandoned orphanage. A strange collection of curious photographs.

A horrific family tragedy sets sixteen-year-old Jacob journeying to a remote island off the coast of Wales, where he discovers the crumbling ruins of Miss Peregrine's Home for Peculiar Children. As Jacob explores its abandoned bedrooms and hallways, it becomes clear that the children were more than just peculiar. They may have been dangerous. They may have been quarantined on a deserted island for good reason. And somehow—impossible though it seems—they may still be alive.

A spine-tingling fantasy illustrated with haunting vintage photography, Miss Peregrine's Home for Peculiar Children will delight adults, teens, and anyone who relishes an adventure in the shadows.

Quick Reasons: very slow beginning–seriously, it dragged; intriguing plot, unique cast of characters; I didn't really feel invested in any of the crew; I wasn't emotionally invested in the story, either, really; once the pace picked up, the read was quick; loved the addition of the photographs
Unfortunately, I had a very hard time getting into this book. I tried reading it something like a year ago, and found myself so bored by page 80, I put it down. (I know this because I found the receipt I had, at the time, used as a bookmark) I'd hoped the time between attempts would have helped me to reset my opinions and discover that elusive awesomeness that has everyone raving about this series–the one I so obviously missed out on my first attempt at reading this book. This round, I managed to make it through the read!…but that elusive something? Remains undiscovered.
To be honest, I'm not sure why this is. This book is exactly my kind of weird, but for some reason, I just didn't enjoy it as much as I thought I should. For one…I wasn't even CLOSE to being emotionally invested in these characters. While they're unique, and stand out from the array of characters I've encountered in my reading career… They didn't speak to ME personally. They didn't tug at my heart strings. They didn't make me feel anything for them, which left me in a bit of an awkward place–especially during the "big reveal" or "epic battle" scenes. I just couldn't bring myself to care.
The story, also, fell a bit flat for me overall. Up until page 80, I wasn't sure I'd be able to bring myself to finish reading. Once again, I was SO bored, I found myself falling asleep while reading. And even after that page marker, when things started picking up and we got to the heart of the story… I felt as if perhaps the prose was a bit too stiff, a bit stilted, a bit lacking. I'm not sure WHAT it lacks–there's mystery, drama, action and adventure. It boils down to this: somewhere, somehow, this book fell short for me.
I went into this second attempt hoping time had changed everything for the better. Unfortunately, while I managed to finish the book out this round, I didn't enjoy it as much as I was expecting. This is, I fear, another case of "disappointed hype" for me–I'm not sure why, but I am of the minority once again. I just wasn't as invested in this story, or it's uniquely peculiar characters, as I felt I should have been.
I still recommend this book (and series) to lovers of the peculiar, the paranormal, and the fast-paced action/adventure! Just because I didn't enjoy this, doesn't mean YOU won't–after all, just LOOK at the goodreads rating, and the staggering amount of people who've read this! Give it a shot–you never know what you might find lurking in these pages. It just might be an adventure you don't want to pass up.