WISHLIST WEDNESDAY
Hosted By:  PEN TO PAPER
Description: Wishlist Wednesday is a book blog hop where we will post about one book per week that has been on our wishlist for some time, or just added (it's entirely up to you), that we can't wait to get off the wishlist and onto our wonderful shelves..
I'm all about breaking bending the rules to my will, so I'm switching it up!  I'm going to do four books–two that are out in the wild, and two soon-t0-be released! Click the covers to be taken to the Goodreads page!
Books Soon-to-Be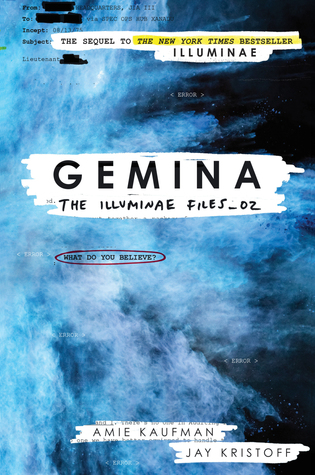 The highly anticipated sequel to the instant New York Times bestseller that critics are calling "out-of-this-world awesome."

Moving to a space station at the edge of the galaxy was always going to be the death of Hanna's social life. Nobody said it might actually get her killed.

The sci-fi saga that began with the breakout bestseller Illuminae continues on board the Jump Station Heimdall, where two new characters will confront the next wave of the BeiTech assault.

Hanna is the station captain's pampered daughter; Nik the reluctant member of a notorious crime family. But while the pair are struggling with the realities of life aboard the galaxy's most boring space station, little do they know that Kady Grant and the Hypatia are headed right toward Heimdall, carrying news of the Kerenza invasion.

When an elite BeiTech strike team invades the station, Hanna and Nik are thrown together to defend their home. But alien predators are picking off the station residents one by one, and a malfunction in the station's wormhole means the space-time continuum might be ripped in two before dinner. Soon Hanna and Nik aren't just fighting for their own survival; the fate of everyone on the Hypatia—and possibly the known universe—is in their hands.

But relax. They've totally got this. They hope.

Once again told through a compelling dossier of emails, IMs, classified files, transcripts, and schematics, Gemina raises the stakes of the Illuminae Files, hurling readers into an enthralling new story that will leave them breathless.
Why I want it: I don't even care that this doesn't continue Kady and Ezra's story where we leave it; new pair of characters, bring it on!  I just… I NEED THIS HEARTACHE!  (and let's be honest, we all KNOW this book is gonna hurt)
Where is home when you were born in the stars?

Aza Ray is back on earth. Her boyfriend Jason is overjoyed. Her family is healed. She's living a normal life, or as normal as it can be if you've spent the past year dying, waking up on a sky ship, and discovering that your song can change the world.

As in, not normal. Part of Aza still yearns for the clouds, no matter how much she loves the people on the ground.

When Jason's paranoia over Aza's safety causes him to make a terrible mistake, Aza finds herself a fugitive in Magonia, tasked with opposing her radical, bloodthirsty, recently-escaped mother, Zal Quel, and her singing partner Dai. She must travel to the edge of the world in search of a legendary weapon, The Flock, in a journey through fire and identity that will transform her forever.

In this stunning sequel to the critically acclaimed Magonia, one girl must make an impossible choice between two families, two homes—and two versions of herself.
Why I want it: Uhm…have you MET me?!  Magonia is my JAM, man.  No, my toast and jam!  NO NO NO–my only-just-slightly-crispy, soggy with butter, smothered with apple butter toast!  YES.  I need it.  GIVE IT.  Give it or suffer.
Books in the Wild
On the third night of the third month after a girl's thirteenth birthday, every girl in the town of Willow Hill makes three wishes.

The first wish is an impossible wish.
The second is a wish she can make come true herself.
And the third is the deepest wish of her secret heart.

Natasha is the oldest child in a family steeped in magic, though she's not sure she believes in it. She's full to bursting with wishes, however. She misses her mother, who disappeared nearly eight long years ago. She has a crush on one of the cutest boys in her class, and she thinks maybe it would be nice if her very first kiss came from him. And amid the chaos of a house full of sisters, aunts, and a father lost in grief, she aches to simply be…noticed.

So Natasha goes to the willow tree at the top of the hill on her Wishing Day, and she makes three wishes. What unfolds is beyond anything she could have imagined.
Why I want it: I just stumbled across this book today, and LET ME TELL YOU:  the book lust is real.  I mean…it's got…Wishes?!?!?! And…wishes?!  AND WISHES!  Gimme.
Juliana Telford is not your average nineteenth-century young lady. She's much more interested in researching ladybugs than marriage, fashionable dresses, or dances. So when her father sends her to London for a season, she's determined not to form any attachments. Instead, she plans to secretly publish their research.

Spencer Northam is not the average young gentleman of leisure he appears. He is actually a spy for the War Office, and is more focused on acing his first mission than meeting eligible ladies. Fortunately, Juliana feels the same, and they agree to pretend to fall for each other. Spencer can finally focus, until he is tasked with observing Juliana's traveling companions . . . and Juliana herself.
Why I want it:  I know, I KNOW– "Beth!" you all say, "this book should have been on this list AGES AGO!  It's so you, it could take on your name and nobody would notice!"  Well… You're right.  I don't know what I was thinking.  Forgive me, book?!  FORGIVE MEEEEEE!
What do you guys think–have you read any of these…or WANT to?  What did you think of them, if so?  Let me know your thoughts below or link me to your Wishlist Wednesday post, and as always…
Until next time, happy book-ing!