FRIDAY FINDS
HOSTED BY: MIZB AT JENN @ BOOKS AND A BEAT
DESCRIPTION: FRIDAY FINDS SHOWCASES THE BOOKS YOU 'FOUND' AND ADDED TO YOUR TO BE READ (TBR) LIST… WHETHER YOU FOUND THEM ONLINE, OR IN A BOOKSTORE, OR IN THE LIBRARY — WHEREVER! (THEY AREN'T NECESSARILY BOOKS YOU PURCHASED).
As  always, these are all epic finds under $2.00 on Amazon Kindle!…except for a small section just for this post with under $3.oo deals I don't think you'll want to miss!
Click the cover to be taken to the Goodreads page!
Under $1.00 Deals
Goodreads Ratings:
Clockwise (#1): 3.86 Stars
Clockwiser (#2): 3.93 Stars
Like Clockwork (#3): 3.79 Stars
Counter Clockwise (#4): 4.21 Stars

Casey Donovan has issues: hair, height and uncontrollable trips to the 19th century. She accidentally takes Nate Mackenzie, cutest boy in the school, to 1860. Protocol pressures her to dub Nate her brother. Does he spark with romance or protectiveness, when a handsome, rich, unwanted suitor intervenes?

Back in the present, the social ladder is as before: Casey at the bottom rung, Nate at the top. But now her heart is broken, her best friend is mad, her parents are split up, and police escort her younger brother home. The only thing worse would be taking Nate back to the past again.

Which of course, she does.
Get the collection for only 99 cents here!
$1.00 – $1.99 Deals
Goodreads Ratings:
Imaginations (#1): 3.86 Stars
Duplicities (#2): 3.83 Stars

In the Club of the Unknown, where the music blares and the faces are hidden behind masks, Gwyn meets a boy. Not just any boy, but one she is certain she has met before.

Only that's not possible.

Gwyn lives in the last city of men, where memories are made through repetition and yesterday is forgotten with the reset.

The world has peace, what's left of it anyway. Peace that has been gained through sacrifice.

But as behavioural school ends and Gwyn is sent out into the work force, she discovers that not everyone resets. Not everything is as it seems. The peace they live in is as fake as the masks they wear in the clubs. She starts to see that the walls surrounding the city, to keep the monsters out, might actually be keeping them in.

And maybe the boy she thought she knew, isn't what he appeared to be at all.
Get them for $1.00 and $1.99:
Imaginations | Duplicities
Goodreads Rating: 3.91 Stars

Lois Lane is starting a new life in Metropolis. An Army brat, Lois has lived all over—and seen all kinds of things. (Some of them defy explanation, like the near-disaster she witnessed in Kansas in the middle of one night.) But now her family is putting down roots in the big city, and Lois is determined to fit in. Stay quiet. Fly straight. As soon as she steps into her new high school, though, she can see it won't be that easy. A group known as the Warheads is making life miserable for another girl at school. They're messing with her mind, somehow, via the high-tech immersive videogame they all play. Not cool. Armed with her wit and her new snazzy job as a reporter, Lois has her sights set on solving this mystery. But sometimes it's all a bit much. Thank goodness for her maybe-more-than-a friend, a guy she knows only by his screenname, SmallvilleGuy.
Goodreads Rating: 3.59 Stars

James Hook is a child who only wants to grow up. When he meets Peter Pan, a boy who loves to pretend and is intent on never becoming a man, James decides he could try being a child – at least briefly. James joins Peter Pan on a holiday to Neverland, a place of adventure created by children's dreams, but Neverland is not for the faint of heart. Soon James finds himself longing for home, determined that he is destined to be a man. But Peter refuses to take him back, leaving James trapped in a world just beyond the one he loves. A world where children are to never grow up. But grow up he does. And thus begins the epic adventure of a Lost Boy and a Pirate. This story isn't about Peter Pan; it's about the boy whose life he stole. It's about a man in a world that hates men. It's about the feared Captain James Hook and his passionate quest to kill the Pan, an impossible feat in a magical land where everyone loves Peter Pan. Except one.
Goodreads Rating: 4.02 Stars

Near the end of World War II, seventeen-year-old Mireille de Jouarre flees the home of her stepfather, a Nazi collaborator and abusive drunk. She finds shelter with her childhood friend Stefan, and the two fall deeply in love. But as the fighting escalates, Mireille must escape alone to Paris, where she discovers she's pregnant and lacking a way to provide for her child.

So begins her new life as l'Ange—the Angel. After an unlikely meeting with a wealthy aristocrat in a Parisian hotel—and her acceptance of his solicitation—Mireille becomes the most celebrated poule in all of France, eliciting huge fees and invitations to exclusive parties. At one of these events, Mireille meets Oliver Jordan, an American womanizer and film producer, and is soon launching a promising film career. As her star rises, Mireille is determined to bury her past. But her success isn't as carefree and glittery as it seems, and when her daughter's future is threatened, Mireille must make a deadly decision in a desperate attempt to finally choose her own path.
$2.00 – $2.99 Deals
Goodreads Ratings:
Imitation (#1): 3.57 Stars
Deviation (#2): 3.83 Stars
Generation (#3): 3.82 Stars

Everyone is exactly like me. There is no one like me.

Ven wrestles with these contradicting truths every day. A clone of wealthy eighteen-year-old Raven Rogen, Ven knows everything about the girl she was created to serve: the clothes she wears, the boys she loves, the friends she loves to hate. Yet she's never met the Authentic Raven face-to-face.

Imitations like Ven only get to leave the lab when they're needed—to replace a dead Authentic, donate an organ, or complete a specific mission. And Raven has never needed Ven . . . until now.

When there is an attack on Raven's life, Ven is thrust into the real world, posing as Raven to draw out the people who tried to harm her. But as Ven dives deeper into Raven's world, she begins to question everything she was ever told. She exists for Raven, but is she prepared to sacrifice herself for a girl she's never met?
Get them for $2.00 each:
Imitation | Deviation | Generation
Goodreads Ratings:
The Glassblower (#1): 3.82 Stars
The American Lady (#2): 3.95 Stars
The Paradise of Glass (#3):3.87 Stars

In the village of Lauscha in Germany, things have been done the same way for centuries. The men blow the glass, and the women decorate and pack it. But when Joost Steinmann passes away unexpectedly one September night, his three daughters must learn to fend for themselves. While feisty Johanna takes a practical approach to looking for work, Ruth follows her heart, aiming to catch the eye of a handsome young villager. But it is dreamy, quiet Marie who has always been the most captivated by the magic—and sparkling possibilities—of the craft of glassblowing. As the spirited sisters work together to forge a brighter future for themselves on their own terms, they learn not only how to thrive in a man's world, but how to remain true to themselves—and their hearts—in the process.
Get them for $2.00 each:
The Glassblower | The American Lady | The Paradise of Glass
Goodreads Rating: 4.34 Stars

The year is 1956, and the Axis powers of the Third Reich and Imperial Japan rule the world. To commemorate their Great Victory over Britain and Russia, Hitler and Emperor Hirohito host the Axis Tour: an annual motorcycle race across their conjoined continents. The victor is awarded an audience with the highly reclusive Adolf Hitler at the Victor's ball.

Yael, who escaped from a death camp, has one goal: Win the race and kill Hitler. A survivor of painful human experimentation, Yael has the power to skinshift and must complete her mission by impersonating last year's only female victor, Adele Wolfe. This deception becomes more difficult when Felix, Adele twin's brother, and Luka, her former love interest, enter the race and watch Yael's every move. But as Yael begins to get closer to the other competitors, can she bring herself to be as ruthless as she needs to be to avoid discovery and complete her mission?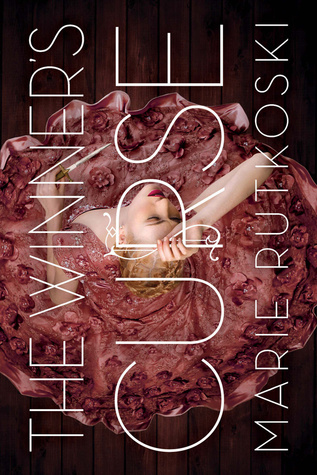 Goodreads Rating: 4.06 Stars

Winning what you want may cost you everything you love…

As a general's daughter in a vast empire that revels in war and enslaves those it conquers, seventeen-year-old Kestrel has two choices: she can join the military or get married. But Kestrel has other intentions.

One day, she is startled to find a kindred spirit in a young slave up for auction. Arin's eyes seem to defy everything and everyone. Following her instinct, Kestrel buys him—with unexpected consequences. It's not long before she has to hide her growing love for Arin.

But he, too, has a secret, and Kestrel quickly learns that the price she paid for a fellow human is much higher than she ever could have imagined.

Set in a richly imagined new world, The Winner's Curse by Marie Rutkoski is a story of deadly games where everything is at stake, and the gamble is whether you will keep your head or lose your heart.
Welp, there you go!  Some awesome reads for epic prices!  Have you guys read any of them?  Are there any you're dying to read and bought immediately?  Let me know your thoughts below!
Until next time, happy book-ing!