Hosted By: Jessica @ novelcravings
Description:  Hello everyone and welcome to the very first 'Page 394' meme!
Page 394 is an original meme that began here at Novelcravings. I wanted to start a meme in honor of Alan Rickman and what could be better than using the famous Professor Snape quote? The meme is simple, turn to page 394 in your current read or a favourite book, find a passage/quote you love and share it with us! Everyone is welcome to join just please remember to link back to this page and share the link to your blog post in the comments. The meme with go up on the 14th of every month. Enjoy!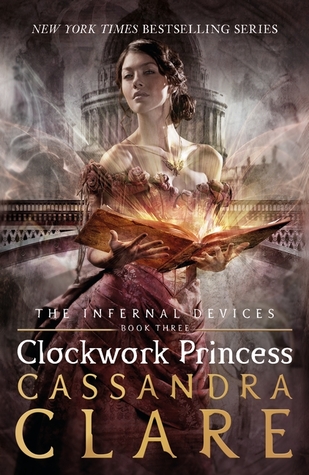 I read this in September 2015.  I don't think I will EVER love a book in the same way I love this trilogy–except maybe The Darkest Minds trilogy, because my love for those three is about the same.
As it had then, her hand went to the fireplace poker.  She lifted it, feeling its weight in her hand.  The fire had climbed higher.  She saw the world through a golden haze as she raised the poker and brought it down on the clockwork angel.

Iron though the poker was, it burst into metallic powder, a cloud of shining filaments that sifted to the floor, dusting the surface of the clockwork angel, which lay, untouched and undamaged, on the ground before her knees.

–page 394
This whole trilogy is brilliant, and heart-breaking, and gorgeous…. But this book.  THIS.  BOOK.  broke me into about a thousand tiny, irreparable pieces.  It is my favorite of the three.
And there you have it–my first post for this awesome new meme!  What's YOUR first Page 394?  Link me below, or let me know in the comments!
Until next time, happy book-ing!