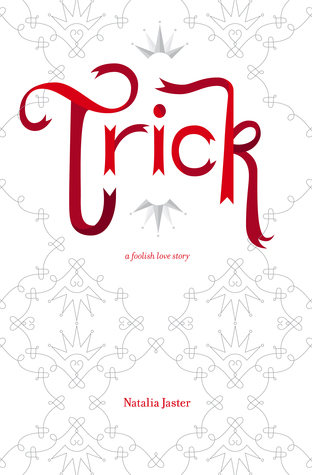 There is a rule amongst his kind: A jester doesn't lie.
In the kingdom of Whimtany, Poet is renowned. He's young and pretty, a lover of men and women. He performs for the court, kisses like a scoundrel, and mocks with a silver tongue.
Yet allow him this: It's only the most cunning, most manipulative soul who can play the fool. For Poet guards a secret. One the Crown would shackle him for. One that he'll risk everything to protect.
Alas, it will take more than clever words to deceive Princess Briar. Convinced that he's juggling lies as well as verse, this righteous nuisance of a girl is determined to expose him.
But not all falsehoods are fiendish. Poet's secret is delicate, binding the jester to the princess in an unlikely alliance . . . and kindling a breathless attraction, as alluring as it is forbidden.
*Mature YA: sexual content and language. Intended for readers 17 and older*
– – – – –

Quick Reasons: life ruiner; diverse read; the prose is poetic and gorgeous; endearing, adorable, snarky characters; this read tackles a heavy-handed, emotional subject with sensitivity and care; realistic romance, very human situations/reactions; this book breaks you apart and puts you back together again a different reader
2016, you are slaying me with the reads this year. The husband told me just this morning I need to step away from the emotional for a bit—read something with less bite. I laughed at him, because that's just silly—the best books are those with teeth, right? And this read? Serious teeth. I'll be bearing the scars with pride for a while to come.
One revolution: my read crown of braids and his tousled brown bangs.

Two: my ruby belt and his ribboned bracelets.

Three: dexterity and tension.

Four: a coil wound tight.
The prose for this is absolutely gorgeous. I love that it fits with the time period, that it's well-researched, that Poet's sections are (as they should be) the most poetic and beautiful of the two perspectives. I love how clear and engaging the two voices are: they stand apart, yet meld together in a beautiful blend of opposites that works to both individualize the characters and bring them together all the same.
The world-building is also gorgeous, well-considered, and described so concisely I could see everything that was happening or being described. The fantasy elements blend in beautifully with the historically accurate period setting. Any questions the reader might come up with in one chapter are thoughtfully and decisively answered further on; every possible outcome is considered and woven like threads across a loom.
I would concede: Sometimes the simplest words had the sharpest teeth.
The characters are polar opposites…and yet so beautiful together. I know, I keep using that word—I'll try to tamp down the gushing, but I swear, these characters leeched out of the pages and inked themselves across my heart. There's no getting them out anytime soon—they'll be there, lurking, for probably the rest of forever. Their stories—both separate and as a whole—clash and clang into a molten, smoldering pile of emotions that caught me up and dragged me along for the ride.
This book isn't all angst and first-love butterflies, though, so take care: there are more heart-wrenching, emotionally-draining, heavy-handed subjects being tackled. There is a reason this read is rated for 17+, mature readers—and I don't think that's just due to the romance and language, though that's a major part of it. This book will make you think. It will make you angry. It will make you rage, and hate the world, and question everything. I recommend not reading, if you're not ready for such emotional upheaval. If you are ready: I promise, this read is so so worth it.
Father used to say that change took time, but he was wrong. It did not take any time at all to change me. The glimpse of a famly. A beautiful tale. A child's tears. A confession. A wound. An honest opinion. A friend's betrayal. One parent's death and another's embrace. A touch—an instant slapping you with its light and jolting you back, shaken and blinking. Those quick moments were what changed people.

What took time was accepting the change.
I really enjoyed stepping a bit out of my comfort zone and stepping into Natalia Jaster's world of beauty for the first time. I already have another book by her waiting on my Kindle; I'll hopefully be picking it up within the next month or so, because I can't wait for her to break my heart and piece me back together again. I definitely suggest lovers of sordid, forbidden loves, royal angst, and poetic reads pick up this book. You'll come out a different reader at the end of these pages; I recommend you take the leap and let this world break your fall!