WISHLIST WEDNESDAY
HOSTED BY:  PEN TO PAPER
DESCRIPTION: WISHLIST WEDNESDAY IS A BOOK BLOG HOP WHERE WE WILL POST ABOUT ONE BOOK PER WEEK THAT HAS BEEN ON OUR WISHLIST FOR SOME TIME, OR JUST ADDED (IT'S ENTIRELY UP TO YOU), THAT WE CAN'T WAIT TO GET OFF THE WISHLIST AND ONTO OUR WONDERFUL SHELVES.
I'm all about breaking bending the rules to my will, so once again, I'm going to include an older wishlist-ed book and a more recent one.  Click the covers to be taken to the goodreads page!
A magical, adventurous love story. Deep in the dark woods, seventeen-year-old Leira Sky mourns the death of her mother, with only the trees around her for company. But when those trees begin to change, alerted by the presence of a peculiar boy named Tristan Harper, Leira finds herself propelled into a strange new world-one that's home to bizarre bark-covered creatures, invisible beasts, and a demented king who waits in his dark tower, curling his fingers at the sight of foreign blood. But Leira quickly realizes that it may be too late to undo what she's done. Because now-they know she's there. And when Leira's fate is sealed, and her life begins to unravel, Leira and Tristan must race against time to see if love is enough to change her fate.
Reasons I want it:  I found this on the Goodreads Giveaways list?  and there's just something so…whimsical and fairy tale esque about it that draws me to it.  It's screaming at me to read it–can you hear?!  It's also pretty cheap sooo I might just buy it and get it over with.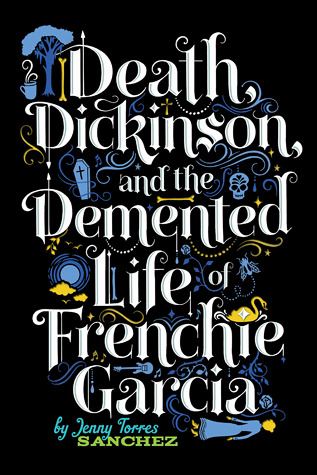 Frenchie Garcia can't come to grips with the death of Andy Cooper. Her friends didn't know she had a crush on him. And they don't know she was the last person with him before he committed suicide. But Frenchie's biggest concern is how she blindly helped him die that night.

Frenchie's already insane obsession with death and Emily Dickinson won't help her understand the role she played during Andy's "one night of adventure." But when she meets Colin, she may have found the perfect opportunity to recreate that night. While exploring the emotional depth of loss and transition to adulthood, Sanchez's sharp humor and clever observations bring forth a richly developed voice.
Reasons I want it:  Again, I found this purely by chance–and immediately decided I needed it.  I mean, I LOVE Emily Dickinson's poetry, so that helps.  Still haven't picked it up…I should probably work on that!
What do you guys think–have you read either of these?  What did you think of them, if so?  Let me know your thoughts below or link me to your Wishlist Wednesday post, and as always…
Until next time, happy book-ing!