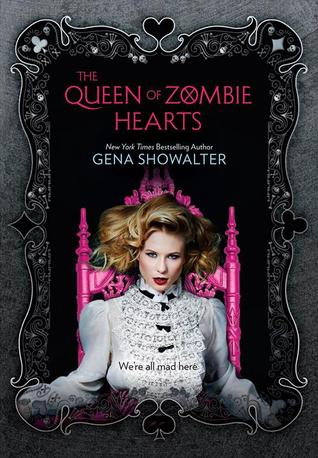 I thought I had nothing left to give. I thought wrong. They started the war. Now I will end it.
In the stunning conclusion to the wildly popular White Rabbit Chronicles, Alice "Ali" Bell thinks the worst is behind her… until Anima Industries, the agency controlling the zombies, launches a zneak attack, killing four of her friends. It's then she realizes only the worst has only begun.
As the surviving slayers prepare for war, Ali discovers she, too, can control the zombies… and she isn't the girl she thought she was. She's connected to the woman responsible for killing — and turning — her boyfriend's mother. How can their relationship endure? As secrets come to light, and more slayers are taken or killed, Ali will fight harder than ever to bring down Anima — even sacrificing her own life for those she loves.
– – – – –
Rating: 4/5 Stars
Quick Reasons: more riveting, pulse-pounding action; Gena Showalter showed no mercy; unforseen plot twists; the perfect blend of foreshadowing and mystery; heartwrenching pain; some steamy, sexy moments
Oh, Gena Showalter—you do know how to break a reader's heart into such tiny pieces, beating is impossible, don't you?
"Roses are red, violets are blue, I have five fingers, the middle one is for you."
There was a moment—just one short, breathless moment—at the beginning where I allowed myself (naively, I might add) to believe things might work out just fine for our lovable group of rough and tumble slayers. Of course, that moment was doused in gasoline and set aflame not long after. I didn't make that mistake twice, let me tell you.
Gena Showalter is a GENIUS at knowing how much to give away and how much to play close to the chest. She's figured out how to write the visions perfectly—crushing readers' hopes while still leaving enough room to play with and fit into the story at the moment of reckoning. She must write these books backward—that's the only way I can think to explain how she seemlessly pulls off the visions and still makes them somehow relevant and workable.
"Gavin has started calling you the queen of zombie hearts," Cole said. "And you know what, he's right. It fits. Before you, I wasn't really living. I was existing. Moving from girl to girl. Killing zombies. I was as good as dead, but you brought me back to life. And you are most definitely the queen of my heart."
As ALWAYS, the snark and sarcasm are at the top of their game in this read. Ali and Cole still maintain their sense of wit and banter—as do the rest of our gang! There were SO many awesome moments of epic I couldn't help but snort aloud to most of them, giving the husband yet another reason to question my sanity. At the same time, the dialogue remained entirely believable—none of it felt forced. It was like looking on from the sidelines while a group of friends quipped and sneered and otherwise trampled over everyone else. I really enjoy how effortlessly Gena Showalter makes writing friendships like these seem—it's not a talent many authors have from the get-go. I think a lot of this is due to how WELL she knows her characters; she has every action, every moment, every minute reaction planned out before writing, which makes writing the difficult scenes (while not necessarily easier) simple. She already knows what and how her characters are going to do…there's no room for surprises, or manhandling them to get where she wants to go.
The action also never lets up. We hit the ground running from page one—there's no stop, there's no chance to breathe. The steamy, sexy, more personal moments between my favorite couple were awesome and totally made the angst, drama, and general ICK of the plot (ick in a good way!) more bearable, but… She is MERCILESS with her characters, killing off many in a very short amount of time. As story, it makes sense; as shock-value, it did its job. Of course, there's one death that I can't help but be very very angry about. I'm sure it's the same one every reader before me has whined and moaned about, so I'll save you all that torture and just say: BOO. That being said, I now need to read the fourth (and final) book in this series, just to see how she redeems herself. My heart needs serious patching up, Gena Showalter! I'm counting on you to do that for me. Somehow.
"Does Cole know you're made of ice?"

"Yes. He likes to melt me."
Once again, I was taken for a ride—and came out more scathed than ever. I definitely recommend this entire series to lovers of YA, zombie lore, and action-laced plots. These books are bound to suck you in, chew you up, and spit you out a different reader.