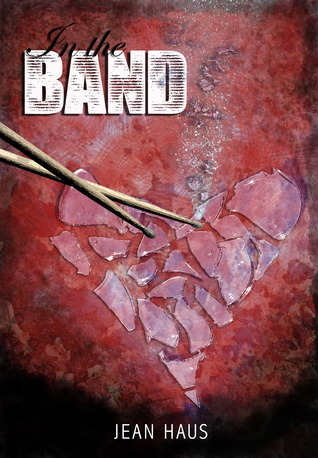 When family problems push Riley Middleton into giving up a percussion scholarship in another state and attending college from home, her friends push her to try out for a local rock band. Of course, Riley makes the band. She rules at the drums.
Riley soon finds out rock bands have a different dynamic than marching bands, especially when each of her male band mates has a major ego and is a major player. Two of them relentlessly flirt with her. The other—a dark, sexy rock god she can't help being attracted to— is a total jerk and pushes her to quit. She becomes determined to ignore his rudeness and his hotness. Even if she was interested in jerks, a hook up would probably get her booted out of the ego-ridden band, and playing keeps her sane. Behind the drums, the world and its troubles evaporate.
If she wants to stay in the band, Riley needs to ignore the growing sparks between her and her band enemy. But as she gets to know the man behind the stage persona, ignoring him proves to be more difficult than flowing through a time sig shift.
*New Adult/Mature YA for language and sexual situations.
– – – – –
Rating: 4.5/5 Stars
Quick Reasons: awesome characters; intense, sexy scenes; FANTASTIC audio narration; sugar and snark; intriguing, complex sub-plot; absolutely no HINT of a love triangle; overall entertaining, snort-worthy read/listen
I have a confession to make before getting into the nitty gritty of this review: I went into this read with very low expectations. As it's my first new adult novel, and one I haven't heard ANYTHING about… I was expecting to hate it within the first few pages. I decided, sort of spur of the moment, that since all three in this series are available on Kindle Unlimited for both reading and listening…I would give audiobooks yet ANOTHER try, despite my as-yet neutral stance on them. (Give me a break; I've only listened to a few so far, and my enjoyment has been sort of between "like" and "loathe" due to different narration experiences)
Within the first few SENTENCES, I knew I was going to have to eat my words. Whether due to the AMAZING narration talents of Kate Rudd, the storytelling of Jean Haus, or a combination of both…I was almost immediately sucked headfirst into this world. I didn't even realize it was happening until fifty pages had gone by and I was bouncing with anxiety!
"That I had loved not as I should. A creature made of clay. When the angel woos the clay, he'll lose his wings at the dawn of day."
The characters for this book are complex, realistic, and entirely TOO lovable. Even Romeo, who at the start seems to fit the moody bad-boy musician role all too well, comes off in a well-rounded, respectable way. While it's unclear WHY he feels so strongly toward Riley, readers are left wanting to know more, wanting to be close to him, wanting—like the girls in the book—to know HIM. The whiplash I was given from the pure SNARK flinging between our main duo was bittersweet; I adored the snark and witty banter, while pleading desperately for the two of them to WISE UP to their desires and get along long enough to realize what was happening. There's a sort of Pride and Prejudice level of romance/courtship to Romeo and Riley, at turns beautiful and entirely confusing. I enjoyed the journey SO MUCH.
There are PLENTY of steamy, sexy moments to add to the thrill of unraveling these characters. These moments also caused a bit of whiplash—the first time, I wasn't entirely EXPECTING the sudden delve into intimacy, and almost choked on surprise. These scenes are so well-envisioned by the author, you'll feel as if you're the one caught up in the moment—and find yourself wishing for more once they're over. They're written with almost poetic prose—not explicit, necessarily, but easy enough to "see" while you're reading.
Love doesn't always make sense. To the person in it or to the people around them. The falling can be an emotional, chaotic whirlwind. The landing jarring and eye opening. But if two people are really in love, there's nothing in this world that can overcome it. Even if they can't be together, love doesn't cease.
That being said, the romance is not the BIGGEST part of this story, I don't think. Instead, the focus is more on Riley's discovery of self…and the fact that sometimes, LIVING life (instead of just cruising through) is worth the pain that might come with it. This is something I haven't seen done in romance before—of course, having never read new adult before, I guess I can't be the judge on that quite yet. Still, it was a nice thing to see. Riley's self-revelation toward the end of the book is one I hope people will take to heart; one I wish I'd been introduced to when younger.
ALSO, the narration for this book is absolutely amazing. Kate Rudd has a knack for making the characters LEAP from your headphones; each have a distinct flair, an individual voice. You can practically imagine them as she's reading, which is a talent I wish more narrators had. It made this read MUCH more enjoyable for me. I was able to devour the book, instead of being bored or becoming lost. She kept my attention (which is major; I have a huge problem with zoning out when an audiobook is boring.)
"It's not too hard to hold someone's who's already caught."
I really enjoyed this read, and will be immediately diving into book two in this series—with audiobook, of course! I just can't help myself; I'm more invested in these characters than I've been in a long time for a series (since marathoning The Darkest Minds trilogy, actually). I definitely recommend to lovers of new adult/romance (there is some erotic, so know that going in!) and sugar/snark characters. I LOVED this read—and can't wait to start the next one!  Hats off to Jean Haus for an awesome read!