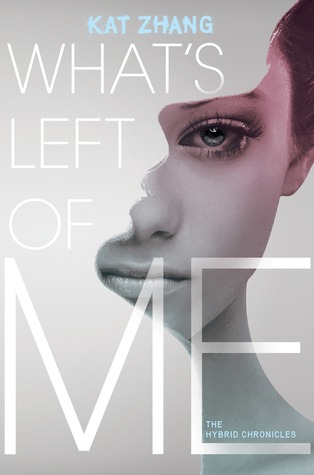 I should not exist. But I do.
Eva and Addie started out the same way as everyone else—two souls woven together in one body, taking turns controlling their movements as they learned how to walk, how to sing, how to dance. But as they grew, so did the worried whispers. Why aren't they settling? Why isn't one of them fading? The doctors ran tests, the neighbors shied away, and their parents begged for more time. Finally Addie was pronounced healthy and Eva was declared gone. Except, she wasn't . . .
For the past three years, Eva has clung to the remnants of her life. Only Addie knows she's still there, trapped inside their body. Then one day, they discover there may be a way for Eva to move again. The risks are unimaginable-hybrids are considered a threat to society, so if they are caught, Addie and Eva will be locked away with the others. And yet . . . for a chance to smile, to twirl, to speak, Eva will do anything.
– – – – –
Rating: 4/5 Stars
Quick Reasons: creative, original ideas; a complex look into ideas of "self" and personality traits; intense, action-packed plot; follows the same rules as other dystopians (I had a fair amount of The Darkest Minds flashbacks throughout); an ensnaring read that will leave you thinking
I was caged in our body and caged in his arms and, somehow, the former was the real prison.
Okay. Let's talk about the first thing FIRST, here, shall we? The cover for this book? The cover for the entire series?! I ABSOLUTELY, 100% adore them! I just… The fact that one face is glimpsed in color (I'm guessing Addie's) while the other (or others, depending) are outlined around the head in a sort of transparent and ghostly, almost "illusiony" sort of way? I just. I'm in love with these covers.
The plot itself is pretty basic dysopian all-around. I had several moments where, between reading sprints, I sat back and let myself admit how alike the plot—not the story, per se, but the basic plot structure—is to The Darkest Minds trilogy, by Alexandra Bracken. Obviously, this is not a bad thing—dystopians, in the last few years, have become something of a popular genre. Like ANY genre out there—romance, sci fi, epic fantasy—there's going to be a basic, "follow this order to make your book work" structure. I don't have a problem with this; it's what keeps the book flowing the way it's supposed to. It's what keeps books on track. But if you're the kind of person who gets annoyed about books having very similar plot structures…perhaps this isn't for you. (Of course, you're going to find with pretty much EVERY book the plot structure is similar to others in that genre. Just saying. This shouldn't in any way be surprising.) The formatting of the actual text is also interesting—instead of relying on confusing "he said/she said" or trying to somehow relate to readers that mind-speak was italicized or any of the thousand other ways it might have been portrayed… Kat Zhang chose to bracket conversations between Addie and Eva within < and >. It brought an entirely new level to the reading experience for me.
I was terrified. I was eleven years old, and though I'd been told my entire life that it was entirely natural for the recessive soul to fade away, I didn't want to go. I wanted twenty thousand more sunrises, three thousand more hot summer days at the pool. I wanted to know what it was like to have a first kiss. The other recessives were lucky to have disappeared at four or five. They knew less.
There were some world-building issues overall. Because we're seeing things through Eva—the recessive soul—not all the answers are available to us. Even at the end, certain things are left sort of open-ended and in the dark…but I felt there were enough foreshadowings and hints at the answers to be able to piece together some semblance of a THEORY to go into the second book with, which, in my own opinion, is more than enough. I wasn't bothered by the lack of answers because I get the feeling we're not supposed to have them yet. The government, we find out, has been lying to these people about a lot of things anyway… who's to say, even if we'd been given answers, they'd be the right ones? Instead, Kat Zhang weaves the story with a series of dramatic, traumatizing, and growth-inspiring events…and speckes hints of what's to come throughout the journey. Like breadcrumbs.
The ideas for this world are strong and creative; Addie and Eva play off each other in beautiful and complex ways, making their character both super intriguing and artfully well-rounded. I really enjoyed the subtle (and, at times, NOT so subtle) hints at how the souls differ and find strength from each other. There were also some bigger plot "hints" (at least, I think there were) that left me leaping to theories at the end—and needing to know more. The rest of the characters are as well-done and thoughtfully written as the main duo, blending and merging into a series of relationships that both pushed and tested Addie/Eva into individual sets of character growth. It'll be interesting, in book 2, to see the ways these growths play out…and effect each of the souls.
< Addie > I said. < If it had been you – if it were you trapped inside. If you were the one who couldn't move, I'd go back. I'd go back in a second. >
Overall, I really enjoyed this read and can't wait to dive in to the second book! I'd recommend to lovers of dystopian and science fiction. Also, anyone who appreciates inventive and brave world-building. This was a wild ride!