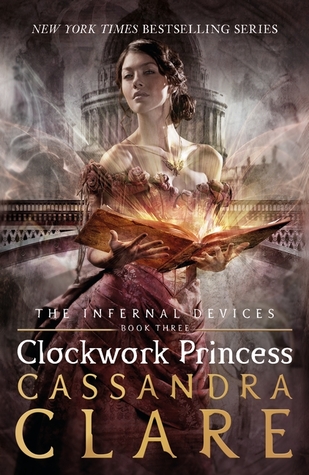 Danger and betrayal, love and loss, secrets and enchantment are woven together in the breathtaking finale to the #1 New York Times bestselling Infernal Devices Trilogy, prequel to the internationally bestselling Mortal Instruments series.
THE INFERNAL DEVICES WILL NEVER STOP COMING
A net of shadows begins to tighten around the Shadowhunters of the London Institute. Mortmain plans to use his Infernal Devices, an army of pitiless automatons, to destroy the Shadowhunters. He needs only one last item to complete his plan: he needs Tessa Gray.
Charlotte Branwell, head of the London Institute, is desperate to find Mortmain before he strikes. But when Mortmain abducts Tessa, the boys who lay equal claim to her heart, Jem and Will, will do anything to save her. For though Tessa and Jem are now engaged, Will is as much in love with her as ever.
As those who love Tessa rally to rescue her from Mortmain's clutches, Tessa realizes that the only person who can save her is herself. But can a single girl, even one who can command the power of angels, face down an entire army?
Danger and betrayal, secrets and enchantment, and the tangled threads of love and loss intertwine as the Shadowhunters are pushed to the very brink of destruction in the breathtaking conclusion to the Infernal Devices trilogy.
– – – – –
Rating: 5/5 Stars
Quick Reasons: I'm not crying, you're crying!; no, really, the emotional traumas of this book…I don't know that I'll recover; this is honestly the best of the three, I have no better way to describe the impact… I just… Let's just do the review, k?
"You don't think I can fight." Tessa said, drawing back and matching his silvery gaze with her own. "Because I'm a girl."

"I don't think you can fight because you're wearing a wedding dress", said Jem. "For what it's worth, I don't think Will could fight in that dress either."

"Perhaps not," said Will, who had ears like a bat. "But I would make a radiant bride."
Oh, by the Angel, this book absolutely shattered me. I am much like the clockwork creatures—slain upon the floor, broken into pieces. Let's hope I can find a rational, coherent way to formulate my review of this book; I fear I'm a bit overly emotional right now and might not make much sense.
I think this, out of the three in this specific trilogy, is the best book. It is by far my favorite of the Cassandra Clare novels I've read (which, I have to admit, are only these three). She pulled out all the stops with this journey; I was gripped with a fierce need to see this through, but stepping onto the first sentence of THIS book, I was swept away, unable to control my free fall. This book is a whirlwind of emotions—romance, drama, suspense. My heart was trapped in the eye of the storm, now left battered and bruised and entirely useless on the other side of a read I don't think I'll be leaving behind me anytime soon.
The characters, wrought and shaped so carefully in the first two books, come to a clash of different situations: personal growths, tragic losses. And readers are so ensnared by them, they will feel as if THEY are the ones experiencing the tumult of the storm.
"And now I need you to do for me what I cannot do for myself. For you to be my eyes when I do not have them. For you to be my hands when I cannot use my own. For you to be my heart when mine is done beating."
The prose throughout is absolutely breath-taking; the scenery, the descriptions, all come glaringly to life to captivate and entrap readers, to make this story ever more realistic and reaching. Cassandra Clare definitely has a flair for the poetics, and she wields her words wisely with this book—the writing both awe-inspiring and heart-wrenching, both gorgeous and bitter all at once. Every moment, every second leading up to the harrowing and gut-churning conclusion… It circles back time and again. The foreshadowing was subtle and well done, catching me by surprise several times over. Everything about this book is crafted like a mosaic, lovingly and with such infinite care.
But beyond this, Cassandra Clare did something I was not aware was possible: she made me fall in love with a love triangle. She made me so torn about my decisions, so broken by the choices made and the moments lost, so willing to break my own heart in two just to see an ending that suited everybody… Never before have I been so confused about my feelings toward three characters. Never before have I wanted so fiercely such a complicated relationship as this to just work out for everybody.
"You know that feeling," she said, "when you are reading a book, and you know that it is going to be a tragedy; you can feel the cold and darkness coming, see the net drawing tight around the characters who live and breathe on the pages. But you are tied to the story as if being dragged behind a carriage and you cannot let go or turn the course aside."
I just… I can't describe how amazing this book is. It blew me away. I will be getting this trilogy in physical format as soon as I possibly can; I need these books on my shelves like yesterday. I'd highly recommend to lovers of steampunk, historical fiction, angels/demons/warlocks…and stories that break your heart so open, you're not sure where the pieces fall. I LOVE this series; it's more than enough to make me give City of Bones (which I tried before and couldn't get into) another shot. Well done, Cassandra Clare. Well done.