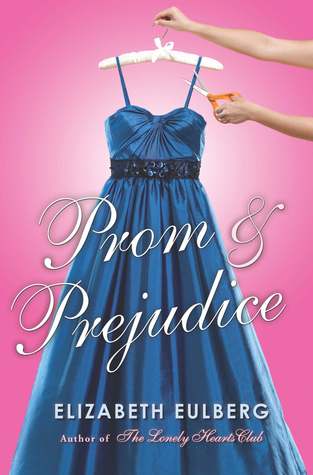 From the much-buzzed-about author of THE LONELY HEARTS CLUB (already blurbed by Stephenie Meyer, Lauren Myracle, and Jen Calonita), a prom-season delight of Jane Austen proportions.
It is a truth universally acknowledged, that a single girl of high standing at Longbourn Academy must be in want of a prom date.
After winter break, the girls at the very prestigious Longbourn Academy become obsessed with the prom. Lizzie Bennet, who attends Longbourn on a scholarship, isn't interested in designer dresses and expensive shoes, but her best friend, Jane, might be – especially now that Charles Bingley is back from a semester in London.
Lizzie is happy about her friend's burgeoning romance but less than impressed by Charles's friend, Will Darcy, who's snobby and pretentious. Darcy doesn't seem to like Lizzie either, but she assumes it's because her family doesn't have money. Clearly, Will Darcy is a pompous jerk – so why does Lizzie find herself drawn to him anyway?
– – – – –
Rating: 4/5 Stars
Quick Reasons: DUH, Pride and Prejudice; most of the same characters with unique and personalized twists/changes; same story, modern day setting; quick, fun, intelligent read; takes a close look at "class" differences…and how our prejudices/pride, even today, often get in our way
"You wouldn't know how to punch the right buttons on a girl if we came with manuals."
So. Okay. I'm going to be honest here: despite my LOVE for all things Pride and Prejudice (I mean I seriously own AT LEAST 20 different versions/retellings/etc…I'm a smidge bit obsessed) I was a little leary about this particular book when I found it on a book swapping site recently. Looking back on it now, I'm not sure what my aversion was—this was an entertaining read, and Elizabeth Eulberg worked very very hard to stay true to the source material.
In fact, the characters remain pretty much the same as the original book—with the exception of a few, and well-chosen, changes to their personalities. Also, not ALL of our original crew shows up…and some of those who do, are not even CLOSE to their base characters. I LOVED that this was set at a boarding school. Longbourn Academy, to be specific. Their "brother" academy? Pemberly. I just adored the play on names that happened here, taking the two most prominent scenes from the original material and turning them entirely her own. This was only the beginning of the inventive, creative changes I'm sure Elizabeth Eulberg will blame on her "writers' license of freedom." And I love pretty much all of them.
The writing is first person, from the perspective of our one and only Elizabeth Bennet—a scholarship student studying the piano at Longbourn. Of course, even in today's world, being a scholarship student at such a prestigious and elite boarding school isn't easy—her classmates are quick to make clear just how much they loathe and detest her for even being there. It was refreshing, in some ways, to see this classic tale told in the modern-day teenage world; to be honest, while this has a sense of Gossip Girl ridiculousness (how many times can you honestly dump a drink on, steal the coat from, or generally humiliate the same person before you get bored and move along to someone else?) I really enjoyed the witty banter of our main narrator, the emotional rollercoaster readers face on their journey with her, and the clever way Elizabeth Eulberg managed to reintroduce Jane Austen's most beloved characters.
Talking to them was like being placed into conversational purgatory, with no hope of being released without significant damage to one's self-esteem.
Elizabeth Eulberg also manages to stick pretty close to script despite the unique liberties she employed. Instead of being repulsed by or terrible at the piano, Lizzie is sort of a genius at it. Darcy's parents are both still alive—and very much part of their children's world, though rather a secret until the "turning moment." Lizzie is an only child—but don't worry, Lydia still makes several very loud and rambunctious appearances, and Jane is still just as sweet as ever.
The writing is fun, spontaneous, and befitting the world of Jane Austen. Elizabeth Eulberg reinvented the source material with a sensitive, deep-seated passion for retaining the main premise. The characters practically leap off the page; at times, I found myself rehashing the original material (come on, I've got that pretty much memorized by now!) right beside the new twists. The prose is "modern," but still has the elegance of Austen's patented style. And while, NO, there are no marriage proposals at the end of this book—it's meant for a younger audience in a VERY different world, after all—I don't think readers will be disappointed in the end result.
It's very easy to get a boy to leave the room.
It's much harder to get him to leave your thoughts.
I think I was probably most disappointed that there wasn't a "midnight in their nightgowns show down" between Lizzie and the formidable Catherine deBourgh. In fact, Catherine in this book isn't an aunt at all—but she makes several pointed and ruthless appearances, so I can't be TOO disappointed. Still, that was a scene I rather loved from the source material I wish had been included; it might have been interesting to see how Elizabeth Eulberg crafted it to fit her own setting/style. Alas, such is how things go.
Overall, I really enjoyed stepping into the world created so lovingly here. The read was quick, fun, and at times just as dramatic as the source—and very, very awesome. I highly recommend to lovers of Jane Austen's Pride and Prejudice; this is a retelling worthy of your time, for sure.