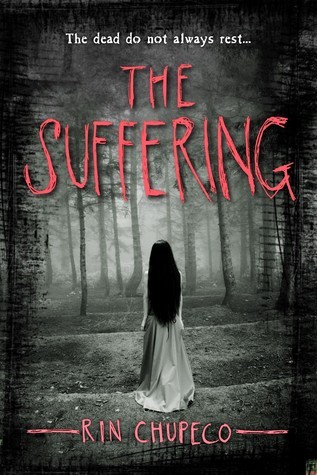 Over the last year I've gone against faceless women, disfigured spirits, and grotesque revenants. Some people keep dangerous hobbies; skydiving and driving at monster truck rallies and glacier surfing. Me? I cast my soul into the churning waters of potential damnation and wait for a bite.
It's been two years since Tark Halloway's nightmare ended. Free from the evil spirit that haunted him all his life, he now aids the ghostly Okiku and avenges the souls of innocent children by hunting down their murderers. But when Okiku becomes responsible for a death at his high school, Tark begins to wonder if they're no better than the killers they seek out.
When an old friend disappears in Aokigahara, Japan's infamous 'suicide forest', both must resolve their differences and return to that country of secrets to find her.
Because there is a strange village inside Aokigahara, a village people claim does not exist. A village where strange things lie waiting.
A village with old ghosts and an ancient evil – one that may be stronger than even Okiku…
– – – – –
Rating: 5/5 Stars
Quick Reasons: nightmare inducing; a fresh, unique take on Aokigahara—and its purpose; action-packed, this read is a wild, desperate journey to find answers, to find peace, to find strength
I finished The Girl in the Well, by Rin Chupeco, recently. While scouring my kindle books, I discovered an ARC for THIS beauty—the second book in the series! I don't know how I managed to pull that one off, but the book angels must have been looking out for me when I picked up book one a few weeks ago. HUGE thanks to Sourcebooks Fire and netgalley for sending an ARC of this (the second book in the series) to me for review! (Please note, this in no way had a standing upon the rating I've given, or the review you're about to read.)
This book? This book is DAMN SCARY. If you read my review for the first book in this series, you'll know the first book CREEPED. ME. OUT.
But this one? This quasi-companion novel? It will inspire my nightmares for the next few months, I'm positive. This book took the creep factor, mated it with horror, and became something else entirely. I'd almost say this is on-par with horror movies in the same vein as the novel; it's THAT creepy, and that awesome.
I really loved that the POV for this was switched from Okiku to Tark; while we still maintain the same Okiku/Tark relationship, there's a higher emphasis on Tark's feelings, Tark's thoughts, and—you probably saw this coming—Tark's reactions to the ghost world he now haunts (or is it the ghost world haunting him?) as a human with a gift/curse. Because Tark remains, ever vigilantely, HUMAN—and that means he reacts to the world of ghosts around him much differently from Okiku, who's been thriving among the dead for hundreds of years. Tark hasn't become disillusioned with the extraordinary. Tark is still, despite all evidence to the contrary, disturbed by ghosts.
Which makes hunting them interesting, to say the least. I think I loved that it's from Tark's perspective most because Tark's fear, Tark's unease—pretty much all the emotions of Tark, if we're being honest—BLEED through the words. Readers are enthralled with and haunted by his voice—the strength, the independence, and that little something darker that keeps him from losing himself TOO much to the hunt. Readers are drawn into Tark's world with him, so leaving this story in his voice made it much easier—and scarier!–to connect with him on a personal level.
The relationship growth between Tark and Okiku is realistic (at least in the ways that it SHOULD be) and emotional. They don't just grow as individuals—with their current embodiment, they have to learn how to grow TOGETHER, which, as I'm sure you can imagine, means a bit of awkardness, a bit of fumbling, and a lot of open-minded learning on both their parts.
I really enjoyed the play on fireflies throughout—from the first book to this one. It helps to bring the story full-circle, in a sense, while still remaining it's own story. I feel like, for the most part, this companion novel could ALMOST stand alone; there are only a few things readers might be confused about, if they were to pick this up before reading The Girl in the Well.
While I'm a bit disappointed in how little we get to see Tark with OTHER characters—Callie, his dad, Kagura all seem sort of bystanders to this story in the end—there are some AWESOME scenes between Tark and Okiku, Tark and the other ghosts they encounter on their journey, Tark and Kendele… Overall, it wasn't as upsetting as it might have been, had the story been less stressful and frightening.
I also like how the story plays out; Rin Chupeco didn't take the normal route with her ending. She didn't choose the easy path. She forged ever forward, clinging to the idea she started writing with, and managed, in the process, to begin AND end with the same short line from Tark: "I am not a hero." This is a powerful statement, and she backs it up spectacularly with a story of loss, grief, vengeance, anger and finding the answers you seek always in yourself first. The setting is spooky, the tone both sombre and a bit poking fun.
Overall, this is an enjoyable, keep-you-awake all night read. I'd definitely recommend to fans of Stephen King, Clive Barker, or Grady Hendrix. You won't want to put this one down!
This book will be available September 8th, 2015 from Sourcebooks Fire–keep an eye out for it!