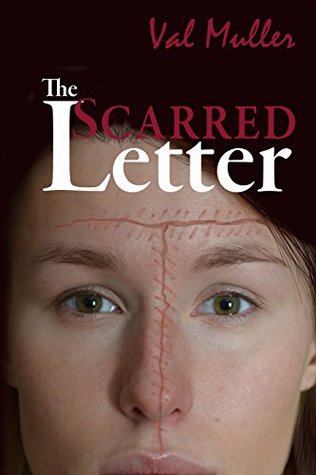 Heather Primm never anticipated that a single blog post could ruin her life.
Heather's scoop about steroid use by key players on the school football team sets off an investigation that strips the Orchard Valley Thunderbolts of their state title—and earns Heather a coveted journalism prize. Hated by those involved in the scandal, despised by jealous members of the newspaper staff, ignored by her newly-popular ex-boyfriend, and even berated by her mother, Heather is attacked and a chilling "T" is carved into her face.
Now stigmatized as a traitor, she becomes the object of scorn for nearly all of Orchard Valley High. But when the school offers to send her to a private academy to hush up the matter, Heather is forced to make a decision. Should she refuse to allow fear to control her life by holding to the truth, or accept the chance to escape and build a new life?
Written by a veteran English teacher, The Scarred Letter weaves themes from Nathaniel Hawthorne's The Scarlet Letter into an accessible, intelligent tale of modern isolation and a young woman's quest for truth and acceptance.

Rating: 5/5 Stars
Quick Reasons: an awesome modern-day retelling of The Scarlet Letter (Nathaniel Hawthorne); powerful, haunting depiction of high school—and the pressures that come with it; realistic, endearing characters, creepy loners, and an interesting glimpse into the world of secrets and betrayals we walk through; an examination of what happens when no one's brave enough to take a stand
I was approached by Barking Rain Press to try out one of the books from their publications. I chose this one, and received a copy from them for review. This in no way affected how I read the book or will be reviewing it now. Thank you, Barking Rain Press and Val Muller for this opportunity!
We read The Scarlet Letter, by Nathanial Hawthorne, in high school, and I remember being enthralled by the characters and the story woven into the pages. It remains, to this day, one of my favorite classics—and altogether favorite reads, though I don't talk about it often (I should amend this; the book is great!)
When I read the blurb for this novel by Val Muller, I was immediately intrigued. Having felt so strongly drawn to the character's plight in The Scarlet Letter, I was SURE this modern-day depiction would speak to me just as much. I settled on this being my chosen title almost instantly after doing a small bit of research—the idea of taking such an emotional, harrowing tale and reproducing it into a plight more understood by a different generation was just too interesting to pass up!
I was hooked from page one. Heather Primm is a stubborn, set-in-her-ways, down to earth and true to her heart kind of girl—exactly my type of protagonist. From the start, her voice—woven between chapters of an outside perspective in the form of blog/journal entries—is captivating, insightful, and haunting.
Val Muller wrote this to be both gut-wrenching and lyrical, drawing inspiration for her characters and the story from Nathaniel Hawthorne's novel. The juxtaposition of the beautiful and almost-grotesque paint an intriging, accurate picture of life in the halls of a school made famous for sports achievements—and what it's like to be an outsider. The climax of Heather's "before" and introduction to the "after"–the branding of her as a traitor in the form of a large "T" drawn across the middle of her face—tugs at readers hearts while putting into perspective what happens when otherwise good people stand by and let others speak (or, in this instance, react) for them. It also helps highlight the fact that we all, at some points in our lives, allow darker, more selfish motives to emerge.
This is a gripping, human, horrifying look at a world of corruption, secrets, and betrayals. Sure to captivate and churn the stomachs of even the strongest-willed readers, this is one modern-day retelling I wouldn't recommend missing out on! I highly suggest everyone pick this up—you won't be disappointed!