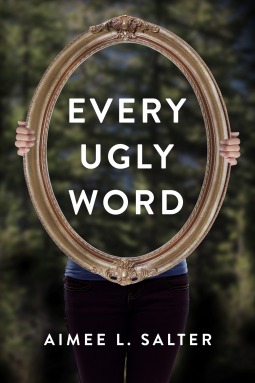 When seventeen-year-old Ashley Watson walks through the halls of her high school bullies taunt and shove her. She can't go a day without fighting with her mother. And no matter how hard she tries, she can't make her best friend, Matt, fall in love with her. But Ashley also has something no one else does: a literal glimpse into the future. When Ashley looks into the mirror, she can see her twenty-three-year-old self.
Her older self has been through it all already—she endured the bullying, survived the heartbreak, and heard every ugly word her classmates threw at her. But her older self is also keeping a dark secret: Something terrible is about to happen to Ashley. Something that will change her life forever. Something even her older self is powerless to stop.
Rating: 5/5 Stars
Quick Reasons: gut-churning, goosebump-inducing story; powerful and emotional scenes; characters you love, loathe, and loathe to love (yes, I said it this was for a reason); a haunting and unexpected plot twist
Wow. WOW. I just…I can't quite wrap my head around what I finished reading about a minute ago! I will be thinking about this story, and the effect it's had on me, for a long time to come. I'm sure this will be added to both my favorite reads AND my recommendations shelf. Just… WOW.
Let me try to get my head on a little straighter here. I picked this up relatively cheap from amazon for my Kindle; the blurb intrigued me, and I've been drawn more to contemporary than to other reads lately, and I just… Going in, I was pretty sure there was more to the story than what the "back of the book" (or, in this instance, the top of the goodreads page) led me to believe.
I wasn't far from wrong about that…but I also wasn't RIGHT about it, either. Because somewhere in the middle of this book (or maybe even before I went into it?) I started doubting the character and her clarity. I found myself wondering if, maybe, she wasn't quite the reliable narrator she was being depicted as. I found myself doubting HER…and that was a big, big mistake—because that's exactly what the point of this book was about.
There is a fine line between writing from the perspective of someone who dealt with the abuse and bullying of their peers for years on end…and writing it WELL. Aimee L. Salter took this—the emotional damage, the way such cruel words haunt and taunt, the pain and destruction living in such hostile environments for so long cause—and molded it into a heartbreaking, breath-stealing story about finding your way despite the obstacles. About finding…and OWNING…yourself.
The characters are realistic, endearing, and practically leap off the page at you as you read. You'll find, early on, there are characters you absolutely cannot stand (even BEFORE you realize what the story's about), characters you love or relate to…and characters you WANT to love, but loathe, because their actions are all tangled into a mess you can't overlook or forgive them for.
The story is powerful, woven so beautifully. The climax is intricate, each small fracture (like glass, people!) crackling together into a crescendo I never saw coming. When I reached that page, I literally sat here for a few moments just drinking it all in, because… Well, I'll be honest here: I've NEVER seen anything like it done in literature before. It was a literary thing I loved immediately, for being so unique. I had goosebumps. Thinking about it now, I'm getting them all over again.
The writing is gorgeous, as well—easy to follow, with only a few slight grammatical errors/missing words (it happens, though; we're all human here). The character growth(s) are astounding and complex, clashing and embracing in ways you'll kick yourself for not seeing before. And the moral… Goodness, the moral of this story is one I think we can ALL get behind.
I highly recommend this read, and have to admit to being a little more than a little disappointed about how few people seem to talk about this book. I found it purely by accident browsing amazon one day… I want that "accident" to become an "on purpose" for more people in the future! This book is definitely worth it; you won't know what hit you!
–this has been cross-posted to goodreads and tumblr—