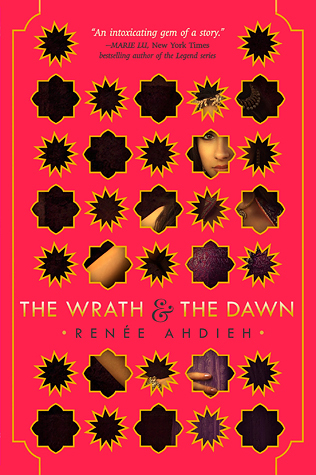 A sumptuous and epically told love story inspired by A Thousand and One Nights
Every dawn brings horror to a different family in a land ruled by a killer. Khalid, the eighteen-year-old Caliph of Khorasan, takes a new bride each night only to have her executed at sunrise. So it is a suspicious surprise when sixteen-year-old Shahrzad volunteers to marry Khalid. But she does so with a clever plan to stay alive and exact revenge on the Caliph for the murder of her best friend and countless other girls. Shazi's wit and will, indeed, get her through to the dawn that no others have seen, but with a catch … she's falling in love with the very boy who killed her dearest friend.
She discovers that the murderous boy-king is not all that he seems and neither are the deaths of so many girls. Shazi is determined to uncover the reason for the murders and to break the cycle once and for all.
Rating: 5/5 Stars
Quick Reasons: I really can't even with my words right now.  Look below for some sort of semi-coherent explanation.
Oh. My. GOD.  Oh my goodness.  I don't compute.  I don't WANT TO compute.  I just… I can't…
I NEED BOOK TWO.  I need it now.
Okay.  Let me try to put this into some sort of coherency, yes?
To begin with:  this book is GORGEOUS.  Renee Ahdieh's writing style is so fresh and beautiful, her imagery described so vibrantly, I found myself slipping almost immediately into the story.  From page one, Shazi is the type of girl I've always aspired to be:  she's brutally, unflinchingly honest; she stands up for what and who she believes in; she is able to put aside personal emotions and look at situations from all angles before making her mind up; she is unfailingly loyal; she has nerves of steel; and, most importantly, she is able to learn from her mistakes—and move on from them.
The other characters are JUST as brilliantly written; Khalid, especially, was an intrigue for me.  From ipage one, I found myself not loathing him, but WONDERING.  Wondering:  why did he do what he did?  What purpose did all that death serve?  Who was he, really?
Tiraq, on the other hand, annoyed me TO NO END from the first moment he stepped onto the pages.  While eating dinner, I was ranting about his character/motivations…while brandishing a spoon.  My husband looked at me like I had gone insane, but REALLY, it's the truth:  He reminds me of Gaston, from Beauty and the Beast.  And that bothers me, because he's supposed to have been Shazi's "first love"….but how could someone like Shazi really LOVE someone as arrogant and selfish as he is?  I stated at one point something that holds true through the entire novel:  Khalid is a man in Tariq's eyes because he loves Shazi….but a monster, all the same, because she loves him back.  Guys like Tiraq…they can't possibly imagine, after loving/having someone love them, that that person just MIGHT fall for someone else.  That idea just doesn't exist with them.  And they're annoying for it.
Despite my endless tirades at Tiraq, the rest of these characters came to brilliant life for me.  The fact that so much of this relies upon oral narratives made it even more enjoyable to read, the stories woven not ONLY in Shazi and Khalid's moments together, but in every moment of this book.  Renee Ahdieh wove the pieces of these tales together masterfully, even thinking far enough ahead to link certain stories with things occurring in Khalid and Shazi's lives—and their struggles.
This is a beautifully written, heart-wrenching, concussive first novel from a series that has already leaped to the top of my favorites list (and I've only read the first book!)  I will DEFINITELY be on the lookout for book two in the future; I can't wait to see what new heartbreaks this promising author will be inflicting.  Highly recommended to lovers of retellings, mythologies, and folk lore; you don't want to miss out on this!