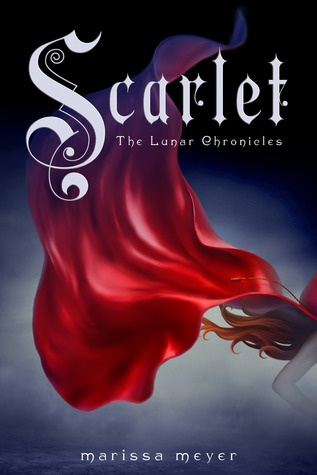 Cinder, the cyborg mechanic, returns in the second thrilling installment of the bestselling Lunar Chronicles. She's trying to break out of prison–even though if she succeeds, she'll be the Commonwealth's most wanted fugitive. Halfway around the world, Scarlet Benoit's grandmother is missing. It turns out there are many things Scarlet doesn't know about her grandmother or the grave danger she has lived in her whole life. When Scarlet encounters Wolf, a street fighter who may have information as to her grandmother's whereabouts, she is loath to trust this stranger, but is inexplicably drawn to him, and he to her. As Scarlet and Wolf unravel one mystery, they encounter another when they meet Cinder. Now, all of them must stay one step ahead of the vicious Lunar Queen Levana, who will do anything for the handsome Prince Kai to become her husband, her king, her prisoner.
Rating: 4/5 Stars
Quick Reasons: awesome continuation; fresh, new characters to fall in love with; an intriguing and complex subplot; ALL THE FEELS!
I've been trying to finish up some of my started series, except I'm pacing them out instead of reading them all at once (because they're good, but I want to read other things too! So many books, so little time!)
I decided to read Scarlet yesterday. I fell in love with the characters in Cinder–particularly Iko–and wanted to see if Marissa Meyer's beautiful, poignant writing lived up to the task in book two. Unsurprisingly, it did.
Marissa Meyer knows how to weave her fairy tales with unique, inspiring ideas. Drawing this time upon the story of Little Red Riding Hood and the big, bad wolf, Marissa Meyer took readers on a journey through–not a forest this time–but Paris, France.
I fell in love with Scarlet almost immediately–her stubborn resolve and almost naive clinging to hope is so familiar to me, I couldn't help but root for her from the start. Wolf took almost as little time, despite being a "bad" guy–his devil-may-care attitude is exactly the sort of thing I'm often attracted to in favorite characters.
The mix of Cinder's story with Scarlet's in this continuation was well-done and beautiful. While I know fans often wish, after reading this book, there was more Cinder in the pages, I feel as if that would have made it LESS about Scarlet's journey than it should have been. This book is, after all, ABOUT Scarlet–I appreciated the glimpses we received into Cinder's own journey, but I believe there was just enough to not only keep the plot running, but to do the job of getting us from point A to point B.
I also love that we, at the same time, were given a few brief glimpses into the OTHER characters' lives, as well–the addition of Adri and Pearl, Kai and Levana, helped to show us what was going on in the rest of the world…and tie up any loose ends that might have happened otherwise going into book three.
The writing is still just as gorgeous, though I noticed that perhaps it's not AS poetic as Cinder was. The action is fast-paced, giving us just the right amount of information and clues without being overwhelming, and the story just as fascinating and enjoyable. I can't wait to read Cress–hopefully I'll get to it pretty soon! This was another awesome, steampunk-esque retelling from Marissa Meyer; I definitely recommend it!