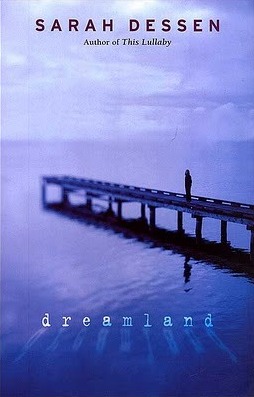 Wake up, Caitlin
Ever since she started going out with Rogerson Biscoe, Caitlin seems to have fallen into a semiconscious dreamland where nothing is quite real. Rogerson is different from anyone Caitlin has ever known. He's magnetic. He's compelling. He's dangerous. Being with him makes Caitlin forget about everything else–her missing sister, her withdrawn mother, her lackluster life. But what happens when being with Rogerson becomes a larger problem than being without him?
Rating: 5/5 Stars
Quick Reasons: emotional; hard-hitting; beautifully done; so many things are right about this book; wise and heartbreaking and all too real
This book does so many things right, I can't believe I haven't read Sarah Dessen before now. I intend, from here out, to change that.
There's not much I can say without feeling as if I'm repeating myself, but I'm going to try. I haven't read a book that's so…emotionally draining, so hard-hitting…so REAL to my past. I think a big part of that was, I was scared to. Scared of the turmoil I thought I'd be in. Scared, perhaps, to face what MIGHT have been, if I'd gone any longer down that path. Scared, mostly, of owning up to what happened…and understanding that in the end, I wasn't really as alone as I always thought I was. As alone as I let myself become. As alone as he made me be.
Having also, in some ways, been on the other side, I have to say I think what I admire most about the writing of this book…is the way Sarah Dessen has detailed, without actually SAYING it, just how easy it is to miss something so crucial. We all get so wrapped up in our own lives, so wrapped up in the day-to-day and our own small, petty hurts…we don't always see, or understand, what's happening right in front of us. It's so easy to overlook the signs, or pass it off as something else. It's so, so easy to miss. And it's sad, and it shouldn't ever happen…but it DOES, and it will continue to, and it's really nobody's fault but the abuser's.
The writing of this is beautiful; Sarah Dessen has a way with words, pulling you in and weaving the threads of her story around you like a security blanket before taking scissors and ripping them across your skin–the first shock of that pain, the first ripple of something WRONG happening, is like ice water to the face. And it keeps happening, page after page. But there's wisdom in the words, too. There's a MESSAGE here, sent across the paper to all the people in the world going through similar situations: you are not alone. There are people who love you. There are people who care. You can get help. And this, I think, is SO important, because sometimes, when you get in so deep, it's hard to tell yourself that you CAN live any other way. That you CAN survive it if it all falls apart. That you CAN get out.
There's a quote here that I found most applicable, MOST wisdom-imparting, and I'd like to share it.
"It's just that I've always been the weaker one, the less talented. The perennial second-place-also-ran. The more likely to screw up. And now, with this, I've, like, totally proved it. To her, and to everyone."
"Caitlin," she said, taking her own Rancher out of the bowl and laying it on the arm of her chair, "we've discussed quite a bit that being a victim does not make you weak."
"I know," I said. This, too, though, was hard to learn.
The prose is gorgeous, the characters leap off the page and wrap themselves around your heart, the story is realistic and horrifying and touching… I'd recommend, though, to people with triggers: to be cautious when reading. It is, at times, very difficult, emotionally, to get through.
I will definitely be reading more of this author in the future. Perhaps this wasn't the BEST book to start my experience of her writing with…but I'm so glad that I did.